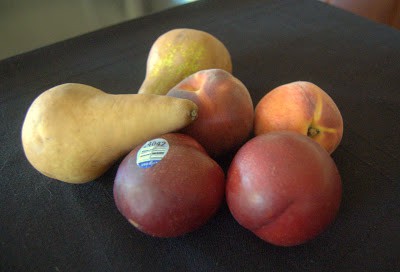 I woke up to find my Baked Blueberry Oatmeal featured on the Secret Recipe Club Facebook Page! That made my morning! It also made me crave the oatmeal, but I didn't bake it. I cooked it on the stovetop and put blueberries in it. It was still so yummy!
Which reminds me of a video…it's not funny, but it is and if the parents didn't think it was funny, then why the heck did they put it up on YouTube or even make it into a website?
If you haven't seen it, you need to watch it because now whenever anyone says blueberries in this house, they say it this way and then we always smile.
The good part is about a minute into it, but watch it from the beginning to understand what is happening.
Mr. 365 and I went on a 2 1/2 mile hike today up a mountain and started at 10:30 this morning.
So can I tell you that I had absolutely NO desire to bake anything today upon my returning home.
None.
Nada.
Zip.
Zilch.
Zippo.
I knew that was going to happen!
But I did!!
I should have left well enough alone though and maybe taken the day off.
BUT,
I am NOT taking a day off between now and 49 days from now, come hell or high water.
I see a light at the end of the tunnel.
That's seven weeks!
Right? I'm feeling a little foggy 'cause I'm tired as I type this.
Seven! Yes, 'cause seven times seven is 49 and there are 7 days in a week and there are 49 days left, so that's
7 weeks!!
Wow…
So no days off.
We've got work to do! No rest for the weary!
I'm not weary, some days I am just sick of baking.
To be honest.
You want honest, right?
I'm just going to put it all out there for you! I don't have anything to hide.
At least I don't think I do. 😉
The good news, no strange dream about flying cookies or broken cigarettes last night.
I don't even remember what I dreamt about.
My daughter and I decided when I picked her up from school today that I should bake something healthy and with fruit.
I adapted this from Taste of Home.
Mary's Baked Fruit – serves 4-6
2 pears, peeled, cored and sliced
2 plums, peeled, pitted and sliced
2 peaches, pitted, peeled and sliced (I said pitted first because I peeled it, then pitted and the thing squished in my hands as I tried to take the pit out. No good.)
4 slices of pineapple
1/4 cup pineapple juice (you can use an 8 oz. can of pineapple slices, plus the juice instead, but I only had a 20 oz. can)
1/3 cup packed light brown sugar
1 tablespoon unsalted
1/2 teaspoon cinnamon
1/4 teaspoon cloves
Preheat oven to 350 degrees F.
Prepare an 8 X 8-inch baking dish by spraying it with cooking spray.
Arrange the fruit in the baking dish by placing the pears on the outside, then working towards the middle, place plums and then peaches in the middle.
Place the four pineapple slices on top.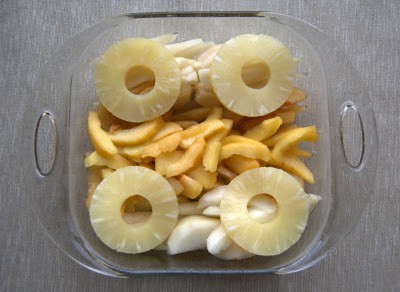 In a small saucepan over medium heat, combine pineapple juice, butter, brown sugar, cinnamon and cloves. Heat until butter is melted and sugar is dissolved, stirring constantly.
Pour over fruit.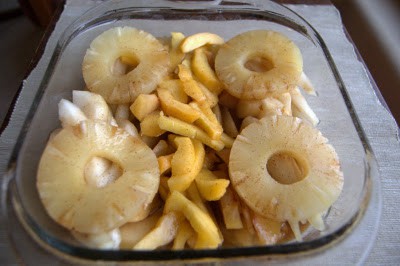 Bake for 20-25 minutes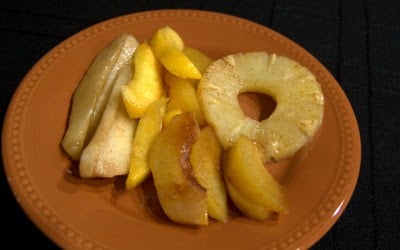 "This picture is so unappetizing!", I said as I loaded it on to the blog.
"I know mom," my daughter replied, "that's because it didn't taste good!"
Hmmm…there you have it.
This didn't taste good.
Granted, I also had no natural light with which to photograph by because I procrastinated for as long as I possibly could.
But with the cloves and cinnamon, it reminded us of something we'd eat at Christmas, and we are SO over Christmas. It's that time of year when we move on and have fresh foods, focus on healthy and New Year's resolutions.
This dish doesn't fall into any of those categories.
It was BLECHY!
I won't be making this again!
I rate everything I bake on a scale of 1-4 with 4 being the best and this Baked Fruit earned 1 1/2 rolling pins.
My daughter was going to give it 2, and when I asked her why she said because it had fruit in it.
I guess in a way, fruit makes everything better.
I give you BIG baking hugs and muffins!