When the word cookies come to mind, there's no stopping that desire to make them. These Brown Butter Chocolate Chip cookies are one of the many that I've fallen in love with.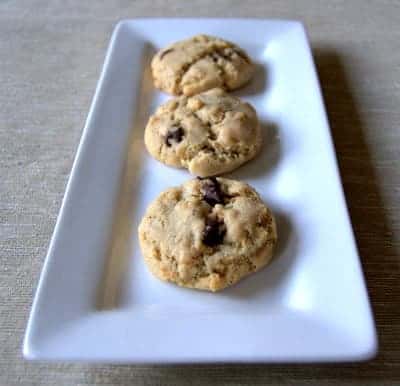 One of the best things about making cookies is enjoying the cookie dough on the spatula and bowl. It's a good incentive for the kids to help.
I know, the title is a REAL mouthful, but I wanted to make some cookies today and really had the craving for some chocolate chips. I did some searching and thinking and thought, "What about adding Rice Krispies to the cookie dough?"
Sure enough, it's been done. THEN… I saw a recipe on Joy the Baker for her Brown Butter Toasted Coconut Chocolate Chip Cookies. How on earth could I possibly resist some brown butter cookies??!!
SAVE THESE BROWN BUTTER CHOCOLATE CHIP COOKIES TO YOUR FAVORITE PINTEREST BOARD!
Ever had brown butter? You haven't lived until you do. Ok, well, you are living now, but seriously, you have to try this stuff.
You can put brown butter in anything!! Ah, maybe not anything, but stuff sure does taste better when you use it.
Ooohhh, brown butter. So good and so yummy and it definitely adds a different dimension to your baking.
Adapted from Joy the Baker.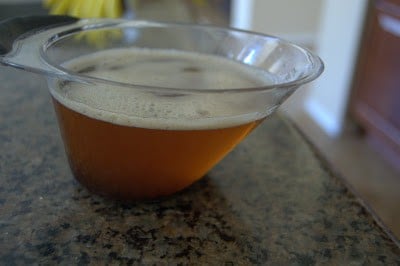 Double the fun with skinnytaste and her amazing cheesecake brownies! It's like having your cake and eating it. This easy chocolate bark recipe by cookieandkate shows you can love dessert without the usual cakes and ice cream.
Here are some tips and tricks to help you get that perfect looking cookie.
The dough was a bit crumbly, so I found it easier to gather the dough by the tablespoon and then roll it into a ball before putting it onto the baking sheet.
It will not become light and fluffy as butter and sugar usually do when you beat the two together but will look more like sand.
The butter will make crackling noises and start foaming. This is a sign that the water is evaporating. Then the solids will start to brown and you will begin to smell it. Watch it to make sure it doesn't burn, but you do want it well browned. This took me about 10-12 minutes.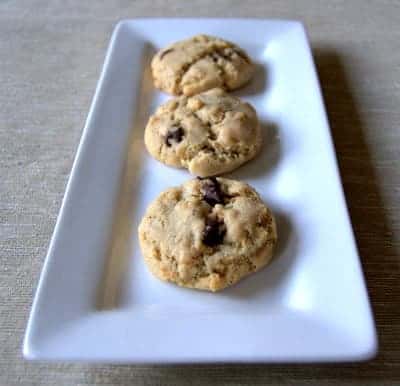 Brown Butter Coconut Krispie Chocolate Chip Cookies
Ingredients
1 cup (2 sticks) butter
2 ½ cups flour
¾ teaspoon baking soda
½ teaspoon salt
¾ cup Rice Krispies cereal
1 cup granulated sugar
¾ cup packed brown sugar
1 tablespoon vanilla
1 egg
1 egg yolk
¼ cup unsweetened coconut, toasted
1 cup semi-sweet morsels
Instructions
Place the oven racks in the middle and top third of the oven, and preheat oven to 350 degrees.

Prepare two baking sheets by lining them with parchment paper. Spread coconut on one and toast for about 5-6 minutes. Be careful not to burn them.

Place in a small bowl and set aside.

In a small saucepan, melt butter over medium heat. Remove from heat and place in a measuring cup and allow to slightly cool.

In a medium bowl, combine flour, baking soda, salt, and Rice Krispies; set aside.

In a mixer fitted with the paddle attachment, combine both sugars and browned butter.

Beat on medium speed for about 2 minutes. Add the egg and egg yolk, and continue to beat for another 2 minutes. At this point, the batter will be smooth.

Add the vanilla and combine well.

Add the dry ingredients, and at low speed, mix until just combined.

Using a rubber spatula, fold in toasted coconut and chocolate chips.

Place rounded tablespoons onto the prepared baking sheets. Place them about 1-2 inches apart as they will not spread while in the oven.

Bake for 10-12 minutes until lightly golden.
Nutrition
Calories: 114kcal | Carbohydrates: 14g | Protein: 1g | Fat: 5g | Saturated Fat: 3g | Cholesterol: 18mg | Sodium: 81mg | Potassium: 35mg | Sugar: 8g | Vitamin A: 165IU | Vitamin C: 0.2mg | Calcium: 8mg | Iron: 0.7mg
Did you make this recipe?
Share it with me on Instagram and make sure to follow me on Pinterest for more recipes.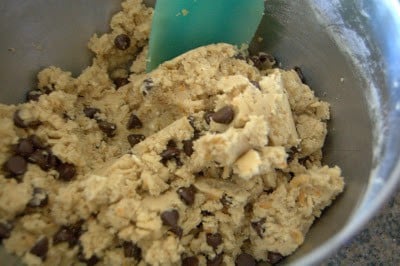 I rate everything I bake on a scale of 1-4 and these Brown Butter Coconut Krispie Chocolate Chip Cookies earned…I REALLY want to give them a 3 1/4 because a 3 1/2 I think is too high, but a 3 is too low. Oh, I'll give them a 3.
I was so concerned when I added the Rice Krispies to the flour mixture and thought, "Uh-Oh! I should fold these in with the coconut and chocolate chips. They'll probably get all mushy and crushed."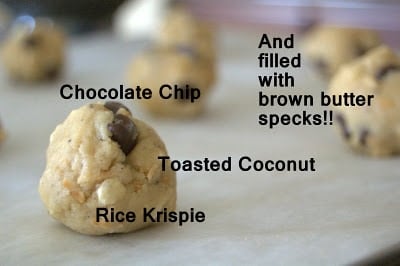 NOT the case!! It was SO different having them in a cookie! We make Rice Krispie treats A LOT, but I've never used them in anything else. I was really impressed that they didn't soften and kept their crunch!
You know one of my favorite things are baking cookies, especially this winner…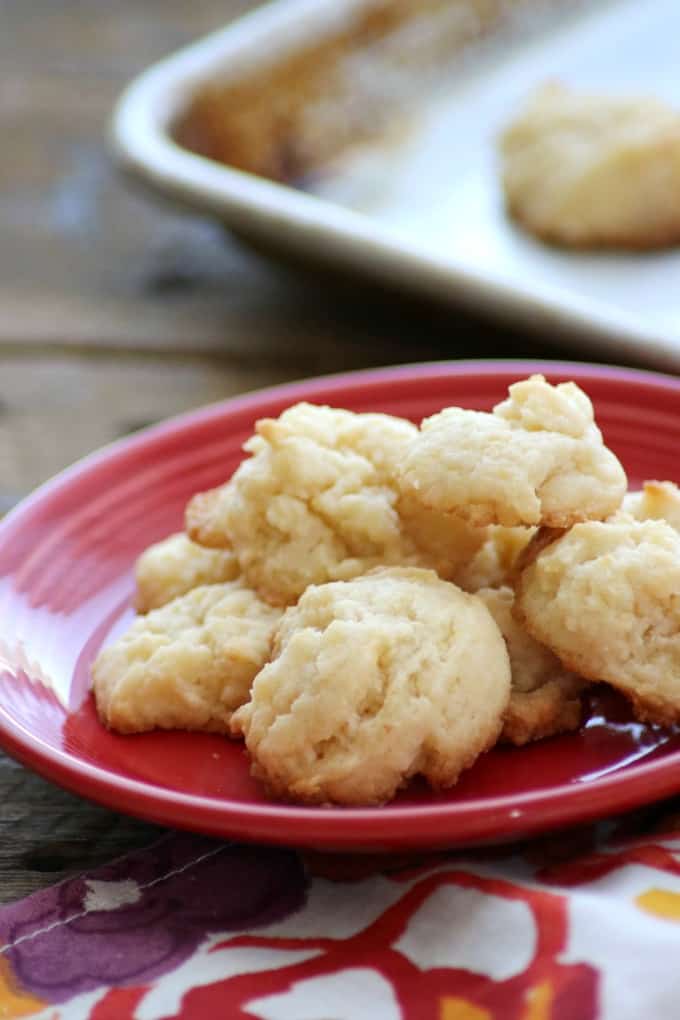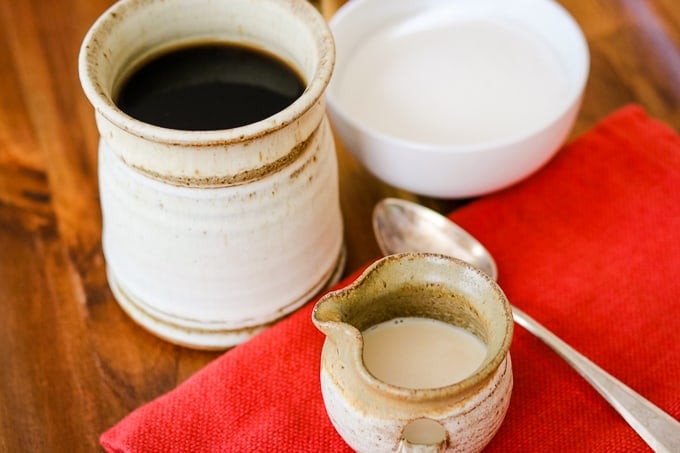 I was also pretty worried that because the dough was so crumbly putting it onto the baking sheets that they were just going to crumble into a million little pieces when we bit into them.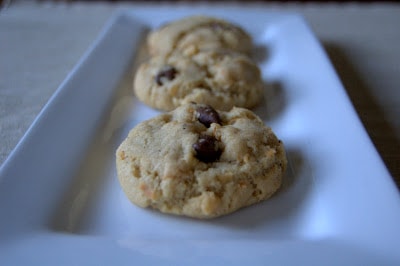 NOPE! Not so!! I'm so glad these worked out!! There's nothing like a chocolate chip cookie with a nice cold glass of milk. Mmmmm, mmmmm, MMMMMMMM…
A whole different cookie from a whole different dimension – out of this world!
Reader Interactions