Enjoy another delicious Risotto recipe for tonight's dinner. This time…with mushrooms and caramelized onions!
Sometimes patience is the key to cooking, and this risotto is no exception. BUT, the payoff is well worth it!
Did you know this?? Did you have absolutely ANY idea that you could BAKE a RISOTTO?? I didn't either until…I Googled it. Love that Google!
And I love risotto because there is such a variety. One kind for every day of the week.
This is not a dish you can let simmer and go about setting the table or making the salad you're going to be serving with it. No. This is because you have to stand next to the stove and stir it while adding the chicken broth. It. is. very. time. consuming.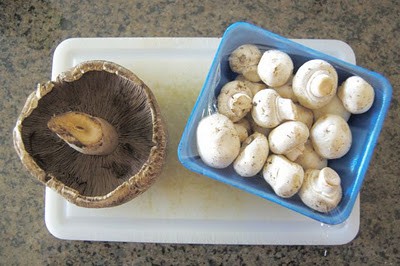 BUT THIS BAKED RISOTTO…!!! This you don't have to stir except for just a little while before you pop this baby into the oven. I was SOOOOO excited to find this recipe and was hoping dinner tonight would be good. I found it here at the kitchn and made some changes to it.
Those holidays can be rewarding and rough at the same time. With this Pecan Pie Vodka recipe from mybakingaddiction, you can lean towards the fun side during that time of year. Or for any time of the year!
Don't forget dashofsanity and her Homemade Corn Tortillas that could make taco night, any day of the week.
We really, really liked this! Well, Mr. 365 and I did. One daughter was out and our son was gone for dinner, too. Our younger daughter isn't that nuts about mushrooms, so she didn't think it was all that great and she's not a big risotto fan.
The mushroom flavor was wonderful, but there were also so many other flavors going on with the balsamic vinegar and the wine.
I really liked the taste of the Greek yogurt with it, too. Going with the Greek Yogurt over sour cream I think helps, even if it's only a little.
SIGN UP FOR THE WEEKLY 365 DAYS OF BAKING & MORE
NEWSLETTER BELOW!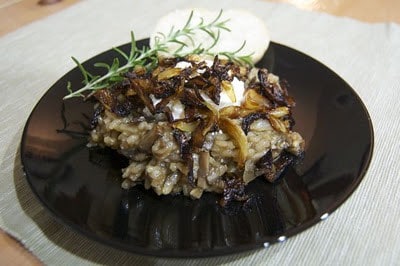 Ingredients
8 ounce white button mushroom, chopped
1 portobello mushroom
⅓ cup olive oil
4 medium yellow onions
3 large cloves garlic, minced
1 large spring fresh rosemary
1 cup Arborio rice
½ cup white cooking wine
2 tablespoons balsamic vinegar
4 cups vegetable broth
1 teaspoon salt
½ teaspoon freshly ground pepper
Greek yogurt or sour cream
Instructions
Preheat oven to 300 degrees.

Finely chop the onions. Heat two tablespoons of the olive oil on medium in a 3-quart dutch oven, or 3-quart pot that is ovenproof.

Add the onion and garlic and cook about 8 minutes until translucent and soft. Push the garlic and onion over to one side of the pot and turn the heat up to medium-high.

Add all of the chopped mushrooms and allow them to cook for 5 minutes without stirring.

Turn the mushrooms over and allow them to cook for another 5 minutes. Add the rosemary sprig to the pot and stir the mushrooms and onions together.

Saute for a few minutes. Add the rice and cook for about 4 minutes until the rice begins to turn transparent, stirring only once or twice in the process.

Increase the heat to high and add the wine, vinegar, and vegetable broth, stirring as you add to remove any bits of onion, garlic, or mushrooms sticking to the sides/bottom of the pot.

Add the salt and pepper and stir to combine. Bring to a boil.

Remove from heat and securely cover with a lid and place into the oven for 35 minutes. While the risotto is in the oven, prepare the caramelized onions.

In a large skillet, heat the remaining olive oil over low. Cut the remaining 3 onions in half and thinly slice. Add them to the skillet and generously sprinkle with salt.

Continue to cook on low for 30 minutes until the onions are dark brown, stirring occasionally. Remove the risotto from the oven and let stand for 5 minutes before serving.

Serve with a dollop of Greek yogurt or sour cream and top with the caramelized onions.
Did you make this recipe?
Share it with me on Instagram and make sure to follow me on Pinterest for more recipes.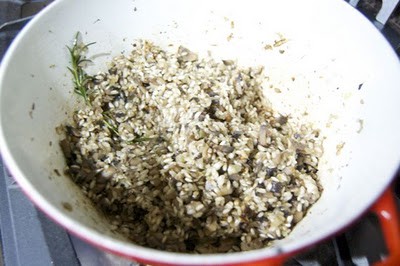 In need of a date night to get away from it all for the night with the significant other? These "restaurant quality" dinners can be a terrific way to do that.
I can't say enough good things about this: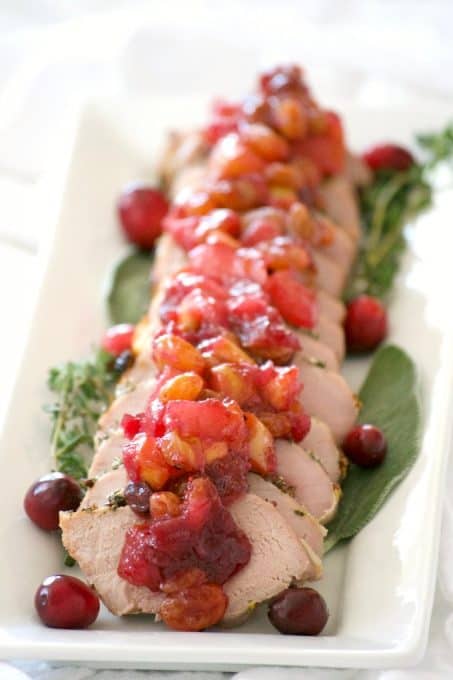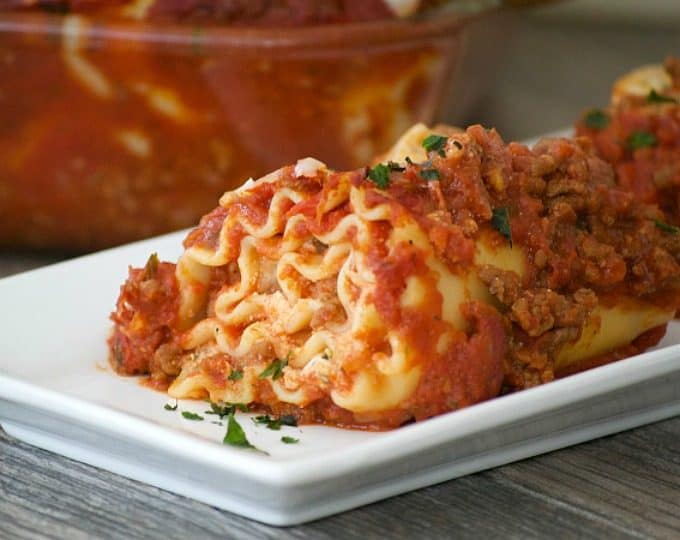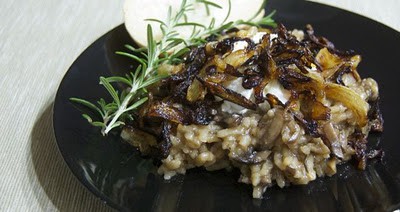 I rate everything I bake on a scale of 1-4 with 4 being the best and this Baked Mushroom Risotto with Caramelized Onions earned 4 rolling pins. Now how do you like them apples? Wrong recipe but the quote can be used for just about anything. Don't forget to use it with a Boston accent!
Reader Interactions