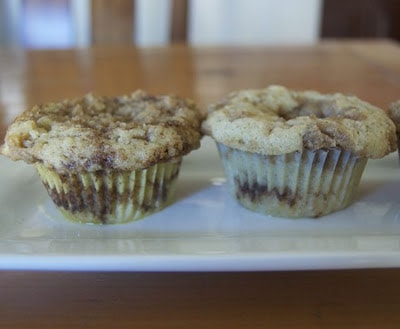 It's funny how sometimes I have a lot to say and other times…nothin'.
Tonight it's one of those nothin' times. And it has been for the past few days.
I do have to tell you that the weather here today in Arizona was practically perfect. Alright, it was perfect.
Completely sunny in the afternoon and mid 70's. Amazing. That's why we moved out here.
Although weather this warm this early in the year makes me nervous.
I am so hoping that we won't be having triple digit temperatures come March. That could make for one LONG summer.
I found this recipe at Geni's blog, Sweet and Crumby. She is such a sweetheart! You really need to take a look at her site. Her recipes are fabulous and her Golden Retriever, Sadie, is beautiful! We joke that we're going to set our Golden, Brady, up with her.
I hope to meet Geni in person one day. Maybe that will happen sometime this year.
These muffins sounded delicious just as they were, but I really wanted to add some apple to them.
Here's my version of Geni's "Oh My Gosh!" – Cinnamon Swirl Allspice Crumb Topped Muffins which she adapted from adapted from Dorie Greenspan's Baking From My Home to Yours.
Apple Cinnamon Crumb Muffins – makes 16 muffins
Preheat oven to 375 degrees F.
Prepare two 12-cup muffin tins by lining them with paper liners. Any cups that you do not fill with batter, fill halfway with water to ensure even baking.
Cinnamon Swirl
2 tablespoon light brown sugar
2 teaspoons cinnamon
1 tablespoon granulated sugar
In a small bowl, mix together brown sugar, cinnamon and sugar. Geni suggested using fingers to make sure there are no lumps of brown sugar and I thought that worked wonderfully. A fork will do, too.
Set aside.
Crumb Topping
1/2 cup flour
1/2 cup packed light brown sugar
1/4 teaspoon cinnamon
1/4 teaspoon allspice
5 tablespoons cold butter, cut into small pieces
In a small bowl, whisk together the flour, brown sugar and cinnamon.
Add the pieces of cold butter and create a coarse meal mixture as you work the butter into it with your hands.
Set aside.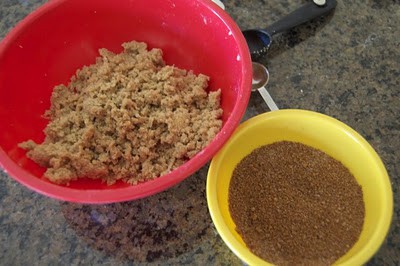 Muffins
2 cups flour
1/2 cup granulated sugar
1 tablespoon baking powder
1/2 teaspoon allspice
1/4 teaspoon salt
1/4 cup packed light brown sugar
1/2 cup (1 stick) unsalted butter, melted and cooled
2 eggs
3/4 cup whole milk
1/4 cup Canola oil
1/4 t. pure vanilla extract
1 apple, peeled, cored and diced
In a large mixing bowl, whisk together the flour, granulated sugar, baking powder, allspice, and salt. Stir in the brown sugar, using a fork to break up any lumps.
In a medium bowl mix together the cooled, melted butter, milk, eggs, oil and vanilla until well combined.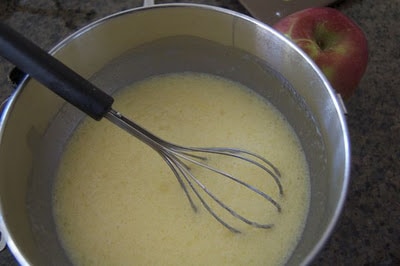 Create a well in the middle of the dry ingredients.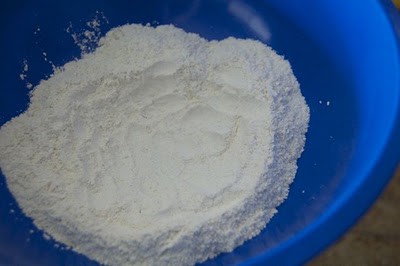 Pour the liquid mixture into it.
Stir together until barely combined. Do not over mix.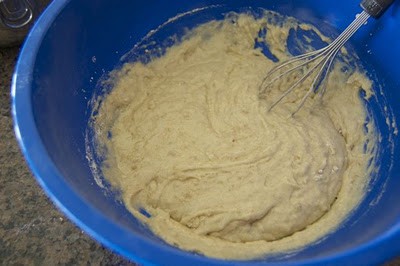 Fold in diced apple.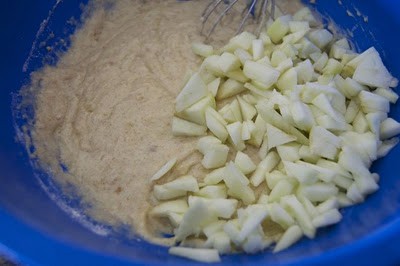 Assembly
Fill each muffin tin about 1/3 full with muffin batter.
Using about 1/4-1/2 teaspoon of the cinnamon swirl mixture, sprinkle it in a line over the batter.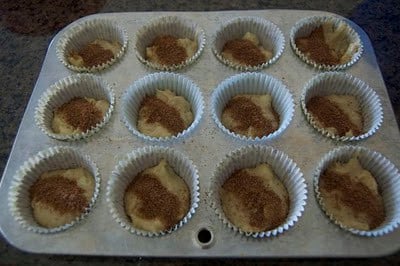 Using a butter knife, create an "S" by moving it back and forth through the batter.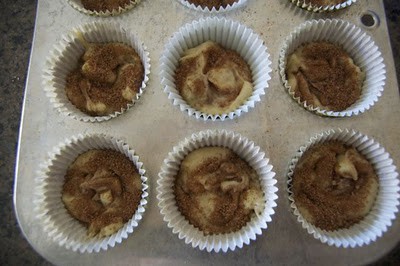 Ok, not really an "S", but it still works.
Place another large spoonful of the muffin batter over that so that the cup is 2/3 full.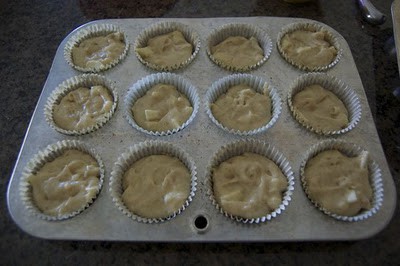 Place another 1/4-1/2 teaspoon of swirl mixture on top and repeat with the knife.
Top the muffin with about 1 tablespoon of the crumb topping.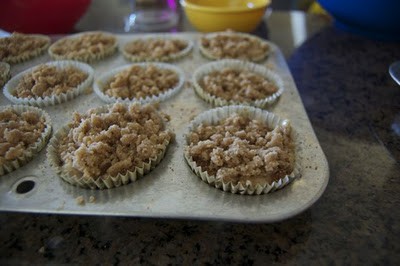 Bake for 20-25 minutes.
Place trays on wire racks to cool slightly before serving.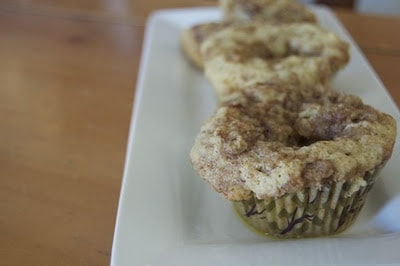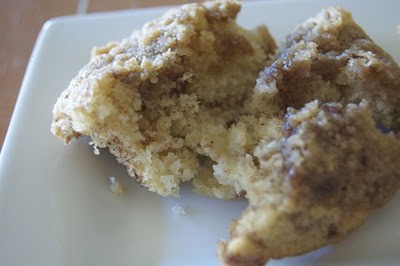 I rate everything I bake on a scale of 1-4 with 4 being the best and these Apple Spice Crumb Muffins earned 4 rolling pins.
They were so delicious!
I'm really happy that we added the apple to them. This will make a great Fall breakfast treat later this year!
Since I added the apple and with that, extra moisture, I should have decreased either the milk by 1/4 cup or deleted Geni's addition of the Canola oil.
When I removed the muffins from the tray, the moisture and canola oil had sort of pooled slightly in the bottom.
They also sunk in the middle, and didn't rise as a muffin should.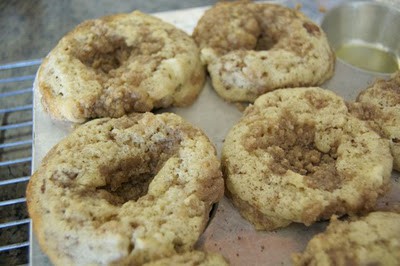 Again I think I overfilled my cups because the muffin tops were too big. The recipe probably could have made 18 had I used a little less batter in each.
Thank you, Geni, for sharing this recipe with us!!
I give you BIG baking hugs and muffins!!