Ok, this one didn't quite make the cut.
It was really bad actually.
I cut the recipe in half because I'm still using my toaster oven.
I had bought a small casserole pan perfect for the occasion of baking in said oven.
But that wasn't the cause of the yuckdum.
Yuckdum, yuckdom?
It sounds weird either way, but that's what it was.
YUCKDOM!
I wanted a recipe for candy I could bake in the oven and I found it here.
Easy Baked Toffee
Yes, it was easy.
Toffee, it wasn't.
Or at least not the kind of toffee I'm used to.
It was one big glop of a crumbly mess with chocolate on top.
Oh well, I'll keep searching.
Easy Baked Toffee – makes a 7 X 10-inch pan (original recipe called for a 9 X 13-inch baking dish and doubled the following ingredients)
1/2 cup butter (1 stick)
1/2 cup packed dark brown sugar (it called for light, but I didn't have any)
1 1/4 cups finely chopped pecans
1/2 cup semi-sweet chocolate chips
Preheat oven to 375 degrees F.
Prepare baking side by spraying it with cooking spray.In a medium saucepan, over medium heat, butter and brown sugar just to a boil.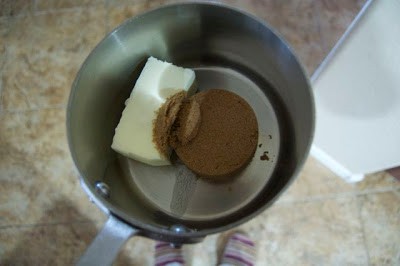 Don't you just LOVE my sexy slippers?!!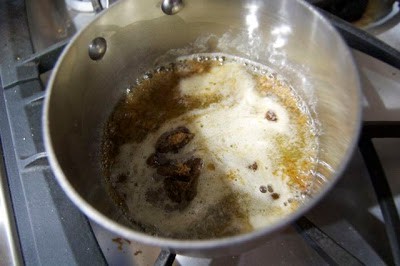 Stir in 1 cup of the nuts.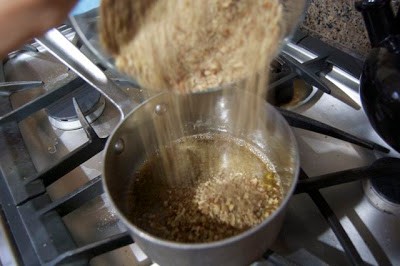 Pour into prepared pan.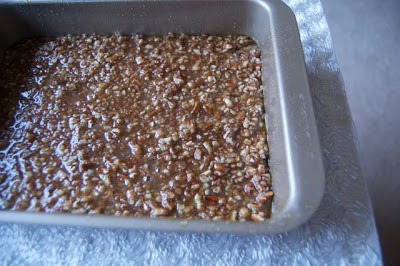 Bake 15 minutes.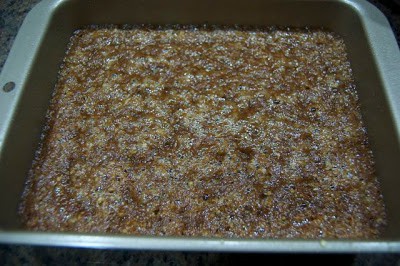 Sprinkle the chocolate chips on the top after removing from the oven.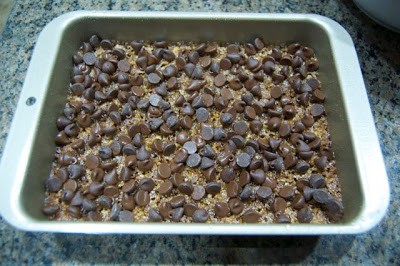 When chips have softened, spread evenly over nut mixture.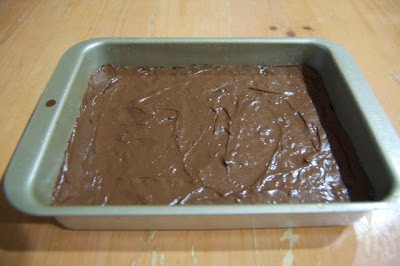 WHOOPS!
I suppose it may have made a difference if I'd read the recipe correctly, hunh?
I added all of the nuts instead of adding only a certain amount hence there weren't any nuts sprinkled on top.
Sprinkle remaining 1/4 cup nuts on top.
Let cool completely, then break into pieces.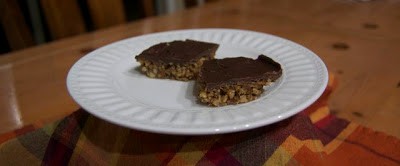 Whatever.
I also think the light brown sugar would have made a difference.
All in all this just wasn't worth making.
I rate everything I bake on a scale of 1-4 with 4 being the best and this "Easy Baked Toffee" earned 1 rolling pin.
I tasted it right after dinner, the rest of the family saw the look on my face and they decided against it.
It was just a crumbly, buttery, gritty, nutty mess.
Oh, with chocolate on top.
Mr. 365 is now looking at my oven to see if he can "fix" it, I suppose.
Oh, help me.
I certainly hope he doesn't take the thing apart.
A mechanic he is not.
He's taken apart a video camera and one of our VCR's in hopes that he could repair them.
Didn't happen and consequently couldn't be repaired.
Don't get me wrong, my man is excellent with his hands and uses them in his profession every day.
I'm just sayin' he needs to stick with his day job.
I hope you are able to relax and take some time for yourself during this very busy time of year.
It's so very easy to become wrapped up in the shopping, gift-giving, party going and entertaining that we forget to take a step back and take a DEEP breath.
Just as at Thanksgiving, remember to be thankful.
We are all very blessed.
Even though you may be in a very difficult place and struggling with something you feel like you will never get through, there are people around you who care, and love you.
They may not even know that you are bothered by something, especially if you are like me who always likes to "hold it together, so everyone thinks everything's ok".
Unh-uh.
Don't try to be a hero.
People will be more than happy to help you, talk to you and support you.
You just need to ask.
Whoa.
Ok, I thought this was a food blog?
I don't know, sometimes I just have these moments where something comes over me and have to go with it.
One of you out there needed this message today, not sure who, but I hope it helps.
I love you!
Thank you SO very much for reading!!
I give you BIG baking hugs and muffins!!