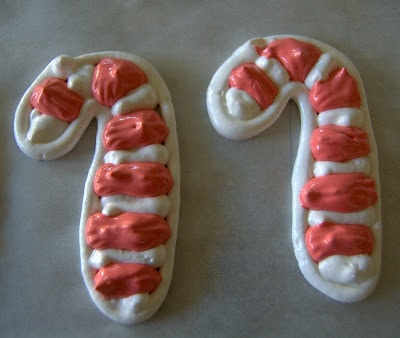 For Halloween we had the Ghost Meringues.
I didn't do Santa Meringues, but that would have been cute. Ah, maybe next year.
Instead we have Peppermint Candy Cane Meringues.
They're still in the oven, so I'm going to leave them there overnight and post the final picture tomorrow.
These things were SO easy to make, it's just the baking time and time they have to sit undisturbed after that takes so long.
This was adapted from The Martha Stewart Living Cookbook pp. 642, 515; author, Martha Stewart Living Magazine; publisher, Clarkson Potter Publishers, an imprint of The Crown Publishing Group, a division of Random House, Inc.; ISBN 978-0-307-39382-1.
Peppermint Candy Cane Meringues – made 34 items with a little white meringue left over


4 large egg whites, room temperature
1 cup sugar
a pinch of cream of tartar
1/2 teaspoon peppermint extract
red food coloring
Preheat oven to 175 degrees F.
Using a candy cane cookie cutter, trace shape onto cardstock or parchment paper.
Prepare two cookie sheets by lining them with parchment paper.
Trace candy cane shapes onto parchment with the cut-out, leaving about an inch of space in between.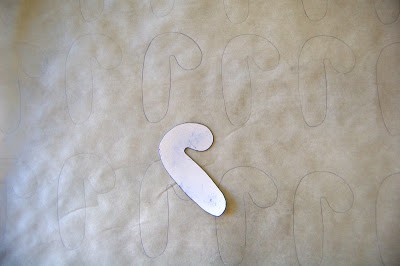 Turn the parchment over and leave on the cookie sheet.
Fill a medium saucepan with a couple inches of water and bring it to a simmer over medium heat.
In a heat proof mixing bowl, combine egg whites, sugar and cream of tartar.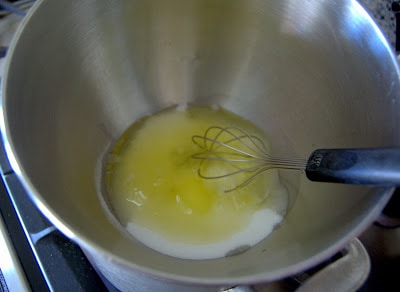 Place bowl over saucepan and whisk constantly until all sugar is dissolved and egg whites are warm.
This will take 3-4 minutes and can be tested by rubbing the solution between your fingers. It should feel warm and smooth to the touch.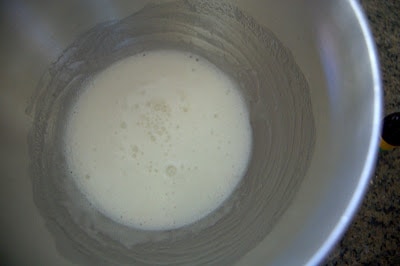 With the wire whisk attached to the mixer, place bowl in mixer and beat on low speed.
Gradually increase speed to high and continue beating until whites form stiff and glossy peaks.
This will take approximately 10 minutes.
Add peppermint extract and beat until combined.
Place 1 1/2 cups of meringue into a medium bowl and add the desired amount of red food coloring. Mix until thoroughly combined.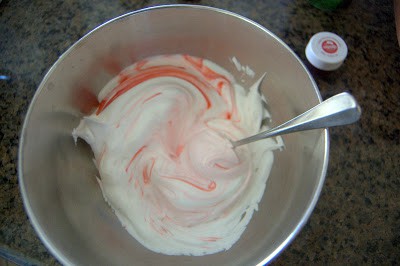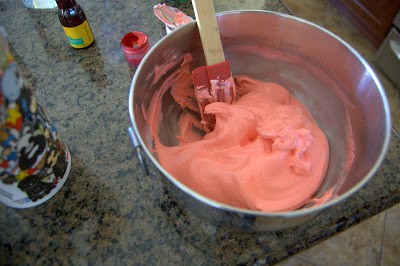 I ran out, otherwise, it would have been redder, more red, redder, more red, REDDER.
Attach a Wilton # 230 decorating tip to a piping bag and fill with white meringue.
I found it easiest to do this by placing the bag into a tall cup. I bent the tip up to prevent any meringue from escaping (not that it would have, it was actually to thick to exit on its' own), and folded the edges of the bag over the cup so that the mouth was wide enough to put the meringue in.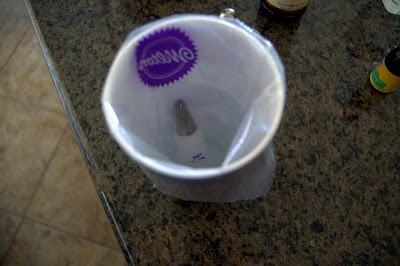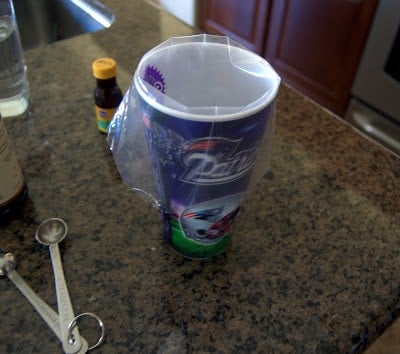 I learned this from those two big baking days with Marlena.
Attach a Wilton #21 decorating tip to a piping bag and fill with the red meringue.
*Note: these were the tips I found easiest to use, feel free to go with what works best for you. If you don't have tips, you can also cut the edge off a plastic bag or make one out of wax paper. There are various videos on YouTube demonstrating how to do it.*
Begin by tracing the candy cane outlines on the parchment.
Make lines of white in each cane, leaving a space for the red meringue.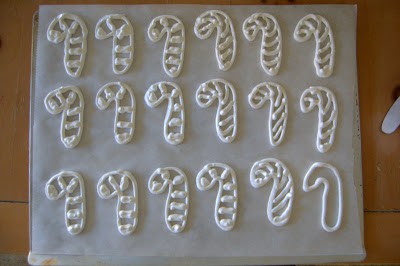 Fill in with red meringue.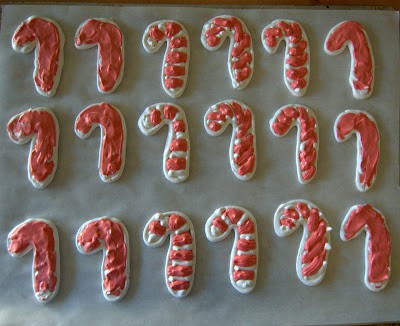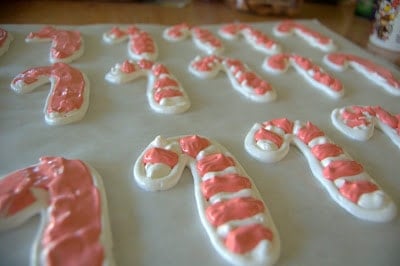 I only used 1 cup of meringue for the red and I ran out. Tis the reason for my recommending you use 1 1/2 cups.
This is also the reason for the mish mash on this cookie sheet. A couple snowflakes dusted with decorating sugar, white candy canes and a really weird snowflake.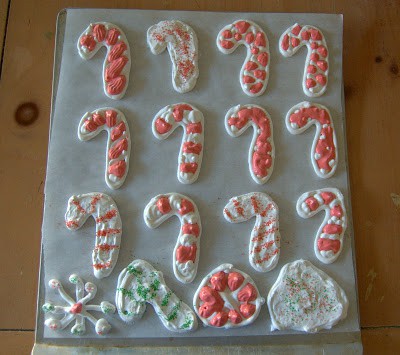 We'll see how these things look in the morning when I remove them from the parchment.
TA DA!!!!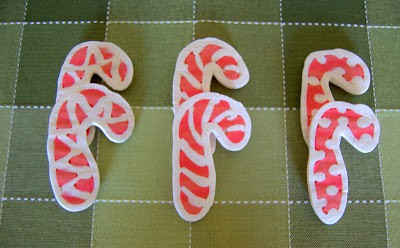 Pretty cool when you turn them over!
There were also some points on the canes that I wanted flattened, hence the smooth red candy canes and smeared meringue. This also helped to fill in some small holes.
I rate everything I bake on a scale of 1-4 with 4 being the best and these Peppermint Candy Cane Meringues earned…I can't tell you yet. I haven't tried one. They're still in the oven.
I'll let you know tomorrow.
Today is now tomorrow. And I can tell you that the candy canes earned 3 1/2 rolling pins.
They are so wonderfully light and airy, a nice change to the heavy holiday cookies you may be eating.
You know what I mean, some of the things we eat this time of year are pretty dense,so this is a nice change.
The peppermint flavor is really yummy, too. It will definitely put you in the holiday mood!
You could even poke a hole in the top of a few and put some ribbon on it to hang on the tree.
Maybe.
I don't know how long they'd last up there. They may be eaten pretty quick by family members and watch out for your animals.
Thanks for reading!
I give you BIG baking hugs and muffins!!