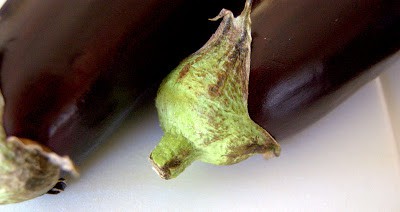 Don't be confused, I'm just taking a day's break in the 12 Days of Cookies.
I don't want anyone thinking that these are eggplant cookies.
That does not sound appetizing. At all.
For today's cookies, I had used a recipe from a fellow blogger and upon typing up my post, saw that I was needing to obtain permission for copyright purposes.
I've e-mailed her and am awaiting a response, so I'll post it when and if I hear.
So, instead of cookies, we have eggplant.
I know, it's not summer anymore. It's winter and Christmas is a few weeks away.
Who eats eggplant around Christmas?
Um….I do, I do, I do. And the rest of the family.
We are because I received 2 eggplants, 2 packs of cherry tomatoes, 7 zucchini, 7 yellow squash, 2 Mexican squash (whatever those are – I have yet to find out), 4 cucumbers, 6 Roma tomatoes, AND a personal watermelon!
And I only paid…you ready?
$10!!!
There's a wonderful program here in Arizona called Market on the Move. Not only does it provide free produce for the hungry and the needy, but they also hold different events throughout the state where people can purchase up to 60 lbs. of fresh produce for just $10.
Unbelievable.
I went to a local church this past Saturday and picked some up.
The watermelon and 2 containers of tomatoes alone would have cost me more than $10 in a grocery store.
(Deep voice) I am not being paid for this announcement. All opinions being expressed are my own.
Pssst. If you live anywhere in Arizona, I urge you to check it out. It's for a great cause, you'll be eating well, the produce is in good condition (yeah, my first thought was that it was going to be rotting and on its' way out, but not the case!) and it's just a win-win.
Ok, enough of the public service announcement.
Onto the recipe.
Adapted from Chelsea's blog, Sprinkles of Parsley.
Eggplant Rollatini – made 14 rolls
2 eggplants (on the long side)
1 cup flour
1/2 teaspoon salt
1/4 teaspoon freshly ground pepper
3 eggs
1 tablespoon + 1 teaspoon water
1 cup Italian style bread crumbs
1 cup yellow corn meal
1/4 cup olive oil, plus more if needed
Filling
1 10 oz. package frozen spinach, thawed
1 15 oz. container of ricotta cheese
1 egg
1/4 cup Parmesan cheese
1/2 teaspoon dried basil
1/2 teaspoon dried oregano
1/2 teaspoon dried parsley
1/2 teaspoon salt
1/4 teaspoon freshly ground pepper
1 1/2 cups shredded mozzarella cheese, divided
1 1 lb. 8 oz. jar of spaghetti sauce
remaining mozzarella cheese
freshly chopped basil for garnish, if desired
Preheat oven to 350 degrees F.
In a plate or shallow baking dish, combine flour, salt and pepper.
In a second shallow dish, combine the eggs and water. Beat well.
In a third shallow dish, combine bread crumbs and corn meal.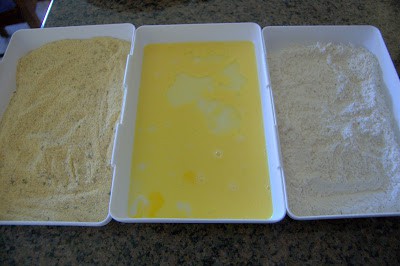 Cut the top and bottom off of the eggplants and cut into slices lengthwise, 1/4-inch thick.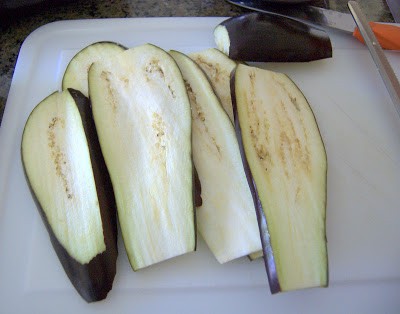 Dredge a slice of the eggplant first into the flour, coating both sides and shaking off the excess, then into the egg, coating both sides and allowing excess to drip off, and finally into the crumb/corn meal mixture, removing any excess.
Repeat with remaining slices.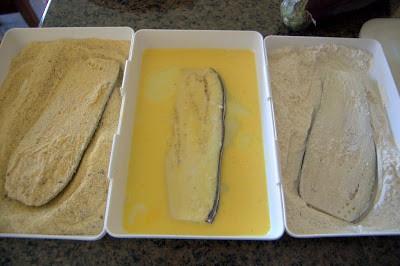 After you finish coating each slice, place them onto a plate. This makes it easier to fry them all instead of doing it in steps.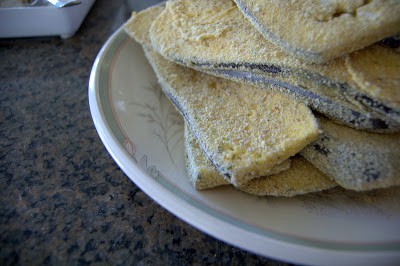 Place a skillet over medium-high heat. Add 1/4 cup olive oil. Working with 2-3 slices at a time, place eggplant into skillet and cook for about 1 minute on each side, until lightly browned. Add more olive oil to the pan if needed.
Remove to a plate to drain on paper towels.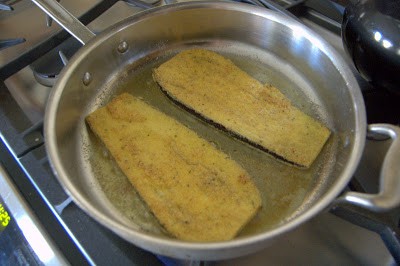 In a large bowl, combine 1/4 cup mozzarella cheese, ricotta and parmesan cheeses, egg, basil, oregano, parsley, salt, and freshly ground pepper.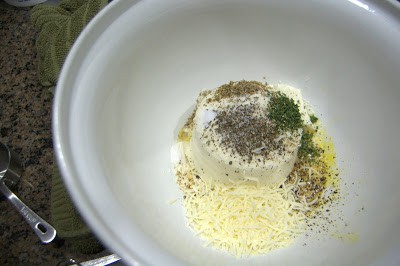 Mix well.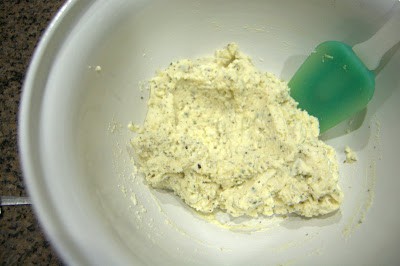 Place thawed spinach into a strainer and remove excess moisture. Add to filling mixture and using a rubber spatula, thoroughly combine.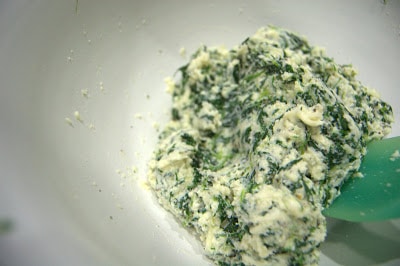 Pour about 1/4-1/2 cup of spaghetti sauce into a 13 X 9-inch baking dish.
Place one eggplant slice on a plate. On the wider end, put 1-2 tablespoons of filling.
Roll the eggplant away from you towards the smaller end.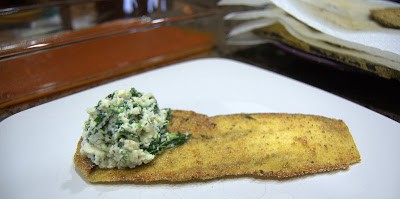 Place the roll into the prepared baking dish, seam side down.
Repeat process with other eggplant slices.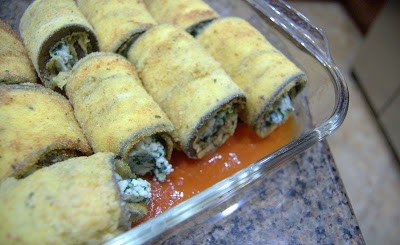 Cover with remaining tomato sauce.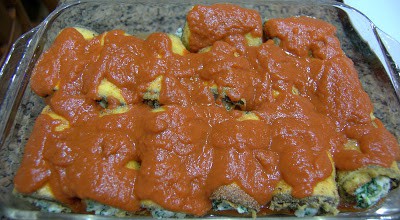 Sprinkle with remaining mozzarella cheese.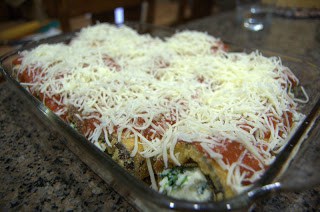 Bake for 25-30 minutes until cheese is melted, slightly browned and bubbly.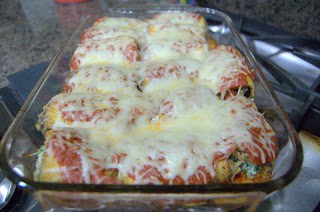 Garnish with chopped fresh basil if desired, and serve.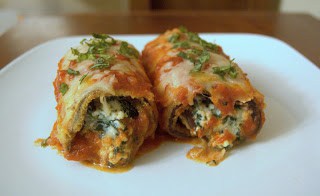 I rate everything I bake on a scale of 1-4 with 4 being the best and this Eggplant Rollatini earned 2 1/2 rolling pins.
The family wasn't nuts about it.
I didn't like that the skin was on the eggplant. I liked the way it looked, but I didn't like the consistency.
I LOVE eggplant parmigiana, and even though this was somewhat similar, I really wasn't too nuts about it.
I was bummed. It looked delicious, but didn't taste as I expected it too.
I think there was too much eggplant in each bite.
If I were to make it again, I would peel it.
I give you BIG baking hugs and muffins!!