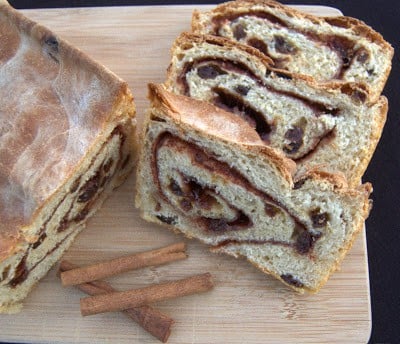 Here's one recipe you're going to need to try…maybe for those guests you'll be having over the end of the week. It'll be great with that morning cup of coffee!
Adapted from The Fannie Farmer Cookbook, Thirteenth Edition
Cinnamon Raisin Bread – makes 2 loaves
2 tablespoons shortening
2 teaspoons salt
2 tablespoons sugar
1 cup milk
1 cup water
1 package yeast
1/4 cup warm water
6 cups all-purpose flour, approximately
1 1/2 cups raisins
4 tablespoons butter
1/2 cup sugar
5 teaspoons cinnamon
In a saucepan over low heat, combine shortening, salt, sugar, milk and water. Heat until very warm and until shortening is melted.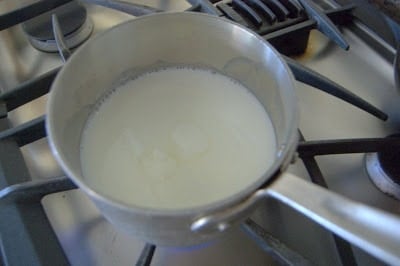 Remove from heat and cool to lukewarm.
In a measuring cup, combine 1/4 cup of warm water and yeast. Stir and let sit for 5 minutes so it can dissolve.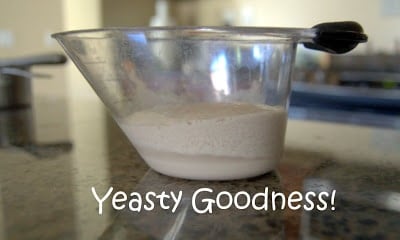 Pour the milk mixture into a mixing bowl.
Add 3 cups of flour, and the yeast.
With the mixture fitted with the paddle attachment, beat until well combined.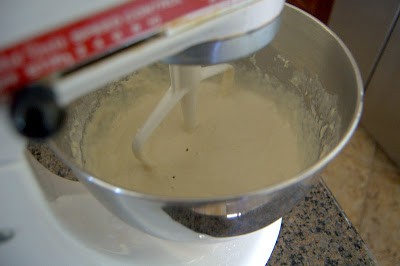 Add 2 more cups of flour and mix well.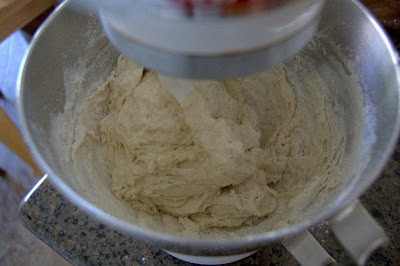 Add raisins and thoroughly combine.
Turn dough out onto a lightly floured surface.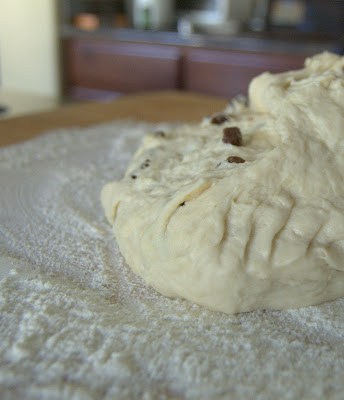 Knead for 2 minutes adding just enough flour so that dough is not sticky.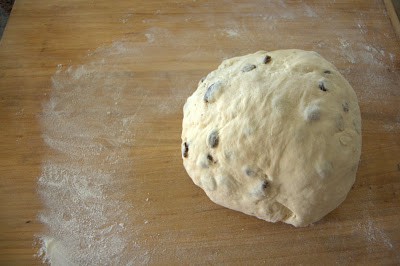 Allow dough to rest for 10 minutes.
Knead dough until it is smooth and elastic, about 5-10 minutes.
Put the dough into a large greased bowl.
Cover with a clean towel and place in a warm area until it has doubled in bulk, about 1 hour.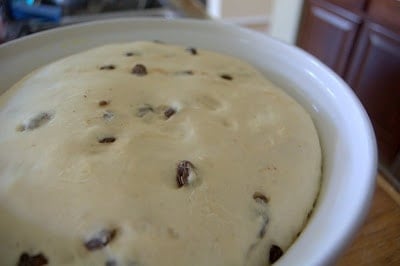 Melt butter in a small bowl.
In a separate small bowl, combine sugar and cinnamon.
Punch dough down and divide evenly in half.
Keep one half in the greased bowl, covered with a greased piece of plastic wrap and place the other on a lightly floured surface.
Pat and shape the dough into n 8-inch square.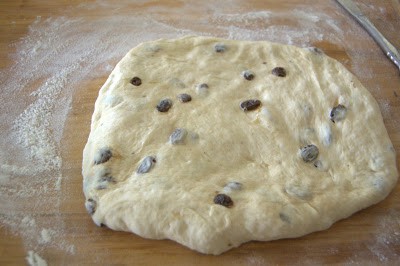 Brush with 1/2 the butter.
Sprinkle the cinnamon/sugar mixture completely over the entire surface.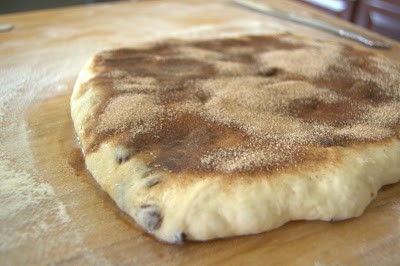 Beginning at one side of the square, slowly roll the dough.
Pinch one end together and fold under the roll. Repeat with other end.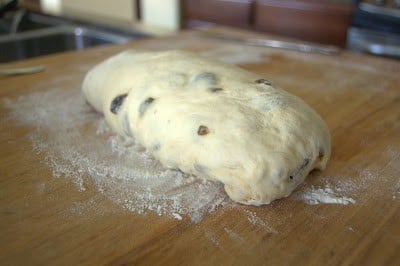 Place roll into a greased loaf pan.
Repeat process with other half of dough; pat and shape into a square, brush with butter, sprinkle with cinnamon/sugar, roll, pinch ends and place into greased loaf pan.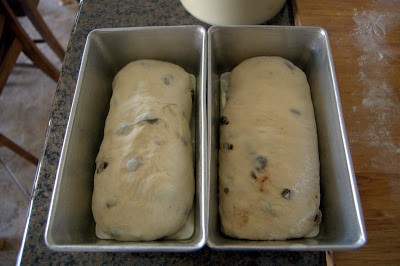 Place loaves in a warm place, cover with a towel, and let rise till double in bulk again, about 1 hour.
Preheat oven to 425 degreesF.
Bake bread for 15 minutes.
Reduce heat to 375 degreesF.
Continue to bake for 30 additional minutes.
Remove from pans and cool on a wire rack.
Ok, just so you know, they're NOT going to be flat like this when you remove them from that warm to double in bulk that second time.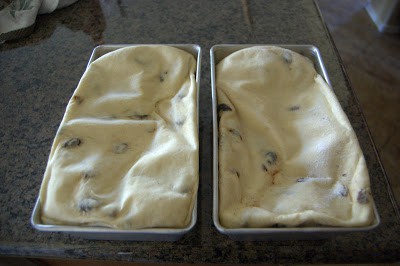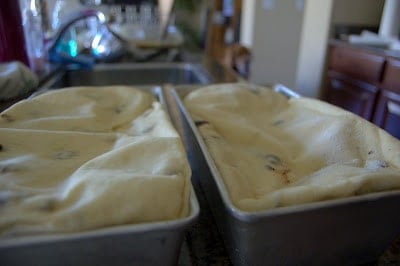 Mine collapsed because I put them in to rise a second time at 11 am and retrieved them at 4 pm.
I had things to do.
I have a life, errands to run, people to see, you know. One can't always stay home glued to the oven.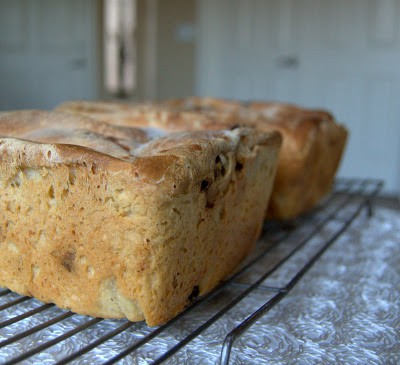 I rate everything I bake on a scale of 1-4 with a 4 being the best and these loaves of Cinnamon Raisin Bread earned 3 1/2 rolling pins.
OH. MY. GOODNESS!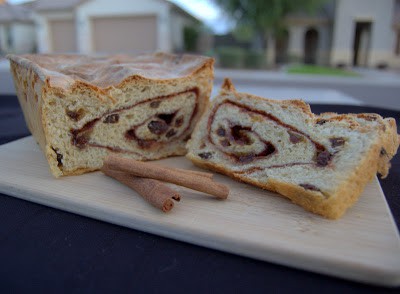 So incredibly delicious.
So moist. Ok, maybe moist isn't the right term for a loaf of bread.
Um,…
How about soft?
And not dry?
It wasn't moist, like in wet, it was just…good grief, I am at a loss for words.
I really can't think of a word to describe it.
You know what I mean.
The dough was perfect.
And the cinnamon?
Oh MAN!
I really thought that 5 teaspoons of cinnamon was going to be way too much, but it was absolutely perfect.
So incredibly yummy!
I cannot wait to have a piece of this toasted in the morning with my cup of coffee.
I'm going to bed now so I can wake up sooner.
* I just have to tell you that I stuck one loaf in the freezer to save for French Toast over Thanksgiving weekend, and it was THE MOST DELICIOUS French Toast I have ever made!!! The family absolutely LOVED it and devoured it. Will definitely have to make it AGAIN!!*
So, I make dinner last night (this post went up last night, but I'm adding pictures and this little event this morning/day after), Basil Baked Salmon, some sweet potato chips, and bottled (gasp) applesauce.
Salmon's not that inexpensive, but it's a good healthy fish and it was on sale and we hadn't had it since Day 215. Wow, that was 51 days ago!
The table's set, food is on it, Mr. 365 is still on the couch and our daughter is standing at the table watching me put the fish onto our plates.
I go to serve Mr. 365, and this happened…
I could not have done that if I tried!!
It fell off the fork and smack dab into his apple juice!
I was so completely disgusted because 1) I had dropped a good sized piece of fish into a beverage, and ruined both, and 2) I just wasted about $4 worth of food because I had not been careful enough.
I was so upset.
I stared at it. Walked away from the table in silence while my daughter stood there. I could tell she wanted to laugh.
Then I started to.
It was pretty funny and of course, I had to document it.
But yet, so completely disgusting.
Mr. 365 on the other hand said it didn't matter to him and that he'd eat it anyway.
Blech!
He's always mixing his food together on his plate and was probably going to mix it into the applesauce eventually, so I just began the process for him.
Oh how I love that man!
Thanks for reading!
I give you all BIG baking hugs and muffins!!