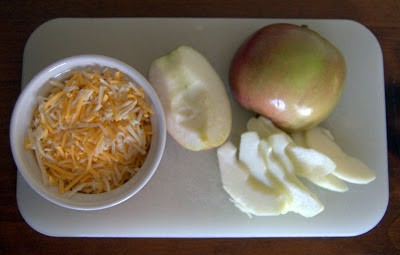 Unfortunately, there are no exciting dinner pictures like yesterday.
Some of you may be turned off by the title.
I've had cheese with chicken, but not apples with chicken.
And I haven't even had cheese with apples.
I know that it's popular to have a slice of cheddar cheese with your apple pie in the south though, so one day I'll have to try that.
Apple Cheese Chicken – serves 2
2 boneless, skinless chicken breasts
salt
freshly ground pepper
1 apple
1/2 cup shredded Monterey/Cheddar cheese
1/3 cup Italian bread crumbs
1/3 cup apple juice
1/8 teaspoon freshly ground nutmeg
Preheat oven to 425 degrees F.
Prepare a baking dish by spraying it with cooking spray.
Pound the chicken breast to 1/4-1/2-inch thick.
Season each breast with salt and pepper on both sides.
Place Italian style bread crumbs into a flat dish and dredge chicken breasts through, coating each side completely.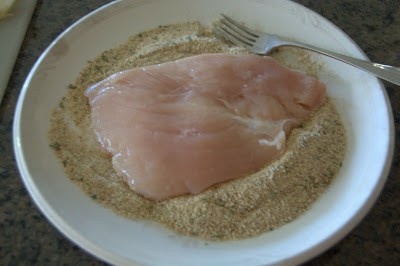 Place into the prepared baking dish.
Sprinkle half of the shredded cheese over each breast.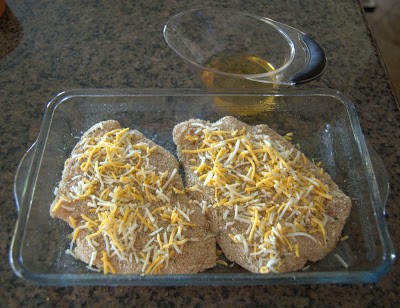 Peel, core and slice the apple.
Arrange apple slices evenly over chicken.
Sprinkle with remaining cheese.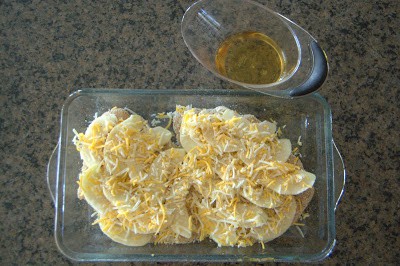 Gently pour apple juice into baking dish.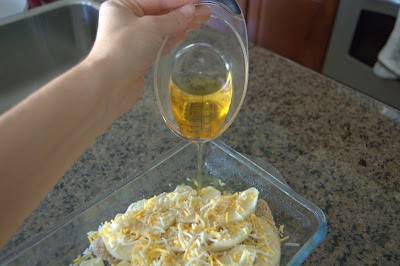 Sprinkle each with nutmeg.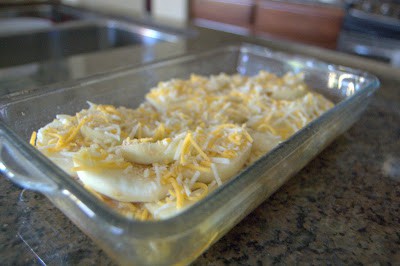 Bake for 20 minutes.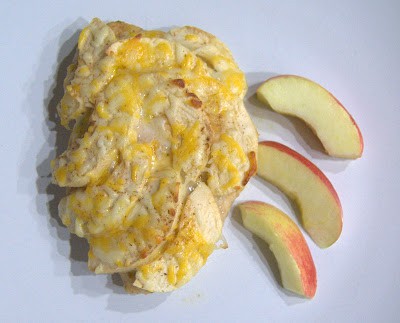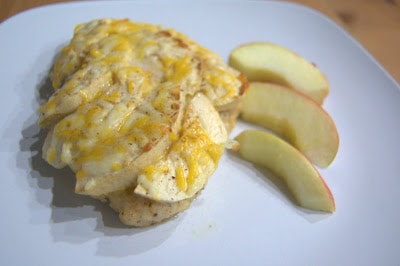 I bake everything I rate…uh, no. Let's try this again.
I rate everything I bake on a scale of 1-4 with 4 being the best and this Apple Cheese Chicken earned 3 rolling pins.
Apples are pretty good with cheese.
And chicken is pretty good with apples.
And you may already know that chicken is good with cheese.
You may want to consider giving this one a try.
It's also a great dinner to make when you may be short on time and have some chicken on hand as it takes less than 10 minutes to prepare and only 20 minutes to bake.
In my book, that's awesome!
Especially if you have kids and you are either coming or going to their events and don't have much time to prepare dinner.
A quick home-cooked chicken dinner is most often a better choice than buying dinner at a fast food restaurant on the run.
But don't get me wrong, there have been plenty of nights when I've driven the old mini-van through the Arch d'Express.
Sometimes, it's just. plain. easier.
Enjoy the rest of your weekend!
I give you BIG baking hugs and muffins!!