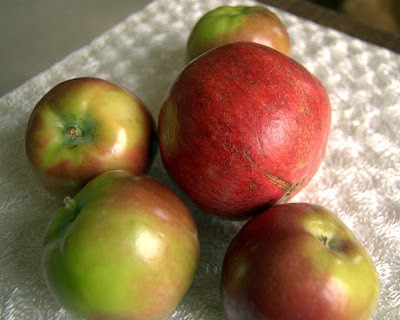 It's been an exciting day at the 365 home.
Our eldest texted me last night saying she'd be coming home today. Since her boyfriend lives nearby, his mother had offered to bring them back from their college for the weekend.
We had originally thought that she wouldn't be able to come home this weekend to see her brother run in his first State cross country meet, but she really wanted to be here to support him.
She made me melt when I read her text.
I knew it would mean so much to her brother and that he would be very excited.
When she arrived I told her that she should surprise him and pick him up from practice.
She and her boyfriend did that and then they brought him home.
Our son walked through the front door and I asked him if he was surprised.
He came over to me and with tears in his eyes, nodded his head yes, said he sprinted towards her when he spotted her and then gave me a huge hug.
It was so awesome.
Sometimes our children are not as close as I would like them to be, but then something like this happens and I know there's a very special bond that has grown between the three of them deeply rooted in love and support.
And for that I am forever grateful.
This was adapted from The New Doubleday Cookbook.
Apple Pomegranate Crisp – serves 4-6
5-6 apples
1 tablespoon lemon juice
1/4 cup sugar
1 pomegranate, seeded (about 1 1/2 cup of seeds)
Topping
2/3 cup flour
1 cup firmly packed light brown sugar
1 teaspoon cinnamon
1/4 teaspoon ginger
1/4 teaspoon allspice
1/4 teaspoon salt
1/2 cup butter (1 stick), cut into small pieces
Preheat oven to 350 degreesF.
In a medium bowl, combine flour, brown sugar, cinnamon, ginger, allspice, and salt. Mix with a wire whisk.
Using a pastry cutter, cut butter into dry ingredients until it resembles coarse meal; set aside.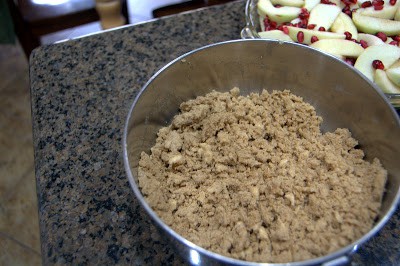 Remove seeds from the pomegranate.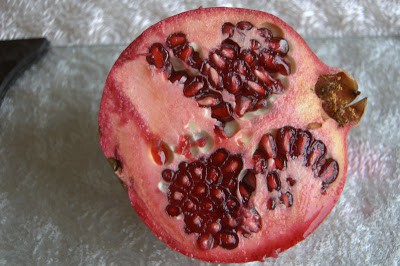 This can easily be done by cutting the pomegranate in half, submerging one half in a bowl of cold water and gently pulling the seeds away from the membranes with your thumbs and fingers.
The seeds will fall to the bottom of the bowl and the membranes will float to the top.
Drain the seeds and place on a paper towel to dry.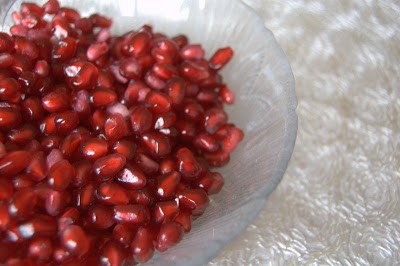 Peel, core and thinly slice the apples.
In a large mixing bowl, combine apple slices and sugar.
Sprinkle lemon juice over apples. Mix to completely cover the slices with lemon juice and sugar.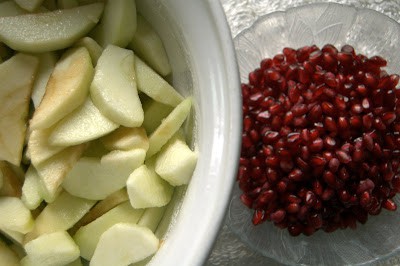 Fold in pomegranate seeds.
Place mixture in a 9-inch pie plate and put pie plate on a baking sheet covered with foil. This will help to prevent spills from the bubbling crisp onto the bottom of your oven. You can thank me later. 😉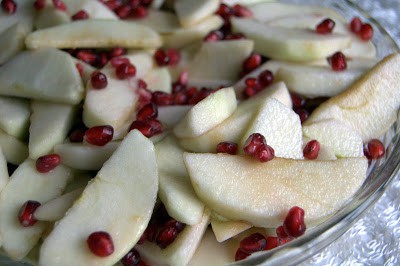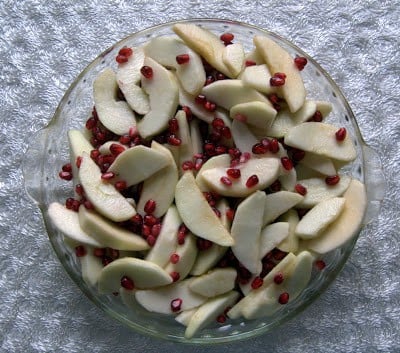 Sprinkle topping over apple slices, covering the dish entirely.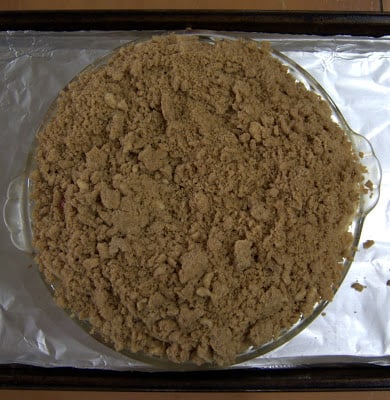 Bake for 45 minutes until lightly browned and bubbly.
Cool to room temperature and serve.
Can be eaten plain or topped with a scoop or three of vanilla ice cream.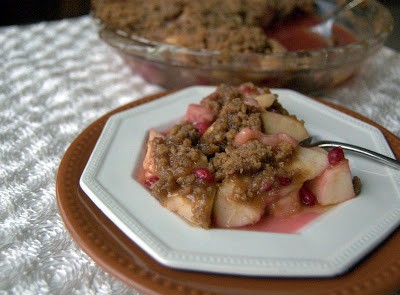 I rate everything I bake on a scale of 1-4 with 4 being the best and this Apple Pomegranate Crisp earned 3 rolling pins.
Apple crisp is one of my most favorite desserts in the Fall, and It tasted even better with the addition of the pomegranate seeds.
They added a nice "pop" and slightly tart flavor to it.
I also like how the apples pinkened with the juice leaking from the seeds while the crisp was baking.
I was going to add some oats to the topping because I love oats in my apple crisp, but even as they were sitting on the counter in that HUGE blue and red container, I forgot them.
Oh well, next time.
I had made a hoe-to video, LOL! Um, NO, a HOW-to video about deseeding a pomegranate, but I've been having trouble uploading it. I'll keep working on it and hopefully I'll be able to get it up here. Once I do I'll let you know.
I plan on adding a video of some instructional type at least once a week. I'll have them here on the blog and also on YouTube under 365DaysofBaking.
So be watching for them!
I hope you all have a wonderful weekend!
We may be watching our son run in the rain which is a rare occurrence here in Arizona.
I give you BIG baking hugs and muffins!!