Yay!!!!!!
It's time for the Secret Recipe Club reveal!!
Wow, I cannot believe that this is my fourth month participating in the Secret Recipe Club! It has flown and has been SO much fun!!
The Secret Recipe Club is a group of bloggers who have chosen to participate once a month and are each given a blog from which we are to chose any recipe to make and then post about.
Every month I CANNOT WAIT to see who's blog I will be given. It is SO exciting!!!
But, shhhhh…., it's a secret!!
We are not supposed to tell the writer of the blog that we have them.
It's a lot of fun blog stalking and going through their recipes discovering new ideas and "meeting" a fellow blogger.
The idea is based on the Secret Santa and was originally started by Amanda of Amanda's Cookin'. The group has grown so much over the last few months that there are now 4 separate groups! I'm sure Amanda never imagined her baby would grow to be this big!
My group's fearless leader is Angela of the blog, Big Bear's Wife, and she's been a tremendous help and source of support to all of us as has Amanda! A BIG baking hug goes out to both of them for all of their hard work!!
This month I was given a fellow New Englander's blog. Ok, I know I'm not in New England anymore, but it will always be "home".
My blog assignment was….
I was very excited to peruse their blog!
They have a varied list of recipes all nicely categorized so that it is easy to find what you're looking for.
And I went through MANY of them, but stayed away from the drinks and soups/stews groups because…
go ahead and say it with me,
"This is a baking blog, and I wanted to find something I could bake."
Hmm…I won't be saying that for too many more months.
I'm so excited that I'll be able to make so many other wonderful creations from various blog assignments once 365 is over!! Woo Hoo
Drinks (not that I'm a drinker, but they sure do look good!), soups, candies, and the list goes on!
There was also a section on their blog called
Et Cetera
where they have a list of their recipes they have entered into contests and won awards for, and restaurant reviews among other topics.
I was excited to see their list of reviews and picked a few establishments that I'd like to go to when we go back to New England.
After MUCH perusing, the recipe I settled on was really a no-brainer. It's Fall, we like apples and we LOVE pie! I made a few adaptations which I'll talk about after the recipe. The recipe was…
Early-Apple Crumbly Pie
. I am NUTS about Marie Callendar's Apple Pie with the crumb topping, so I was really excited to make this.
Apple Crumb Pie
Pie Crust
I followed the recipe for the Crisco single 9-inch pie crust found
here
.
Crumb Topping
3/4 cup brown sugar
1/2 cup all-purpose flour
3 tablespoons melted butter
1 teaspoon ground cinnamon
Pie Filling
7 apples
1 stick unsalted butter
3 tablespoons all-purpose flour
1 teaspoon cinnamon
1/4 teaspoon freshly grated nutmeg
1/4 teaspoon allspice
1/4 teaspoon cardamom
1/2 cup white sugar
1/2 cup brown sugar
1/4 cup water
1 teaspoon pure vanilla extract
Preheat oven to 425ºF.
Make the pie crust and place into a 9-inch pie plate.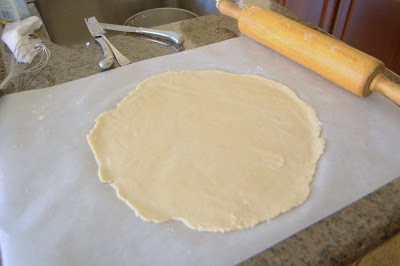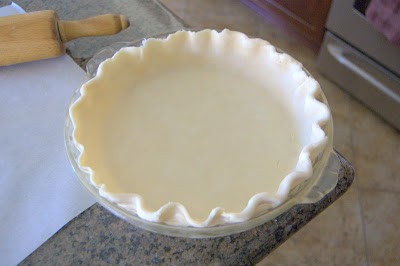 In a medium bowl, mix the crumb topping ingredients until the mixture resembles coarse meal; set aside.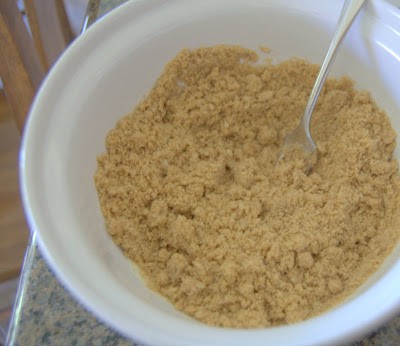 Peel, core, and dice the apples. Place them into a large bowl.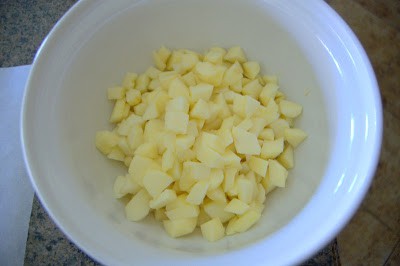 In a medium saucepan, melt the stick of butter. over medium-low heat.
Stir in the flour and spices and cook about a minute until it starts to thicken.
Add the white and brown sugar and stir until smooth.
Stir in the water and the vanilla.
Bring the mixture to a boil, then reduce heat and simmer for five minutes.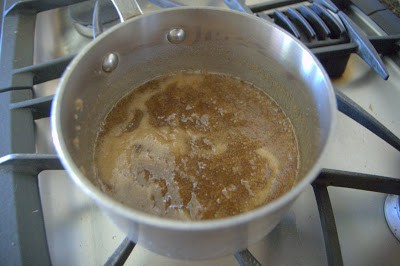 Pour over apples and toss to coat.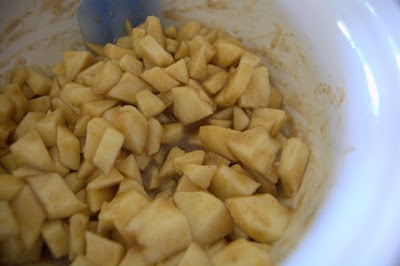 Pour apple mixture into pie crust.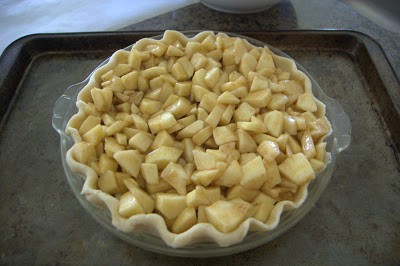 Spread the crumb topping evenly over the apples.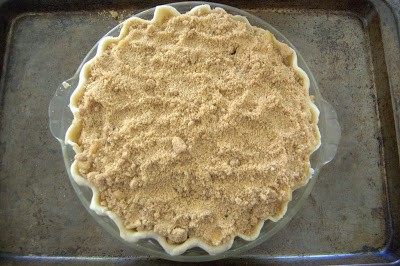 Bake at 425 for 15 minutes, then reduce heat to 350 and continue to bake another 30 minutes.
Remove from oven and place on a wire rack to cool.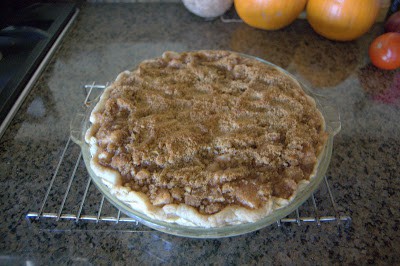 As I said before I made a few adaptations: I made the pie crust from scratch just because that's what I do, I substituted the various spices for the 1/2 tablespoon of apple pie spice, and I tossed the apples with the mixture from the saucepan instead of pouring it over the them when they were already in the pie plate.
When I went to cut into it after it had cooled for a while, the pie was extremely soupy.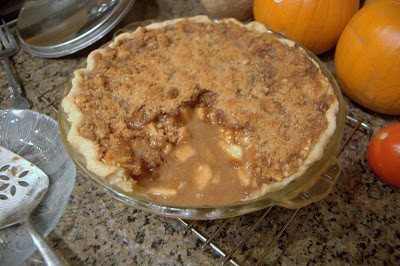 But after refrigerating it overnight, it held together very well and the flavors had really blended together to create a yummy pie. Some things are just better cold.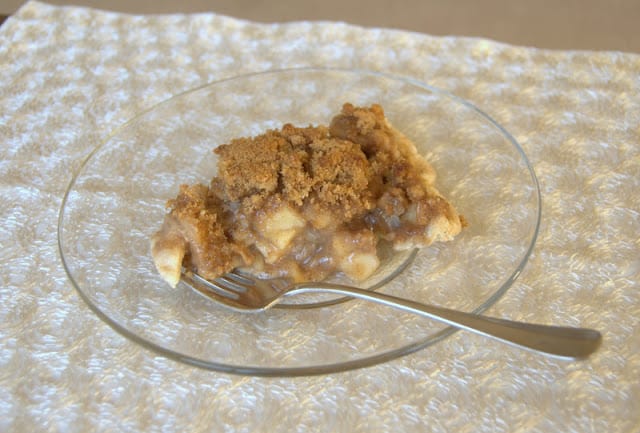 I think next time I would just toss the apples in with the sugar and spices to coat them and then put them in the pie crust and omitting the saucepan step to see how that goes. I wouldn't want to omit the butter (that would just be WRONG on so many levels), so I would cut that up into smaller pieces and place it among the apple (and maybe strategically hide a few pieces) before putting the crumb topping on.
I rate everything I bake on a scale of 1-4 with 4 being the best and this Apple Crumb Pie earned 3 rolling pins.
Take a look to see all the wonderful recipes other bloggers have made!
I give you BIG baking hugs and muffins!!