Z is for Zucchini
How many things can be made with zucchini?
For real?
I really couldn't tell you, there could be hundreds, thousands even!
But I've only made 7.
7??!!
Funny, I thought I'd only made like 3 or 4, but this is 365 Days of Baking and we are closing in on Day 200.
Whoa!!! Day 200!!!!
Can you believe it???!!!
Yeah, so 7.
I can't believe it, but what I was thinking before I went off on that Day 200 tangent was, with a few days less than 200, there's bound to be quite a few zucchini recipes, especially if we had a lot of it growing in out garden.
Let's see,…
Day 156 baked those
Zucchini Bites
that I couldn't get "just right", but really wanted to.
On Day 157 we had one of the most popular zucchini recipes,
Parmesan Crusted Zucchini Sticks
. I received many e-mails and FaceBook comments about how yummilicious they were. So check those out!
Day 182 I made
Summer Squash Chicken
and included pictures of my hometown of Wickford, RI. Fortunately, hurricane Irene spared that small New England town even though many family and friends are without power, not knowing when it will return.
And finally, on Day 184 we had (say it with a thick Italian accent – rolls off the tongue better that way)
Chorizo Zucchini Fettucine
.
Phew, that's alotta zucchini!
Well, I've got one more whopping green squash before we bid that vegetable adieu for the rest of the season. And a fond farewell we're giving it because that sucker is big enough for not one, but
TWO recipes!!!
Tonight just one, tomorrow we'll use the rest of this puppy.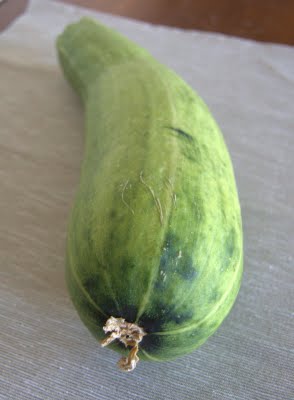 Tonight we have dinner.
I made those Parmesan Crusted Zucchini Sticks, so I don't know why it never occurred to me to make what we had tonight for dinner.
And one of my specialties is Chicken Parmesan even though this version was gluten-free. And I made Eggplant Parmesan which the family also loves.
SO…
wouldn't it only be fitting that I make a…
Zucchini Parmesan?
serves 4


1 medium zucchini less than 1/4-inch thick
1 egg
3/4 cup Italian style bread crumbs
1/4 cup grated Parmesan cheese
1/3 cup olive oil
1 24 oz. jar pasta sauce
1 cup shredded mozzarella
Preheat oven to 375ºF.
In dish with shallow sides, lightly beat egg.
In a separate dish with shallow sides, combine bread crumbs and Parmesan cheese. Mix until well combined.
Begin by dipping one of the zucchini slices into the egg and then dredge it in the bread crumbs being sure to coat both sides with each. Set aside on a plate.
Repeat process with remaining zucchini slices.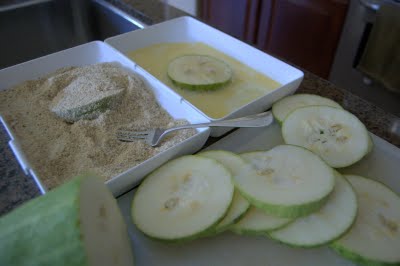 In a large skillet, pour olive oil after it has been heated on medium-high heat.
In batches, sautée the zucchini for about 4 minutes on each side until lightly browned.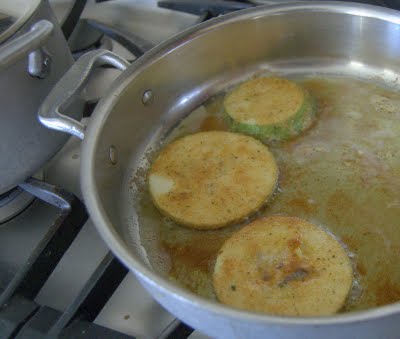 Pour a small amount of spaghetti sauce into an 8 X 8-inch baking dish, being sure to coat the entire bottom.
Transfer the browned zucchini to the baking dish.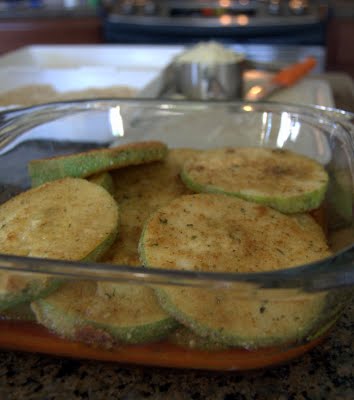 When all slices have been sautéed, pour the remaining spaghetti sauce on top and cover with shredded mozzarella cheese.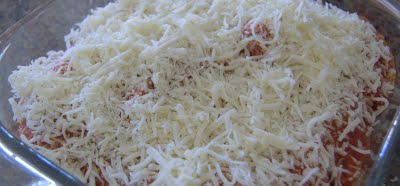 Bake for 25-30 minutes or until bubbly.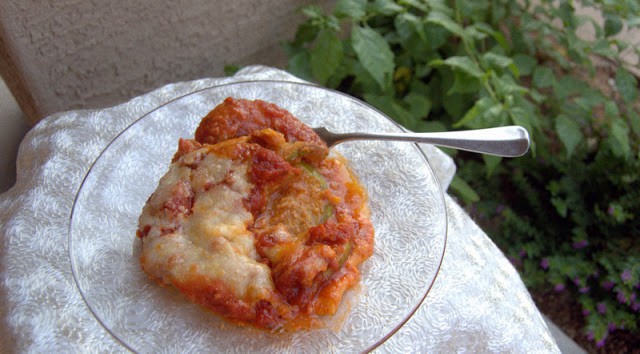 At first, I wasn't that thrilled with the way this turned out. Not that it was one of my "disaster dishes" but because I think some of the slices were too thick and consequently were a little tougher than others.
The last slice had me at the first bite! It was pretty awesome. The slice was thin, probably about an 1/8-inch thick, was tender on the inside, but had a nice texture on the outside with the bread crumbs.
It was yummy.
I rate everything I bake on a scale of 1=4 with 4 being the best. This Zucchini Parmesan earned 3 rolling pins.
Our son couldn't wrap his head around the concept of Zucchini Parmesan because he's stuck on my Chicken Parm., and kept calling it "Chicken Zucchini".
Yeah.
You know when you have a lot of something you either have "a load of it" or "a bucket full"?
This is the same kid who, when he was telling a lot of jokes one day, said, "Don't worry, I've got a bucket full a load of them."
That's one that will never be forgotten!
So our young linguist thought they should earn 2 1/2 rolling pins. He still likes the Chicken Parm.
Our daughter decided to give them 3 rolling pins as did Mr. 365. They really liked it and said I could make it again.
I'll just wait until next summer. I've almost had my fill of zucchini for the summer.
Tomorrow's another day.
So, the final rating is 3 rolling pins.
Thank you all for stopping by!
Happy baking!