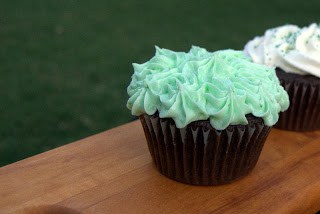 Why does this happen EVERY SINGLE day?
Ok, well nearly almost every single day.
I have all day to bake and want to do as much as I can either prepping or completing the whole process in the morning so I can be relaxed in the evening and take the time to make dinner and relax with the family.
Wow. That was one heck of a long run-on sentence. Mrs. Nina Fleming would NOT be proud. (Shhhh…high school English teacher)
BUT I am rarely ever able to do it!
I was running around like a chicken with my head cut off trying to finish, decorate and take pictures of cupcakes, and prepare dinner.
But it wasn't like I even had to make dinner because I had put the pork shoulder in the crock pot to make pulled pork sandwiches early this morning.
I just do better under pressure. Mr. 365 says I like being in "crisis mode", it exhilarates me.
Yeah, right.
It just stresses me out and makes me crazy!
This is adapted from Two Peas and Their Pod (soon to be Three Peas – Congratulate them!). Thanks, Maria and Josh!
Nutella Zucchini Cupcakes or Bread – makes 12 cupcakes and 1 loaf of bread OR 20 – 24 cupcakes OR 2 smaller loaves of bread
1 1/2 cups light brown sugar
1/4 cup melted butter
3/4 cup canola oil
3 large eggs
1 teaspoon vanilla extract
1/2 cup buttermilk (I poured 1/2 cup milk into a measuring cup, then mixed 1 1/2 teaspoons into it and let it sit for 10- 15 minutes.)
2 cups grated zucchini
1/2 cup Nutella
1 cup semi-sweet chocolate chips
2 cups all-purpose flour
1/2 cup cocoa powder, sifted
1/2 teaspoon salt
2 teaspoons baking soda
1/2 teaspoon cinnamon
Pre-heat oven to 350F. Line a 12-cup muffin pan with paper liners and set aside.
In a medium bowl, mix together brown sugar, butter, and oil.
Beat in eggs, one at a time, mixing into the batter completely.
Mix in vanilla extract, buttermilk, Nutella, zucchini, and chocolate chips.
In a separate large bowl, mix together the dry ingredients.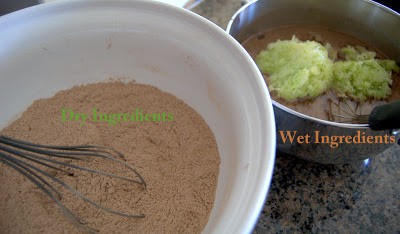 Add the liquid ingredients and mix until well combined.
Spoon batter into lined muffin cups, filling them about 2/3 full.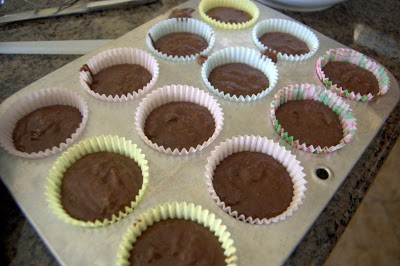 Bake for 30-35 minutes, or until a cake tester or toothpick comes out clean.
Cool cupcakes on a wire rack, and allow to cool completely before frosting.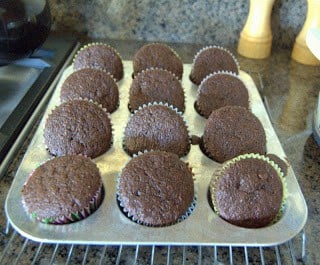 If making ALL cupcakes (20-24 count) line a second 12-cup muffin tin with paper liners and follow baking instructions.
If making cupcakes AND a loaf of bread, generously spray a 9 1/2″ X 5 1/2″ X 3″ loaf pan with cooking spray.
Pour in remaining batter and bake for 50 minutes until a cake tester or toothpick inserted into the middle comes out clean.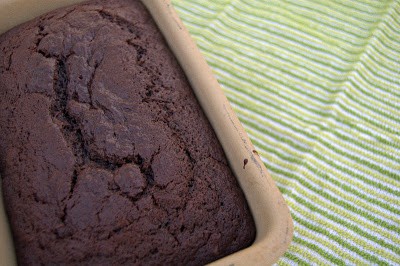 Allow to cool completely in pan on a wire rack before turning out or this will happen…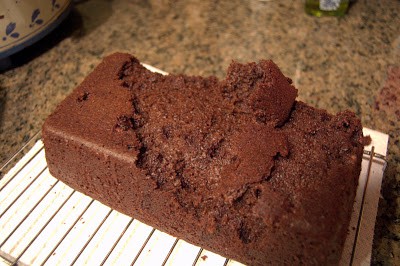 Frosting
I used the Wilton Buttercream Icing recipe, made 1/ 2 the recipe because I discovered, SURPRISE!, I only had 2 cups of powdered sugar, not the 4 cups it called for. This was also the reason I made 12 cupcakes AND a loaf of bread – not enough frosting.
I divided the frosting in half and left one half white. The other I colored with some green food coloring.
Two Peas used a chocolate frosting and I think that would have tasted much better.

I rate everything I bake on a scale of 1- 4 with 4 being the best and these Nutella Zucchini Cupcakes / Bread earned 3 rolling pins.
These were so incredibly moist, it was unreal and we couldn't even taste the zucchini!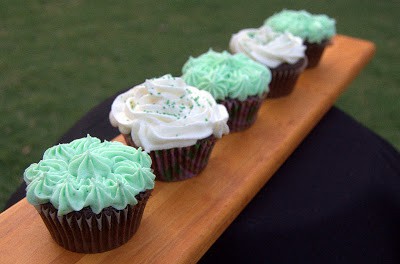 Much like those brownies I made with that secret ingredient.
I decided to add the Nutella because the recipe from Two Peas called for 1 whole cup of cocoa powder, but upon measuring, I found I only had 1/2 cup.
AND, since I only had enough powdered sugar to make 1/2 of the buttercream frosting, I decided to make the loaf of bread.
Hopefully, yesterday's zucchini rundown and today's recipe will offer you more choices for this wonderful green vegetable!
Happy baking!