Last month was my first post of the Secret Recipe Club. It is a club that was started by Amanda of Amanda's Cookin' and is based on Secret Santa where bloggers let Amanda know they want to join and then she (and now actually two of her little elves, Angela of Big Bear's Wife, and Tina of Mom's Crazy Cooking) pairs the bloggers up. When you are assigned a blog you can choose from any recipe and either make it as is or adapt it and then make note of your changes. The best part comes on Reveal Day when everyone posts their "assignment" and you are able to see who was given your blog and which recipe they picked. It is SO much fun! This way we're able to make new friends and try MANY new recipes!
The August assignment for me was… (DRUMROLL!!!)…
Jessica has a wonderful website with many, many recipes!
But that's not all.
There is a tab with a connection to her sister blog, Belleicious Kids, which was inspired she said by her finicky young son. He's a cutie, too!
She has a Pantry List which is a list of everything she has in her pantry and is a great guide for a new bride or someone like me who still needs to have some of the staples stocked so I don't need to run out to the store. Having everything at your fingertips when you decide to make a recipe is so much more convenient!
There is a Join My Recipe Challenge where she encourages her readers to join her in making one recipe a month either that the reader has been wanting to make or is one that Jessica has on her "Bucket List of Recipes". What a great idea!
One of my favorite things on her site besides all those wonderful recipes is her Tips and Tricks list. She has great ideas from storing sour cream and cottage cheese upside down (Why, you ask? Go see!) to keeping the fresh berry containers for storing fresh herbs wrapped in damp paper towels. Also, tips on freezing and storage, and substitutions.
And of course, when you have a food blog you have to have an index of all your recipes. And oh, her recipes! There are so many that look so delicious that it was quite difficult to choose just one! You can bet that I'll be sharing more of hers with you as we move along here at 365.
In keeping with my blog theme, I of course chose a recipe that I could bake. When I saw her recipe for Homemade Samoas Girl Scout Cookies, I knew that it was an absolute no-brainer that I make these because they are my absolute favorite Girl Scout cookie!! I was SO excited!! My college daughter loves them to, so you can be sure I'll be sending some in a care package I'm putting together for her.
I don't feel the need to make any ingredient changes since the recipe looks as close to the original cookie as you can get, I just opted to melt ingredients on the stove since I rarely use my microwave.
Be sure to stop by and check out Jessica's site and leave her a comment saying that you saw her recipe here, Also, congratulate her because she is expecting her second child!
Thank you, Jessica for this recipe and for all your wonderful tidbits on your blog!
Homemade Samoas – makes 40 cookies
(topping adapted from Baking Bites)
Cookie
3/4 cup butter, room temperature
1/2 cup sugar
1 large egg
2 cups all-purpose flour
1 teaspoon baking powder
1/2 teaspoon salt
1/2 teaspoon vanilla extract
Topping
3 cups shredded, unsweetened coconut
12 ounces good quality chewy caramels
1/4 teaspoon salt
3 tablespoons milk
8 ounces semi-sweet chocolate chips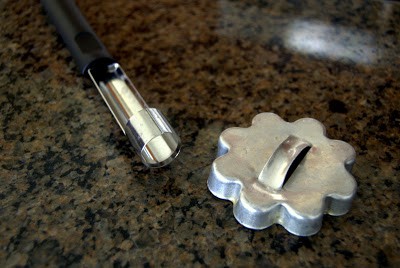 Preheat oven to 350F.
In a medium bowl, whisk together flour, salt and baking powder; set aside.
In a mixing bowl fitted with the paddle attachment, cream the butter and sugar together until smooth and fluffy.
Add the egg, mixing well to combine, and then add in the vanilla.
Gradually add the flour mixture and beat on low speed until just combined.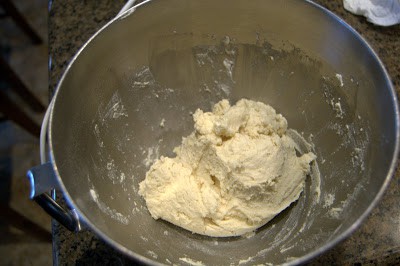 On a lightly floured surface area, roll out the dough until it is about 1/2-inch thick.
Using a 2-inch round cookie cutter, cut out cookies and place on a cookie sheet.
Cut out a small circle in the middle using an apple corer or something with a small circle.
Bake for 10 minutes or until golden brown.
Transfer cookies to a wire rack to cool completely.
Lower oven temperature to 300ºF.
Prepare a rimmed baking sheet with parchment paper.
Spread coconut evenly on the sheet.
Toast for 10-15 minutes, making sure to stir it every 5 minutes until the coconut is golden in color.
Set aside.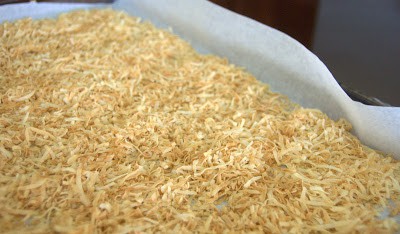 Unwrap caramels and place in a large saucepan with milk and salt.
Cook on low heat until caramels are melted being sure to stir regularly.
When caramel is smooth, fold in toasted coconut with a rubber spatula.
Using a knife, gently spread topping over the cooled cookies.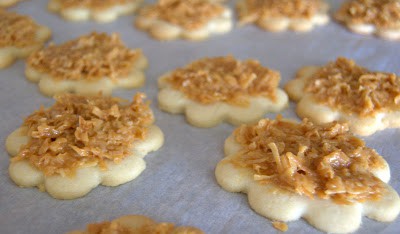 While topping sets, melt chocolate chips in a small bowl over a pot of simmering water.
Using a rubber spatula, spread chocolate onto the base of each cookie and place on a clean sheet of parchment paper.
Transfer the remaining chocolate to a piping or ziploc bag with the corner cut off, and drizzle over the tops of the cookies.
Allow chocolate to cool completely before storing in an airtight container.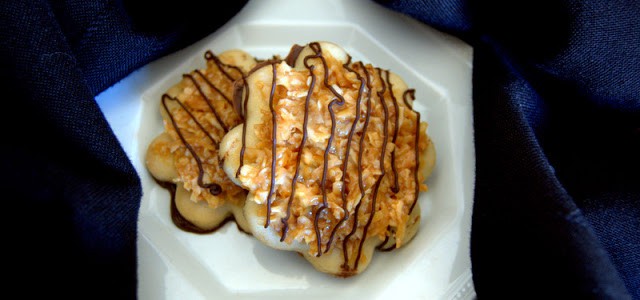 I also think that instead of melting the caramels in the saucepan, it would be easier to use the microwave. I think it would also help to quickly warm up it up as it tends to cool and will harden, making it more difficult to spread. And…might break a cookie or two.
Because it's been so warm here, the only way I could get the chocolate to set on the bottom of the cookie was to slide the sheet of parchment they were on onto a cookie sheet and put it into the oven for 10-15 minutes.
It worked and they became very chewy.
But they were quite yummy!!
They didn't taste exactly like the Girl Scout Samoas, but they were pretty darn close and I liked them better because they were homemade!
I rate every recipe that I bake on a scale of 1-4 with 4 being the absolute best. These Homemade Samoas from Jessica at
Kitchen Belleicious
earned 3 1/2 rolling pins! The family
really
liked them and I'm sure my daughter will appreciate the surprise in the mail!
Thank you again, Jessica!
Please be sure to check out the other bloggers who have participated in this month's Secret Recipe Club and leave a comment for them!
Happy baking!