Yesterday and today have been spent largely in front of the computer. I'm not kidding. I spent from 10am-5pm yesterday
glued
to the laptop and today, I have been mostly in front of the PC when I'm not doing some housework or baking for today. The reason, this absolutely
awesome
webcast through
CreativeLive
. It has been a 3 day course in Seattle on food photography given by
Penny De Los Santos
. She is an
INCREDIBLE
photographer and has such an incredible talent! She has photographed for National Geographic and currently works for Saveur magazine. She has also started a blog called
Appetite
.
Yesterday she went over principles and some basics and today she showed how she does set-ups in the studio with a food stylist. It was SO cool! Seeing it live on the internet was definitely the next best thing to being there. AND Shauna Ahern from The Gluten Free Girl was there today, so we were able to see her take part in it, too.
Sitting through this course has definitely made me see food in a different way and has really motivated me to improve my pictures. Penny says food is sexy. And it is!
I'm excited to see how I can incorporate all that she's been teaching. First, I really need to read the manual that came with the camera. Haha. That would help! I've been using my daughter's Nikon D40 and don't have my own, but now I WANT one! Birthday's coming…oh, honey…
Yes, a REALLY nice camera AND an iPad.
Since my daughter is now home for the summer from college, I figured I'd dedicate today's recipe to her. She's been e-mailing all these recipes that she wants me to make this summer while she's home. We're definitely going to gain some weight if we do everything that she sent me! Needless to say, she's very glad to be home helping out with this project and will be very well fed.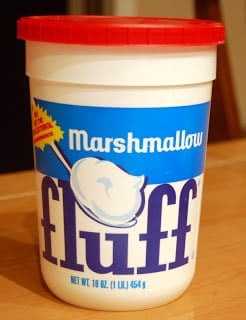 I was inspired to do this recipe when I saw a post on Dana's Food For Thought. I have really been enjoying her website. She is an inspiration as she's very creative and loves to enter her creations in contests. She has also talked about taking some various food classes which has peaked my interest. But what really got me was her picture in S'mores post of the jar of Marshmallow Fluff. She had never tried it and was actually quite opposed to purchasing it for the recipe, but after tasting the bars she was won over.
I haven't shared this with her, but being from Rhode Island, that Fluff is a staple in our household even since we've moved out to Arizona. My husband and I even grew up with it! I buy the tubs by the case from where else, the Marshmallow Fluff website, of course.
We really only use it for Fluffernutters – a peanut butter and marshmallow fluff sandwich. Dana, maybe you'll even try one of those one day.
S'mores Bars
1¼ cups Graham cracker crumbs
3 tablespoons sugar
1/3 cup butter or margarine, melted
1 egg, lightly beaten
¼ cup flour
4 1.55 oz. Hershey bars
24 marshmallows
Butter an 8 X 8″ baking dish.
Mix graham cracker crumbs and sugar in a medium bowl. Add melted butter and mix thoroughly. Pack ½ of mixture into the bottom of the dish.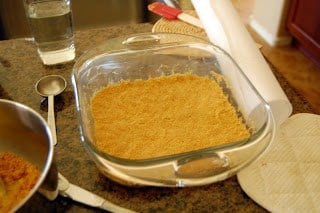 Add egg and flour to remaining crumb mixture and mix until well combined.
Outline inside perimeter of baking dish on a piece of parchment paper. Put parchment paper on a cookie sheet.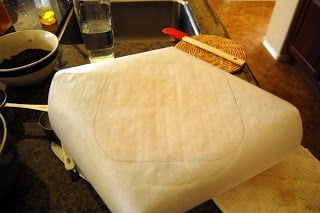 Place egg, flour, crumb mixture on parchment paper and cover with another piece of parchment. Roll out dough until it just reaches the area of the outline.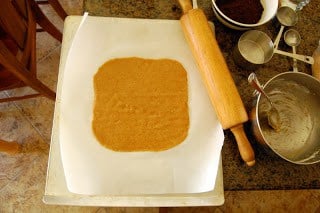 Put both the baking dish and cookie sheet in the refrigerator to chill for 1 hour.
Place marshmallows on a greased cookie sheet and place under low broiler for 5 minutes. Be sure to check on them frequently! After 5 minutes, turn all marshmallows over to broil the other side for 5 minutes. Remove from oven.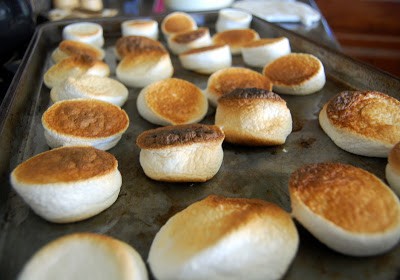 I just wanted to eat ALL of these before I used them!
Preheat oven to 350ºF.
Remove both the baking dish and cookie sheet from the refrigerator.
Arrange the chocolate bars on top of the set crumbs in the baking dish, so that it is completely covered. Place the marshmallows on top of the chocolate in two layers.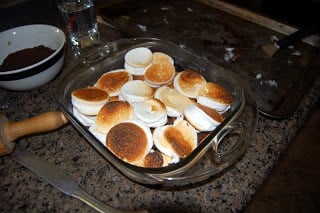 Take the cracker dough that is on the parchment paper and invert it on to the marshmallows. Remove parchment and press the dough down.
Place in oven and bake for 25-30 minutes.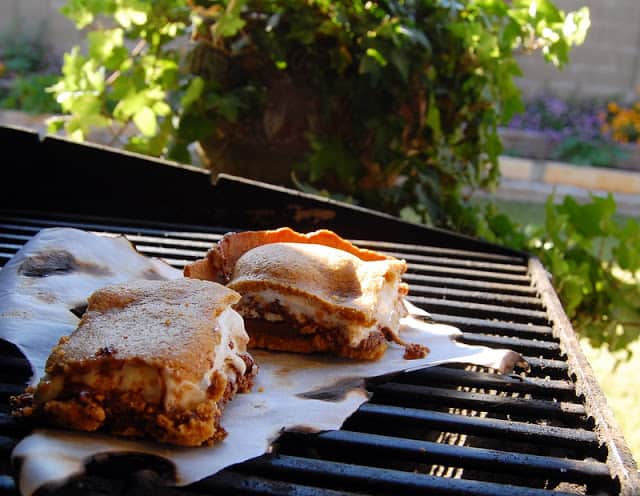 Ok, just so you know I am baking a different recipe every day (or at least attempting to when I'm not sick with a headache or when Blogger is down) andt they may not always be recipes that I would encourage you to copy. I am going to have those days when things don't turn out as I would like them to. I started this blog as a way to preserve our family recipes, share them along with other recipes I find in my cookbooks, from friends and on the internet. There are some days I like to try to make someone else's recipes one of my own, but it may not work.
This, I think, was one of those days.
Don't get me wrong, it was really good and all ('cause when is something with chocolate NOT good?), but the elements just didn't come together. I didn't want to copy Dana's S'mores, but now I'm thinking that was probably the way to go.
Everything I make I rate on a scale of 1-4 with 4 being the best and the S'mores Bars earn 2½ rolling pins. They were yummy as the combination usually is, but there were some technical flaws. I should have put the flour and egg in the whole mixture of cracker crumbs instead of just half. So, not doing that, the bottom layer was extremely crumbly.
Also, the marshmallows were very stringy. They were much stringier (is that a word?) than I thought they'd be. You know, like when you're eating fried mozzarella and you take a bite, go to swallow and some of it goes down, but the other half is still stuck in your mouth? Yeah, it's kind of like choking or gagging.
You KNOW what I'm talking about!
On that note – haha, happy baking!