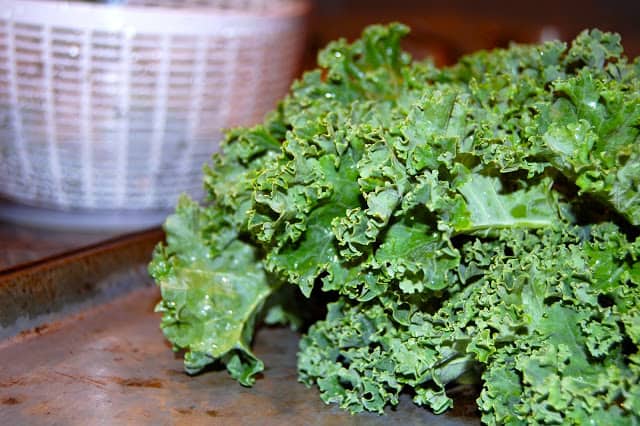 Today I baked Kale chips. I cannot tell you how often I have seen them on different blogs and yesterday I saw them on Sylvie's blog Gourmande in the Kitchen. She talked about taking the kale chips one step further and made kale powder. I had never had kale and actually never really paid attention to it until my daughter wanted me to pick some up for her about a month ago so she could put it into a green drink. I really had no interest in it, so I didn't even taste it.
What convinced me after seeing Sylvie's blog were her photographs. Her pictures are absolutely beautiful, so you should take a look-see.
You know how when something comes up in your life or your attention is drawn to something in particular then all you seem to do is notice it or that this "thing" keeps popping up out of nowhere? This is how it's been with the kale since I bought it for my daughter. I've seen it EVERYWHERE.
Ok, maybe not everywhere, but in a lot of places.
Baked Kale Chips
1 large bunch of kale
small amount of olive oil
sea salt
Preheat oven to 350ºF.
Wash kale thoroughly to remove any dirt in crevices.
Spin in salad spinner until dry. Remove any excess water with a towel.
Gently tear away leaves from inner ribs and set leaves aside. Discard ribs.
Using a small amount of olive oil on fingers, massage it onto the kale so that it is covered, but not to the point of dripping.
Place kale leaves in a single layer on a baking sheet and sprinkle lightly with sea salt.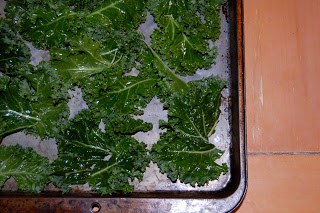 Bake in oven for 10 minutes until dry and crisp.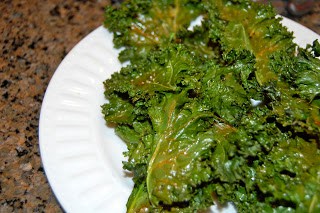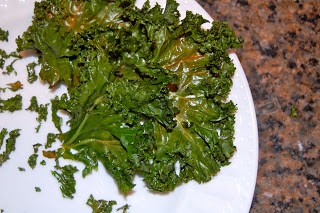 I really had no idea how these were going to taste, but I was pleasantly surprised!
Well, except where I went a little overboard on the salt. Blech!
They had a really neat texture and I liked the way they crumblemelted (yes, it's all one word because that's what they did, they crumblemelted) in my mouth.
Then I ate another one, and another one.
And another one.
And I thought, this is just like that Lay's potato chip commercial "betcha' can't eat just one". But these are WAAAYYYYYYY healthier.
I like that.
I rate everything that I bake on a scale of 1-4. My eldest daughter (who's more of a health nut than her siblings), and I really liked them and thought they should earn 3 rolling pins. The other two children, who would much rather prefer I make sweets, were not too fond of them. Well, not everyone has the same taste.
Thank you all for reading!
Happy baking!