I really want to thank all of you who entered the 100th Day giveaway! We do have a winner and she has been notified by e-mail.
If you didn't win, there will be other chances as I will be doing a giveaway in the near future on the 365 Facebook page and again on the 200th day.
Again, I cannot thank you all enough! I truly appreciate your support.
Thank you, thank you, thank you!!
Big, big hugs!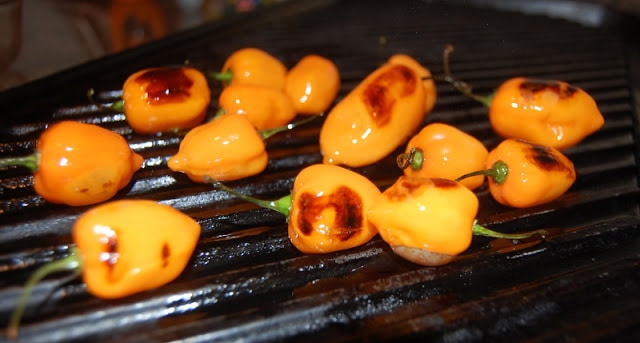 Pretty aren't they?
Oh. Boy.
Beautifully grilled habanero peppers.
What do they have to do with today's post?
While shopping I decided that tonight's dinner needed something orange on the plate and rack my brain as I might, I just couldn't come up with anything.
Until…
I saw the little, itty, bitty habanero peppers arranged so nicely in a basket in the produce section.
I'd never had them before and really am not a spicy food fan, AND have no idea where they might range on the heirarchy of the pepper heat scale.
Regardless, I thought they might be wonderful grilled after being tossed in some olive oil and coarse salt. I thought that slicing them into small sections would cut down on the heat.
After I grilled them, I seeded them, sliced them into quarters, then slivers and was going to serve them either on top of the chicken or as a side.
Until…
I bit into one!!
And it wasn't even a whole one OR a big bite for that matter – it was a quarter of a quarter!
I just wanted to TASTE it.
Holy Crow!!!
I can't believe how much heat that puppy put into my mouth. I have NEVER in my life experienced something so unbelievably HOT!!
My whole mouth was on fire, my lips were burning, my ears were ringing, I started salivating uncontrollably, and needless to say my nose was running like a faucet!
Nope, water doesn't help.
Milk, well, a little better. Oh yeah, that works. Wait. Heck NO! It's coming back!!! MORE MILK!!!!
So, there I ran around in the kitchen like a chicken with my head cut off desperately attempting to find some relief.
All this while the family sits on the couch watching both the Red Sox and Celtics lose and me circling in a frenzy.
"Really, Lynne, it can't be THAT bad!" and "C'mon, mom."
HAH – I couldn't even respond!
What is GOING TO GET RID OF THIS????!!!!!
Vanilla. Ice. Cream.
And a BIG bowl of it.
Yup, that's what I ate right before dinner while I was attempting to finish making dinner.
I will NEVER have another cute little, itty, bitty habanero pepper. AGAIN.
Mr. 365 had a small piece, too.
And then he needed some of my ice cream. 😉
Chicken with Spinach, Pine Nuts, & Gruyere Cheese
3 boneless, skinless chicken breasts
1 package fresh spinach
½ cup grated Gruyere cheese
2 teaspoons pine nuts
1 teaspoon grated Parmesan cheese
½ cup plain bread crumbs
½ cup olive oil, divided in two
2 cloves garlic, minced
Preheat oven to 425ºF.
In a flat dish press bread crumbs on to both sides of chicken. Place ¼ cup oil in a 13 X 9″-inch baking dish; set aside.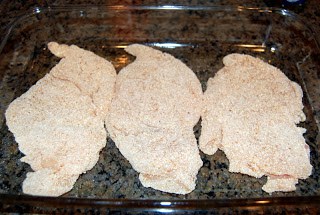 In a large skillet, pour in ¼ cup of olive oil, and add minced garlic. Sauté for one minute. Add spinach, pine nuts, and Parmesan cheese. Sauté until spinach is limp; set aside.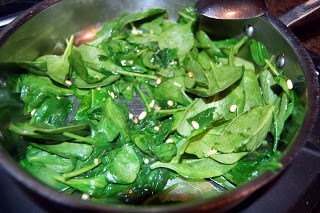 Spoon spinach mixture on to each of the chicken breasts. Top with grated Gruyere.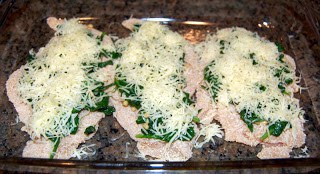 Bake for 20 minutes.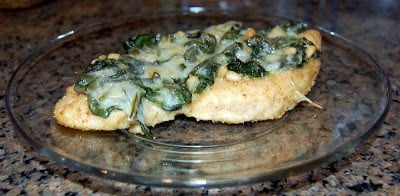 I have made this in the past with provolone instead of Gruyere. I should have stuck with that, but I decided I wanted to be fancy (and I had Gruyere that I wanted to use up).
The spinach was DELICIOUS and I sometimes cook it that way as a side dish without the pine nuts.
The family REALLY didn't like the Gruyere on it, and said I should have gone with the provolone. They said the first bite was good, but then the rest tasted like fish.
Fish?
Really?
We were eating chicken.
I really didn't taste the "fishiness" and that's usually something I'll pick right up on.
Needless to say, 3 chicken breasts were plenty for four people, and noone wanted the last one, and my palate had already been ruined for the night.
I rate everything on a scale of 1-4 with 4 being the best. This chicken dish earned 2 rolling pins.
I would highly recommend using the provolone. The Gruyere has just too strong of a taste.
Happy baking!