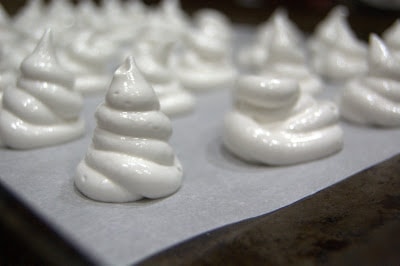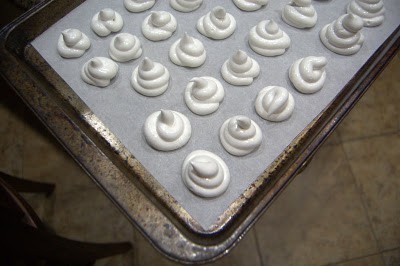 I adapted this from
The Martha Stewart Living Cookbook
, pp. 642, 515; author, Martha Stewart Living Magazine; publisher, Clarkson Potter Publishers, an imprint of The Crown Publishing Group, a division of Random House, Inc.; ISBN 978-0-307-39382-1.
Halloween Meringues
 – Hmmm…I didn't even count how many cookies the recipe made before I gave them to the kids to eat them.  In the book it says the recipe makes 4 cups.
4 large egg whites, room temperature
1 cup sugar
pinch of cream of tartar
1/2 teaspoon vanilla extract
3 tablespoons mini semi-sweet chocolate morsels
Preheat oven to 175ºF.
Prepare a cookie sheet by lining it with parchment paper.
Fill a medium saucepan with a couple inches of water and bring to a simmer over medium heat.
In a heat proof mixing bowl, combine egg whites, sugar, and cream of tartar.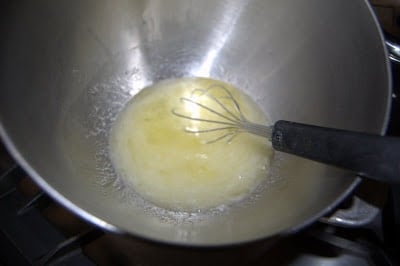 Place bowl over saucepan and whisk constantly until all sugar is dissolved and egg whites are warm.
This will take approximately 3-4 minutes and can be tested by rubbing the solution between your fingers.  It should feel smooth to the touch.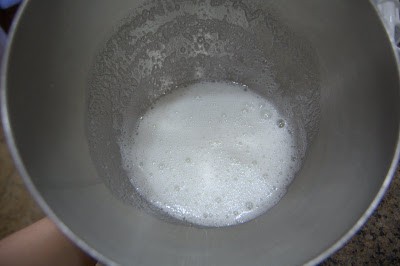 With the wire whisk attached to the mixer, place bowl in mixer and speed beat on low.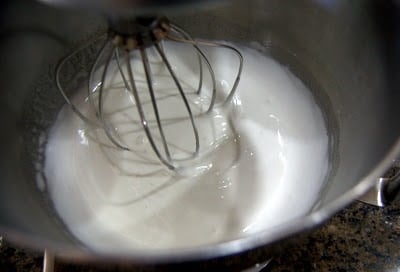 Gradually increase speed to high, beating until whites form stiff and glossy peaks.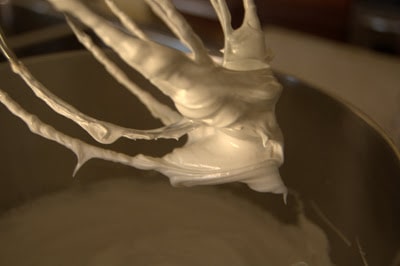 This will take approximately 10 minutes.
Add vanilla extract and beat until combined.
Fill a piping bag fitted with a Wilton #12 decorating tip with meringue.
On the prepared cookie sheet, form a circle by moving the piping bag in a clockwise motion.
Pull up on the bag, forming a peak.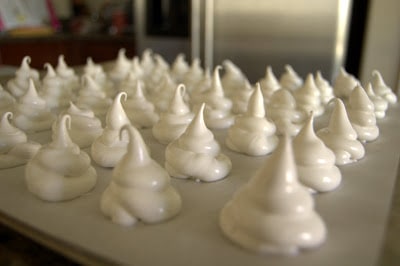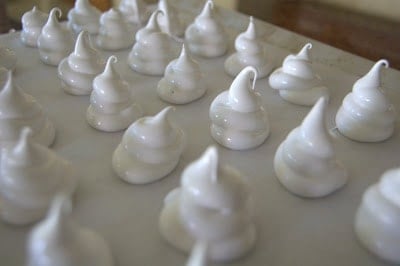 Use mini chocolate morsels for the eyes.
Bake for 2 hours.
Turn oven off and allow meringues to remain in oven for another 4 hours.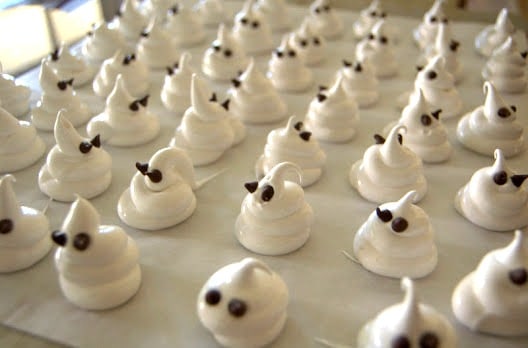 TA DA!!!
You now have some Halloween Ghost Meringues!
I rate everything I bake on a scale of 1-4 with 4 being the best and these Halloween Ghost Meringues earned 3 1/2 rolling pins.
I had made some with the mini chocolate chips and some without and the ones with the chocolate we liked better.
Chocolate is always a good addition!
Oh, remember
yesterday
when I talked about the Cross Country race that our son was running in today?
He did extremely well.
He finished at 18:15, not under the 18:00 minutes as he had hoped, but overall the boys' team finished 4th and are headed to the State meet next Saturday!
We were also excited because one of our runners finished 2nd overall, running a 16:24.
Both the boys and girls did very well.
Unfortunately, the girls did not do as well as they had hoped, but they are not losing any seniors this year.
This was also the first year running varsity for all of the girls with the exception of one.
They all set personal records and had a great year.
SO proud of all of the team members!!
I hope you are all enjoying your weekend!
I give you BIG baking hugs and muffins!!