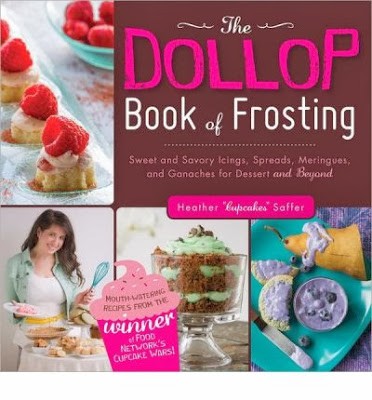 I was compensated with product in exchange for this post.


A great big thanks to all who participated in Heather's giveaway!!
WE HAVE A WINNER!!!
Random. org picked comment #5…


Kevin Krier
"it was a buttercream frosting on my daughters wedding cake, everyone kept commenting all day & night how delish it was & wanted to take some home."
Are you ready for a special day here at 365 Days of Baking??
Today we have a celebrity in our midst!!
She is the lovely Heather "Cupcakes" Saffer, Food Network's Cupcake Wars winner, author of The Dollop Book of Frosting, and world-renowned frosting expert!!!
And she's HERE today at 365!!
Happy Holidays to all of Lynne's lovely fans! I'm honored to be guest posting as part of my Holiday Blog Tour and I'm excited to be sharing a recipe with you all today from my new cookbook, The Dollop Book of Frosting!
You're a frosting fan, yes? There's really nothing better than a creamy, dreamy, sweet frosting piled atop… well, anything really!
But sometimes after eating plates of cookies and drinking bottles glasses of wine throughout the holiday season, I wind up feeling a need to health-ify my desserts just a tad.
(Because really, it would be too much of a travesty to cut them out altogether.)
Desiring a less decadent dessert was the inspiration for this amazingly festive and versatile Pistachio Coconut Frosting!
This frosting is just a little but sweet and a little bit crunchy, but a lotta bit tasty.
Spread it atop white chocolate cranberry blondies, mini vanilla cupcakes, or even traditional sugar cookies.
Or do as I've done and serve this delectable frosting as a festive dip or a frosting "cheese ball" for crackers, pretzels, even apple slices!
And by adding just a couple additional ingredients to this frosting you can even bake them into super thin wafer cookies!
This Pistachio Coconut Frosting is sure to please all guests, as it is vegan, gluten-free, and even paleo-friendly. A healthy frosting—It might just be a Christmas miracle. 😉
Pistachio Coconut Frosting
½ cup whole salted dry-roasted pistachios
½ cup sweetened untoasted coconut (unsweetened works too, just add more coconut palm sugar to taste)
½ cup unrefined coconut oil, room temperature
¼ teaspoon pure almond extract (I get the best result from J.R. Watkins Pure Almond Extract)
1 Preheat oven to 300 degrees F. Grind pistachios to a fine powder in a food processor.
Spread ½ cup untoasted coconut evenly onto a parchment-lined baking sheet and bake for about 5-6 minutes or until lightly browned. Remove from oven and let cool.
3 In the bowl of a stand mixer fitted with a paddle attachment, mix coconut oil until softened, about 3-5 minutes. Add pistachios, palm sugar, all coconut, and almond, and continue mixing another 5 minutes until creamy and soft and ingredients are well combined. This is a thicker, chunkier frosting.
Pistachio Coconut Frosting "Cheese Ball"
1 batch Pistachio Coconut Frosting
2 tablespoons dried cranberries
1 Roll frosting into a ball with your hands, wrap in plastic wrap, and freeze until very firm.
Crush wheat thins in a food processor until very fine.
Remove frosting ball from freezer and plastic wrap and roll in crushed crackers until fully covered. Place in fridge until time to serve.
Thanks again to the lovely and talented Lynne for having me! If you'd like to read more of my babble (and I hope you do!) I invite you to come check out my
website
and follow me on
Twitter
and
Facebook
!
Happy Holidays!
xo
Heather "Cupcakes" Saffer
Thank you SO much Heather for joining us today!! It's been a pleasure getting to know you, learning about your cookbook and receiving one of your recipes!!
We can never have enough frosting in our lives!
To make Heather's guest post even more special, she is giving away one of her cookbooks
to our 365 Days of Baking & More readers!!
To enter this contest, leave me a comment.
Tell me the best tasting frosting you've ever had!
I will pick one winner from all of the comments received using Random.org.
Giveaway is open to U.S. residents only and will end Friday, December 20 at 8pm, EST.
The winner will be e-mailed and/or left a reply under their post comment saying that they've won.
They will have 48 hours to respond or another winner will be selected.
Good luck and enjoy the frosting!!
I give you BIG baking hugs and muffins!!!