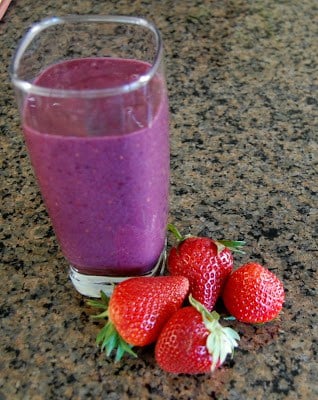 It's Smoothie Saturday!!
And wow, I haven't posted one of these in a while, so I done well figre we be gettin' back to doin' so, ya hear?
I don't know, I just went with the moment. Mr. 365 is watching 'The Hatfields and the McCoys' on the History Channel, so I was just getting into character.
Blame it on my theater background.
So, we've had company and now the company's gone. My mother-in-law and her boyfriend left early this morning.
And I actually feel like I may have turned a corner with this flu that I've had for 6 days.
I now sound like Lauren Bacall because of my laryngitis. I have a deep, sexy voice.
Or at least I think it's sexy.
It's not fun when you're entertaining and concerned you're going to be sending your guests home with an unwelcome parting gift. I'm sure the past few days they were thinking that they couldn't get out of here fast enough. Would NOT be fun being on a plane for 6 hours feeling the way I've been feeling, so I was hopin' and a prayin' that they wouldn't catch it.
I can't tell you how many times I've washed my hands over the past week. The backs of 'em are looking like…(I'm trying with all my might to come up with some sort of witty remark about how dry they are and use a reference to a desert or lizard or tortoise or something, but I've got nothin'.)…wait, I got it…lookin' like I'm in my 80's. Ok, not witty, but my daughter said they make me look really old.
I have to say I'm VERY excited to get back into the kitchen to create again and make some goodies.
I'd rather make my immediate family ill and disgust them. HAHA
SIGN UP FOR THE WEEKLY
365 DAYS OF BAKING & MORE
WEEKLY NEWSLETTER BELOW!
Blackberry Strawberry Smoothie – serves 2
6 ounces blackberries
10 strawberries, hulled (tops cut off)
1 cup almond milk
1 cup ice (or more if you desire your smoothies colder – my daughter always complains I don't put enough in.
I tablespoon flax seed meal
Place all ingredients into a blender and mix until smooth.
Pour contents through a fine mesh sieve into two serving glasses to remove seeds.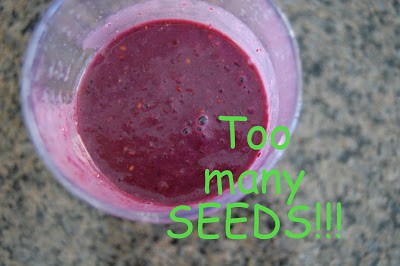 I didn't do this, but I HIGHLY recommend it, unless of course, you really like crunching on blackberry seeds or like them getting stuck in your teeth. It's just not for me.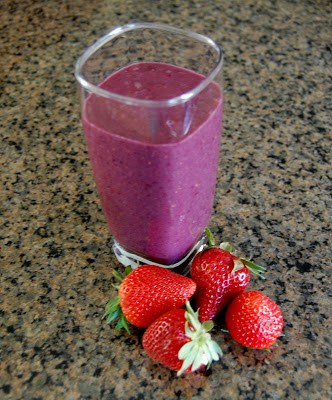 I rate everything I make on a scale of 1-4 with 4 being the best and this Blackberry Strawberry Smoothie earned 3 rolling pins.
The seeds brought the rating down.
I don't know why I didn't think about putting the drink through a sieve when I made it, but I didn't.
I guess I just couldn't wait to drink it, I guess.
I'm an impatient person.
I give you BIG baking hugs and muffins!!