I just CANNOT contain myself!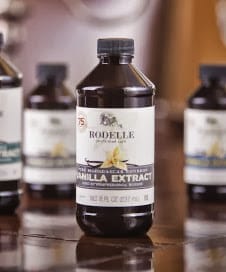 I am so excited because I received an e-mail telling me …
that I have been selected as the October Brand Ambassador for Rodelle!!!
Miss Lynne is doing the happy dance!!
They've even been so kind to do a write-up on me and 365 Days of Baking on their blog.
Pinch me, I must be dreaming!!!
OUCH!!
I was only kidding.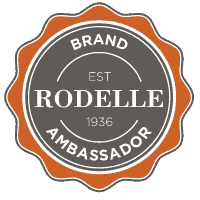 I am not only thrilled to have been chosen, but am very honored that I will now be associated with a company whose products I truly believe in and support.
I certainly don't take promoting or backing companies or consumer goods lightly here, folks.
If I don't believe in it, you ain't gonna see it here on the 365.
I cannot and will not back something just to "get a free product" or do a compensated post.
Nuh-unh.
That's me shaking my head.
I first discovered this Colorado company while going through a Phoenix grocery store, shopping for what else, baking supplies, of course!
I was in said aisle and was searching for vanilla extract.
I saw the kind I'd been buying for years, but I just wanted something different. The flavor was just…
plain. vanilla.
I was bored and excited to boost my recipes, giving them more life and more flavor.
Then, I spotted it.
A bottle that looked like no other.
One that was classy, sophisticated and looked very promising.
I know what they say, "Don't judge a book by it's cover", so it must be the same with bottles of vanilla, right?
WRONG!!!
Wait! I don't mean that the stuff in the bottle didn't measure up to the outside, I meant that you can judge this bottle of vanilla by its' cover!
Capiche?
I brought this puppy home (not really a puppy, people – it was the bottle of Rodelle Pure Vanilla Extract) and started using it.
Right upon opening the bottle, I could smell the difference.
It was full, robust and I was hooked, I tell ya, just plain hooked!
I'm not an "expert", I'm "just a blogger" and don't claim to know about all things baking or cooking.
I'm keeping it real here. I don't have a baking supply line or company on Wall Street that I want to promote.
It's just me.
And the me in me wants to use products that will make my food taste good, real good and bring smiles to people's faces, especially those of my family.
Because if they don't like it, ain't nobody liking it!
And them I have to live with, so you can be sure as the grass is green and the sky is blue that Miss Lynne here is not going to get off easy if something should not measure up to the rolling pin standards I've set.
So the difference in the smell of the Rodelle Pure Vanilla Extract and the taste had me hooked.
Not only did I fall in love with their products (I also used their vanilla beans – and they were FRESH! Not hard and old like when you just open some of those other bottles), but I fell hard for this small company with a BIG heart and one that won't compromise their products while gaining a larger clientele.
Have you tried Rodelle?
If not, you should.
They not only have all things vanilla, but they've got cocoa for chocolate lovers, too, and extracts
and even spice blends.
Take a look around. I think you'll be pleasantly surprised.
Good things and yummy things are to come with this partnership!
Stay tuned, you won't want to miss it.
To get things started, Rodelle is having the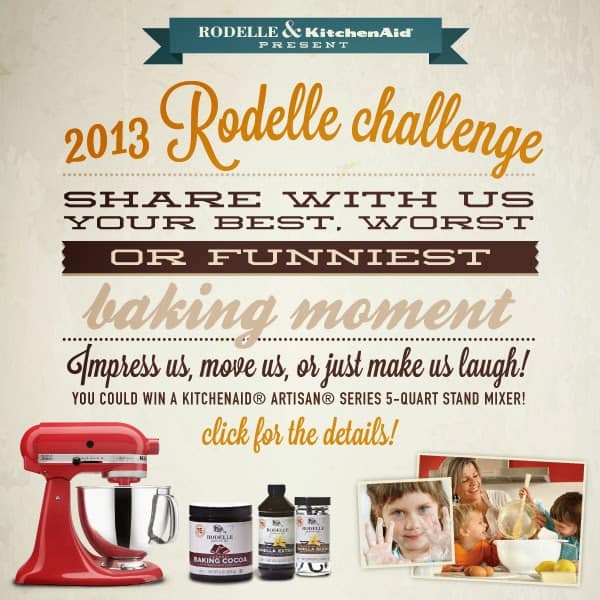 Share with Rodelle your best, worst, or funniest baking moment and you have a chance to win!
Who wouldn't want a KitchenAid Mixer and Rodelle products to put in their kitchen?
Go ahead and enter ~ I hope YOU win!!!
I give you BIG baking hugs and muffins!