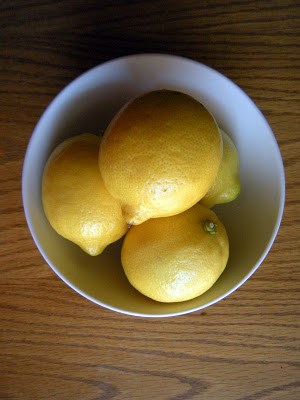 I have to share.
Yesterday, I got into my car and a smell immediately took me back to April 28th, 1981.
It was like I was slammed into a brick wall, it hit me so hard.
I was 12 years old and my mother, father, grandmother, and aunt were gathered in my grandfather's hospital room waiting for him to pass away.
The smell was just so unmistakable, and something you may not understand unless you've experienced it.
It was stale, old, contained death and yet at the same time, was a scent I cannot accurately describe.
I hated being there, watching his shell of a body struggle with every shallow breath, watching my grandmother put on a brave face when I was sure she was crumbling inside, seeing my mother and aunt struggle with their emotions, and waiting.
Just waiting.
I got into the car yesterday to go pick up my daughter at school and that smell literally paralyzed me for a moment.
It was so bizarre.
Tomorrow is his birthday. If he were still living, he would have been 99. And next Saturday, the anniversary of his death.
It was definitely an unexpected moment yesterday and brought back a boat load full of memories.
A moment like that gives us the reminder that we very often take for granted: that the ones we love are with us only temporarily.
Hug them tight and tell them you love them.
Our time here is short and very precious.
So here we have the dessert recipe that I thought I was going to be posting earlier in the week, but due to that wonderful (and I am saying this sarcastically) migraine, things didn't go as planned.
But here we are on a Friday and you need a dessert to start you off on the weekend.
I LOVE to make crepes and they really are not all that difficult after you get the hang of it.
This video is a great tutorial of how to do it, but follow the recipe I have for the crepes, not the one in the video.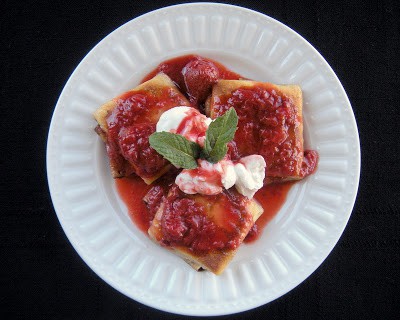 I've seen various crepe cakes on the internet and in the most recent issue of Food Network Magazine. I LOVE that magazine!!! It is my absolute favorite!! I HIGHLY recommend it (and no, this is NOT a paid endorsement)!
So while making these blintzes, I decided that I would come up with my own crepe cake flavor.
And so I did.
The lemon curd and meringue topping are from my Fannie Farmer Cookbook, Thirteenth Edition, pp. 642, 677; author, Marion Cunningham; publisher, Alfred A. Knopf, Inc., a division of Random House, Inc.; ISBN 0-394-56788-9.
The crepe recipe is adapted from Bon Appetit Favorites! Classic Recipes.
Both the lemon curd and crepes can be refrigerated up to two days beforehand if you are not going to assemble right away or if you should happen to be the victim of a migraine.
Lemon Meringue Cardamom Crepe Cake – serves 6
Lemon Curd – makes 2 cups (that should be PLENTY – I made 3 just in case and didn't use all of it, and left half of it on different plates during assembly. You'll see.)
Grated zest of 2 large lemons
6-7 tablespoons of freshly squeezed lemon juice
1/4 pound (1 stick) unsalted butter
1 cup sugar
4 eggs
Put the zest, lemon juice, butter and sugar in the top of a double broiler or in a bowl over simmering water. Take care to not let the water boil.
Stir occasionally until the butter melts and the sugar dissolves. You can test this by rubbing some in between your fingers (cleaned, of course).
Beat the eggs in a medium bowl until thoroughly combined.
Whisking constantly, ladle a small amount of the hot mixture into the eggs.
Pour the egg mixture into the lemon mixture, again while whisking constantly, and continue to cook until curd is thick. This may take up to 20 minutes.
Remove from heat and allow to cool before storing in the refrigerator. I placed a sheet of plastic wrap directly onto the curd so that it a skin wouldn't form as it cooled. It can be kept for up to 2 weeks.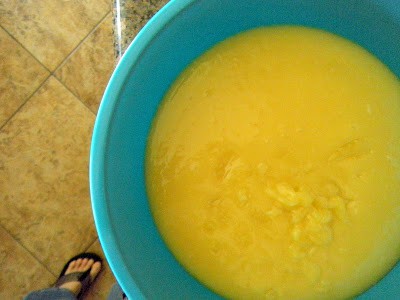 Cardamom Crepes – makes about 23
1 cup plus 2 tablespoons all-purpose flour
1/4 cup sugar
1 tablespoon lemon zest
3/4 teaspoon cardamom
1/4 teaspoon salt
1 1/2 cups or more of milk
3 large eggs, beaten
2 tablespoons unsalted butter, melted
Prepare a work space by lining it with wax paper to allow the crepes to cool after cooking.
In a large bowl, whisk together flour, sugar, lemon zest, cardamom and salt.
Add 1 1/2 cups of milk, eggs, and 1 tablespoon of the melted butter, and whisk until smooth.
Heat a 6-inch diameter crepe pan or skillet over medium-high heat.
Brush the pan lightly with a small amount of the remaining melted butter.
Working quickly, pour a scant 1/4 cup batter into the pan, tilting and swirling the pan so that it just coats the bottom.
*When I say scant, I mean fill the 1/4 cup measurer about 3/4 full.*
Return remaining batter to bowl.
Cook crepe until bottom is brown, about 2 minutes.
As it cooks, loosen the edges with a metal spatula.
Flip the crepe over and cook for another 30 seconds or so until it is lightly golden.
Place crepe on prepared counter.
Repeat with remaining batter.
If batter should thicken, add a small amount of milk to thin.
Adjust heat and brush pan with additional melted butter if necessary.
These can be prepared 3 days ahead. Store them in a plastic bag, separated by squares of wax paper, and refrigerate.
I used 15 or so crepes for the cake. The rest…I…uh…kind of ate…here and there.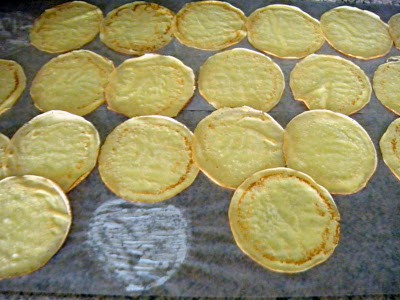 Meringue
3 egg whites, at room temperature
5 tablespoons sugar
1/8 teaspoon salt
Put the egg whites and sugar in the bowl of an electric mixer and place the bowl in a pan of hot water.
Stir constantly until the eggs feel warm and the sugar has dissolved. Again, test this by rubbing mixture between two fingers.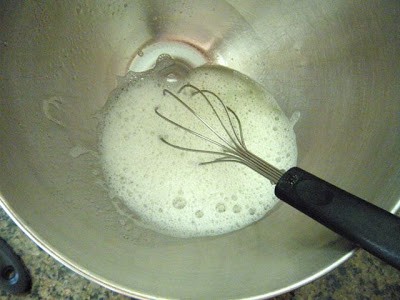 Add salt.
Remove the bowl from the hot water and return it to the electric mixer.
Beat until the meringue is stiff and shiny.
Assembly
I'm gonna be honest. This part really STUNK!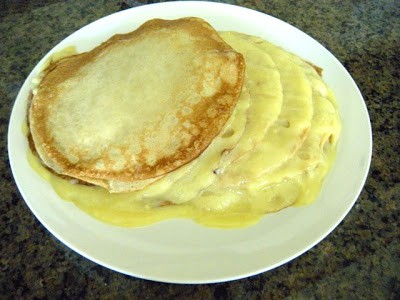 SEE??!! It fell over!
This was the original plating and then I moved each individual crepe to another plate so that it would somewhat resemble a cake.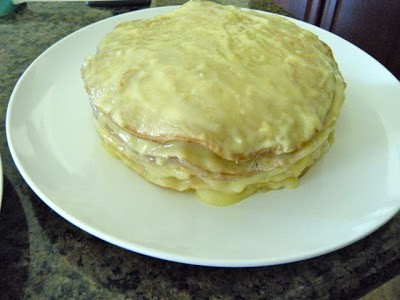 And this STILL didn't work.
I'm not going to lie and pretend putting this puppy together was a piece of cake because I was having some serious issues mainly due to the fact that I may have put too much curd in between the layers.
Hmpf.
Yeah, it was pretty darn ugly.
Ok, here's what I did and you can decide what would work best for you and believe me, I am ALL open to suggestions as to what might make this concoction look like a halfway decent crepe cake like they have in the movies.
No, I haven't seen one in the movies either, but I'm sure if I did, it would be a perfect one.
Unlike mine.
Place one crepe on a plate and spread 1-2 tablespoons of curd over the crepe.
Repeat with remaining 14 crepes.
*Note: You may want to place each individual crepe on a plate and THEN spread the curd onto it as opposed to spreading it on the crepe while it is sitting on top of the cake. * I really think that may have been my problem because the pressure I applied when spreading created all the previous layers of curd to ooze out the sides and then the doggone thing was looking like a big lump of curd and crepes.
After all layers have been completed, top with meringue.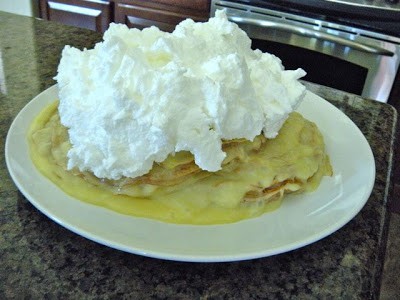 With a small torch, lightly brown the meringue.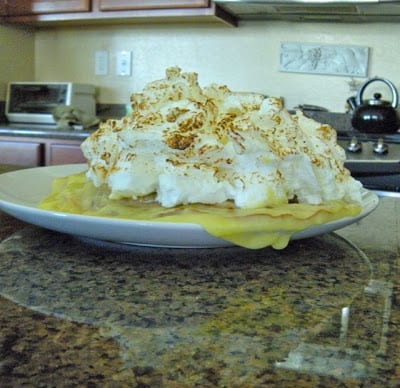 I didn't place mine under a broiler, so I'm not going to tell you to do that.
You can try, but I'm signing a waiver so that I'm not held responsible for your crepe cake melting into your oven should you decide to do so.
I did think about putting it into a springform pan, but the crepes were about 2 inches smaller than the pan, so it still would have slipped, only on a smaller scale.
I also think that refrigerating it to allow it to solidify slightly would be a good idea before putting the meringue on top.
You know what? I have a brilliant idea!!
Better yet, why don't you place the crepe on a plate, place 1-2 tablespoons onto the crepe, roll the baby up and place it into a 9 X 13-inch baking dish.
THEN, after you have all of the crepes rolled and placed in the dish, place the meringue on top and brown it.
Yeah, I think that might work better. It won't be a "cake", but it will hold together MUCH better and save you a heck of a lot of trouble!
You'll thank me.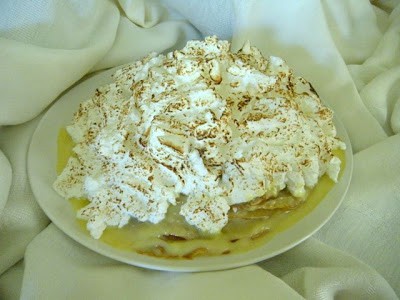 I rate everything I bake on a scale of 1-4 with 4 being the best and this Lemon Meringue Cardamom Crepe Cake earned 3 rolling pins.
And you know what?
Nobody tried it for 3 days!
I hate to tell you that, but it's true.
I had the migraine for two days and the day I started feeling better, I had absolutely NO desire to even slightly taste it.
Funny, hunh?
Then I ate it. Well, not ALL of it, but a good slice of it.
It tasted really good even though the the crepes were quite soggy from the lemon curd and the meringue was now chewy. Quite chewy.
But I like chewy.
And even though it was a few days old, I'm still giving it a 3.
If you make it, I would LOVE you to post pictures on to the 365 Days of Baking Facebook
page
. PLEASE post them, I want to see your lovely creations!!
I give you BIG baking hugs and muffins!!