Well, here we are at day 65. Pretty monumental because I have been doing this for 65 days and only have 300 left. I'm feeling a need to celebrate.
I almost celebrated by taking an unintentional day off. I drove to pick my daughter and her boyfriend up from college to bring them home for the weekend and on the way back we ran into a wee bit o' traffic. It took us 2 hours to go almost 7 miles. Two separate times we were not even moving and people were standing around talking to their neighbors in the middle of the highway! It was pretty remarkable when you think the speed limit is 75 and we weren't going anywhere. I was also thinking how grateful I was that we weren't in a blizzard. Unfortunately, a truck had tipped over which had been hauling 40 cows and still 15 hours later there was that much traffic. I don't know what happened to the driver, but I do know that about half the cows didn't make it. It is all very sad and I hope the driver is ok.
I wasn't feeling too well at the beginning of my trip, and then to sit in the car for an extra two hours didn't help. My head was absolutely pounding and I was feeling nauseous. I just kept thinking that the last thing I wanted to do was bake when we got home. So, I decided that this would be the one day out of 365 that I miss because there were circumstances beyond my control and I was feeling so lousy. BUT…
Home + couch + food + TLC from family = I'm feeling better.
It's 9:06 pm and the shortbread is in the oven, due to come out in about a half hour. This, thanks to my friend and neighbor, Tracy, who, when I was updating my status on Facebook (while sitting in a turned-off car on the highway), suggested that shortbread would be easy because it only contained the three ingredients and just had to be put in the oven. Brilliant, Tracy!!
I had known I would be making shortbread during this challenge because my Grandma Owen used to make it. My father's mother passed the recipe down to my mother and the first time mom made it at Christmas her father absolutely loved it. Every year after that, and up until the year he died, my Grandpa Preston asked for it. And I remember when my grandmother Owen used to make it. Shortbread was one of her specialties; that and her pineapple pies which I'll be making during the course of this year, too. My father loved her pineapple pie. Smelling the shortbread now in the oven, reminds me of Christmas which was when I had planned to bake it (seems so far away, doesn't it?). But…traffic, time, and a headache deemed a change of plans. I'm sure there will be plenty of other things to bake around Christmastime!
Scotch Shortbread
3 cups all-purpose flour
3/4 lb. butter
3/4 cup sugar
Preheat oven to 300ºF.
Butter must be fairly hard to start with, as heat of hand will soften it as you work.
Put the butter in a bowl, sprinkle the sugar over it and work the two together. Gradually add the flour, still working with hands.
When all of the flour is worked in, divide the dough and press into pans so dough is about ½ inch thick. You will need 2 or 3 8 x 11″ pans, or, if you prefer, use the 8″ rounds – the dough will make 4 of this size.
Crimp the edges slightly; prick all over with a fork to prevent blistering. Mark off into fingers with a table knife so that after baking it can easily be broken.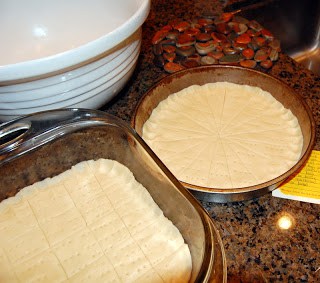 Bake about 1 hour.
The shortbread should be a pale golden when baked.
I halved the recipe and used:
1½ cups flour
12 tablespoons butter
6 tablespoons sugar
I also used 1 8″ round pan and 1 8 X 8 glass baking dish.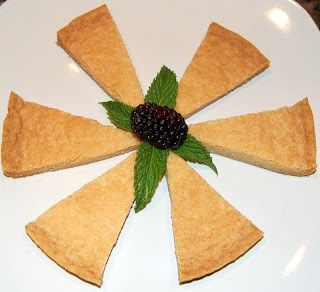 Putting my hands into that butter and mixing things together was just what the doctor ordered to relieve some of that tension I had built up. It was so therapeutic! Who knew?! So, the next time you're stuck in traffic for a while, make some shortbread when you finally get home and work that batter.
I have a rating system that I use. It is based on a scale of 1-4 with 4 being the best. This Scotch Shortbread earns a rating of 3½ rolling pins. It was delicious, quick, therapeutic and brought back some wonderful memories!
Happy baking!