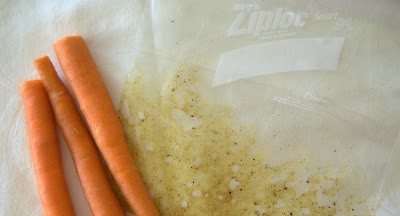 10 days left,10 days left, la la la la la, la, 10 days left!
Today for the 355th day we had carrot chips!
Alright, before you become all excited, there are some things you're just gonna have to know.
I'm typing this while the "boys" of the house are watching NASCAR and my southern accent is coming out because I'm a listnin' to ol' D.W. And no, I am not in any way southern – I was born in Rhode Island, and we are not huge fans of NASCAR, but we do like to watch a good race, each cheering our favorite driver on: Mr. 365 – Kyle Busch, our son – Tony Stewart, and I like Matt Kenseth.
So, there's something I'm sure you didn't know about me because not too many do. We do joke that when our kids are married and with families of their own, Mr. 365 and I are going to drive up to their houses in our HUGE RV with a really loud horn that yells, "Boogedy, boogedy, boogedy, let's go racing, boys!" I can see it now, our grandchildren will come running out to greet us, all happy and screaming with excitement while our children are locking their front doors behind them.
About this recipe, one thing you'll need to know is to get yourself a good sharp mandolin so you have nice lloonnnggg strips of carrot, not little inky dinky pieces.
Carrot Chips – didn't really serve as many as it should have.
2 big carrots
2 teaspoons olive oil
1/2 teaspoon salt
1/4 teaspoon cumin
1/4 teaspoon garlic powder
1/8 teaspoon freshly ground pepper
Preheat oven to 300 degrees F. Prepare a baking sheet by lining it with parchment.
Into a large Ziploc bag, combine olive oil, salt, cumin, garlic powder and ground pepper. Mix well.
Using a really nice mandolin, but not so nice that you slice a knuckle like I did, slice the carrots to about 1/8-inch thick. See, not like mine.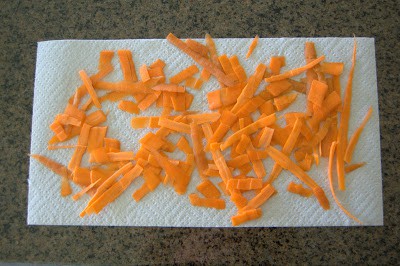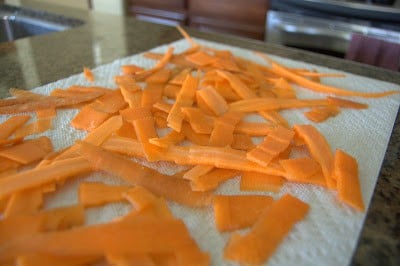 Place carrot pieces into the Ziploc bag. Seal and shake that baby up, back and forth, up and down, left to right – shake, shake, shake. Make sure all those "strips" of carrot are nicely coated.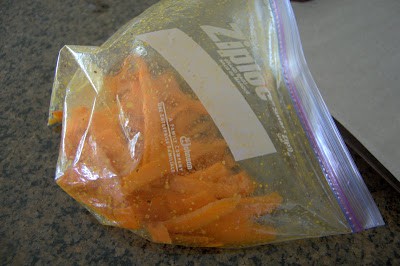 Place carrot slices onto the prepared baking sheet in a single layer.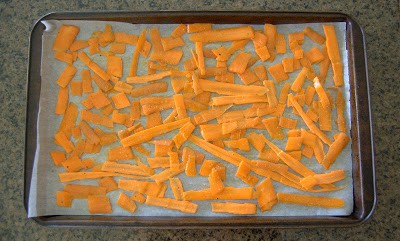 Bake for 45 minutes. Remove tray from oven and turn chips over (or shuffle them around and flip them) so that they become crispy during the second half of baking. See, my slices were too small and some were too thin because only in 45 minutes they burned.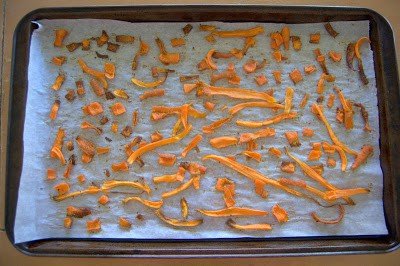 Return the baking sheet to the oven and bake for 45-60 minutes until slices are crispy. At least it was supposed to be another 45-60, if I had done that I would have been taste-testing charred carrots. Actually, I was anyway and I only put them back in for another 20 minutes.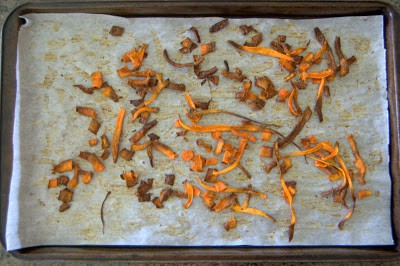 Ah, well. You win some, you lose some.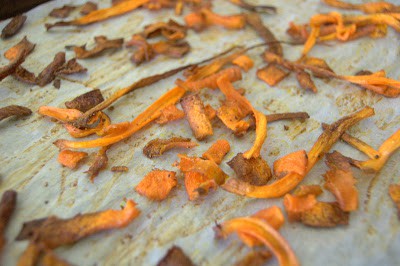 I rate everything I bake on a scale of 1-4 with 4 being the best and these carrot chips earned 2 1/2 rolling pins. I have to say that these, or at least the ones that weren't burnt to a crisp, were pretty good.
I was disappointed that the strips weren't long, so that we could really enjoy these.
I would recommend cutting back on the salt though, probably to 1/4 teaspoon.
And probably because they shrink to almost oblivion, add another carrot or two.
I give you BIG baking hugs and muffins!!