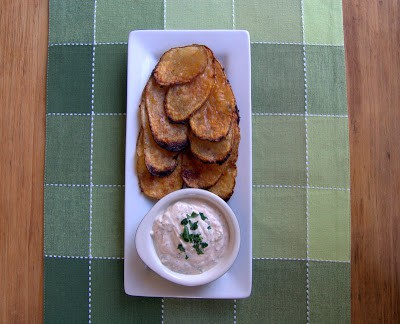 Ah, the weekend is over, and it's time to get back to our regularly scheduled programming.
What a wonderful, lazy weekend it was, too.
The days went by so slowly and I LOVE it when that happens.
We really didn't do much of anything – Mr. 365 worked out in the yard weeding, and tending to the garden, I did laundry and baking, of course, and the kids took it easy and are now finishing up what homework is left.
We played a couple games of Scrabble as a family yesterday (we are SO addicted to that game now!) and then my husband, daughter and I went for a hike this afternoon.
I love weekends like this, but we're REALLY excited for next weekend!
You can bet that we'll be parked in front of the TV watching the SUPERBOWL and rooting for those Patriots!
After all, we do have a dog named Brady.
Today's side dish may be something you'd like to serve at your Superbowl gathering, Baked Taco Chips with Chili-Cilantro Dipping Sauce.
I found the recipe for the chips here. And we liked the Chili-Cilantro Dipping Sauce I used WWAAAYYYYYY back on Day 24 (geez, that feels like it was EONS ago!) so much that I wanted to use it again. I found that on Lynda's blog, TasteFood.
Baked Taco Potato Chips with Chili-Cilantro Dipping Sauce – serves 4
3 medium potatoes
3 tablespoons olive oil
2 tablespoons taco seasoning
Chili-Cilantro Dipping Sauce
1 cup plain Greek yogurt
1 tablespoon freshly squeezed lime juice
2 teaspoons sweet chili sauce
1 garlic clove, minced
1/2 teaspoon salt
1/4 teaspoon freshly ground pepper
1 heaping tablespoon freshly chopped cilantro
In a small bowl, combine all sauce ingredients except cilantro.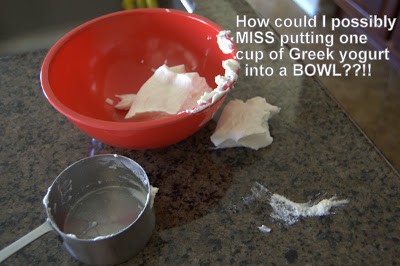 Mix well to combine.
Stir in cilantro and mix. Set aside.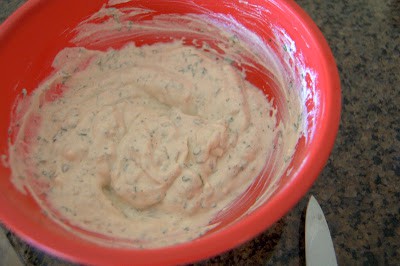 Potato Chips
Preheat oven to 450 degrees F.
Prepare two baking sheets by lining them with parchment paper.
Rinse and scrub potatoes under cool water.
Pat dry.
Using a mandolin, slice the potatoes into long thin strips lengthwise, and place into a large bowl.
Drizzle with olive oil and sprinkle 1 tablespoon of the seasoning over the potatoes.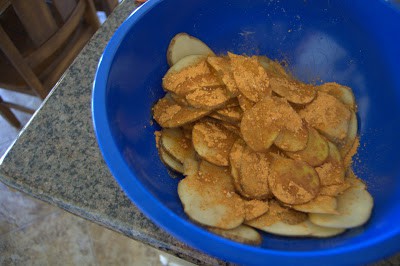 Toss to completely coat.
Sprinkle remaining tablespoon of seasoning, and toss well to coat again.
Place potatoes onto prepared baking sheets in a single layer.
Bake for 10 minutes, then using a pair of tongs or two forks, flip all slices over.
Bake for another 15-20 minutes, turning the chips over every 5 minutes, and also rotating pans back to front.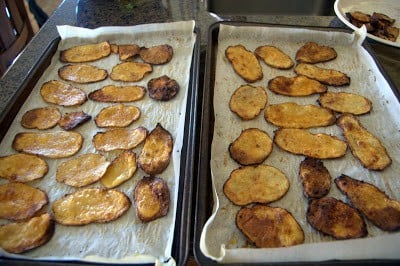 *Watch them carefully! Some slices will be done sooner than the others and you should remove them from the pan to a plate.*
Serve with the Chili-Cilantro Dipping Sauce.
I rate everything I bake on a scale of 1-4 with 4 being the best and these Baked Taco Chips with Chili-Cilantro Dipping Sauce earned 3 rolling pins.
I'd give them a 3 1/2 because they were really good, especially with the sauce, but I have to be honest, I was frustrated with the effort it took to make them.
It was time consuming standing over the pans, flipping them every 5 minutes. No sooner would I be done than I'd have to do it again and I burnt far more than I cared to.
My advice, watch them very carefully and take the ones out that seem to be crisp and light enough even if the others aren't yet done. If you leave them in, and they become charred they won't be very tasty, believe me. It's not worth wasting the whole lot for just a few of them.
Take it from one who has gone before you.
I give you BIG baking hugs and muffins!!