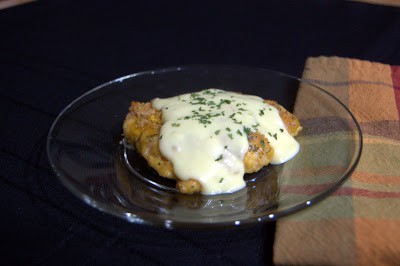 I found this beautiful picture for this recipe on Pinterest and wanted it immediately!
I also think I wanted it immediately because it was like 2 in the morning and I hadn't eaten dinner.
I was very hungry.
And yes, I was on Pinterest until 3 am.
Have you checked that site out??!!
I started with it about a month ago and really wasn't giving it any attention, but yesterday!
OMG!!!
I could NOT remove myself from the computer to do anything productive once my the family dispersed for the evening and I had some quiet time.
Like 6 HOURS worth of quiet time (or maybe 8) (or so, I'm just guessing).
Seriously, check out Pinterest. If you haven't joined you need to request an invitation and then be prepared to spend HOURS pinning pictures to different boards suited to your personality. I have 42 of them, but I don't have pictures in all of them yet.
Don't worry, I'll be working on that.
Come. Follow me.
*singing* It's lots of fuuuuunnnnnn………..*
I adapted this from Jamie Cooks It Up!
Crispy Cheddar Chicken – serves 4
3 large skinless, boneless chicken breasts
1 cup buttermilk
1 1/2 cup finely shredded cheddar cheese
1 cup finely shredded Ritz Crackers (about 44 crackers)
1/4 teaspoon salt
1/8 teaspoon freshly ground pepper
1 teaspoon dried parsley
Sauce
1 10 oz. can cream of chicken soup
6 tablespoons heavy cream
2 tablespoons butter
Preheat oven to 400 degrees F.
Prepare a 9 X 13-inch baking dish by spraying it with cooking spray.
Lightly pound chicken breasts so that they are uniform in thickness, about 1/2-inch thick and cut each breast in half.
In a flat dish, combine Ritz crackers, salt and pepper, Mix well.
Place the buttermilk and cheddar cheese in two separate flat dishes.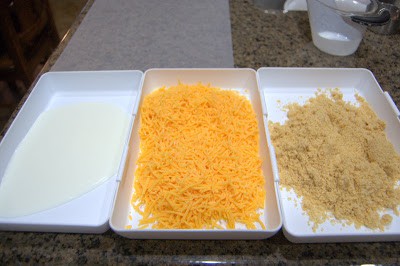 Put a piece of chicken into the buttermilk, coating both sides.
Place chicken into the cheese making sure both sides are coated.
Put chicken into cracker crumbs, coating both side completely.
Place chicken into prepared baking dish and repeat with remaining pieces of chicken.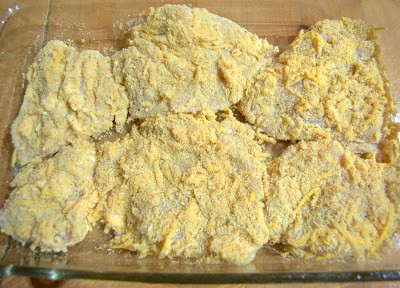 Sprinkle with parsley.
Cover baking dish with tin foil and bake for 35 minutes.
Remove tin foil and bake for an additional 10 minutes until chicken is edges are golden and crisp.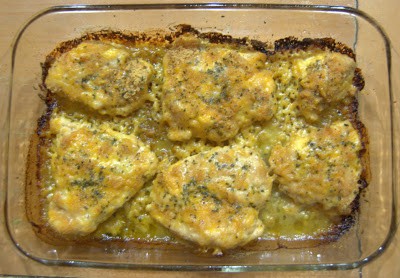 In a small saucepan, over medium high heat, whisk together the can of soup, heavy cream and butter.
Stir until sauce is smooth and sauce is hot.
Serve sauce separately or over chicken.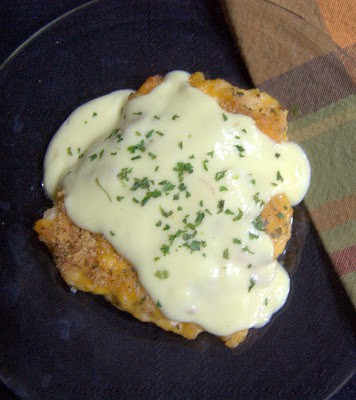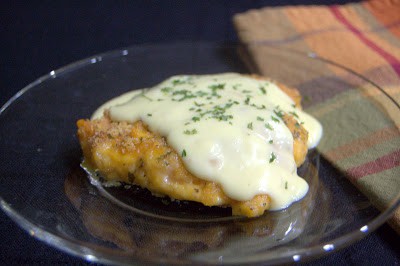 I rate everything I bake on a scale of 1-4 with 4 being the best and this Crispy Cheddar Chicken earned 3 1/2 rolling pins.
I really. loved. this.
I'm a HUGE fan of Ritz crackers, always have been.
They're delicious.
I knew I would like this chicken covered in crackers and cheese.
And I did.
We did.
I'll be making this again.
The chicken was just a tad bit dry, but the sauce really pulled the whole thing together.
Enjoy it!