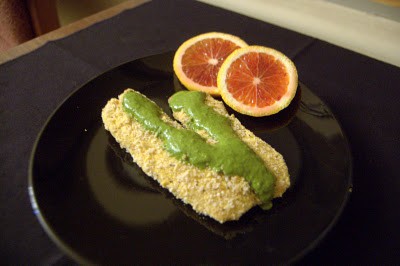 Today was a great day.
Why, you ask?
Because of this…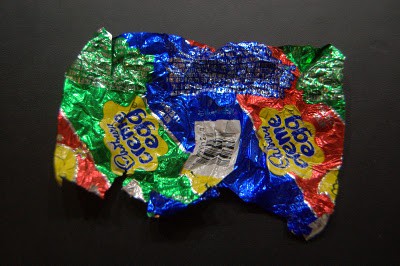 Yes!!! Can you BELIEVE it???!!!
It's that time of year again when the Cadbury Creme Eggs are for sale!!!!
It seems just like yesterday when I made those Easter Egg Hunt Cookies.
OMG!!! They were SO absolutely stinkin' delicious I couldn't STAND it!!!
So, when I made a trip to the grocery store today and saw these most wonderful creations on display there was no WAY I was leaving without buying one.
I ate it in the car…in the parking lot…had to destroy the evidence before I returned home, of course.
I was in HEAVEN!!!
How many days do I have until Easter to get my fill of those things??
I think I may be making those cookies again this year, too.
I also went on a hike today with Mr. 365 which justified, I think, my eating that Cadbury Egg.
Right?
Ok, well, I tried.
Breaded Tilapia with Cilantro Citrus Sauce – serves 5
1 pound Tilapia (5 fillets)
3/4 cup Panko bread crumbs
1/3 cup yellow cornmeal
1 1/2 teaspoons Old Bay seasoning
1/4 teaspoon salt
1/8 teaspoon freshly ground black pepper
2 eggs (you may be able to get by with just one because I had quite a bit leftover)
Preheat oven to 425 degrees F.
Prepare a rimmed baking sheet by lining it with tin foil. Spray a wire rack with cooking spray and set it inside the baking sheet.
In a medium bowl, combine Panko crumbs, cornmeal, Old Bay seasoning, salt, and pepper. Mix well.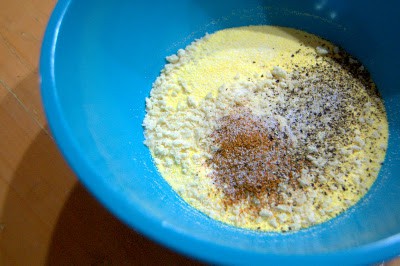 Pour contents into a shallow dish.
Lightly beat egg(s) and place into a shallow dish.
Dredge a Tilapia fillet into the egg, making sure to thoroughly coat both sides.
Then completely coat both sides with the breadcrumb mixture.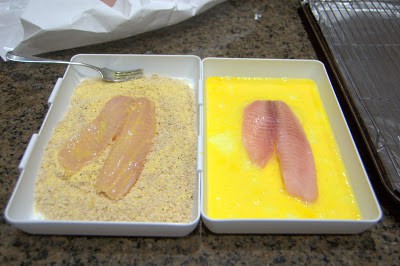 Place on prepared wire rack.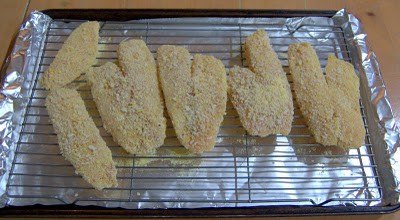 Repeat process with remaining fillets.
Bake for 15-20 minutes, until breadcrumbs are slightly golden.
Cilantro Citrus Sauce – makes 1 cup
1 bunch of Cilantro with tips of stems cut off
1/4 cup olive oil
zest and juice of 1 blood orange
zest and juice of 1 lime
1 1/2 teaspoons honey
pinch of salt
pinch of freshly ground pepper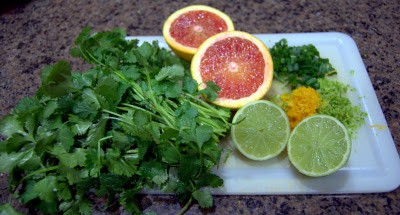 Combine all sauce ingredients in a blender and puree until sauce is completely smooth.
Place the baked fish onto plates and serve sauce on the side.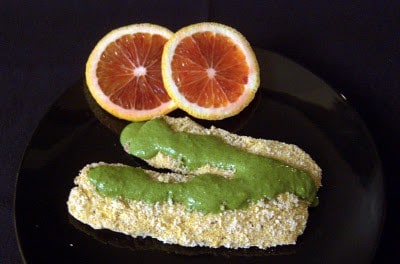 I rate everything I bake on a scale of 1-4 with 4 being the best and this Breaded Tilapia with Cilantro Citrus Sauce earned 3 rolling pins.
The pictures don't really do it justice. The lighting was off and I had a hungry family to feed.
Everyone really liked the way the fish was seasoned and how it was a tad crunchy with the cornmeal.
They liked the sauce with it, too and 3 of them don't even like Cilantro.
I guess I was able to disguise it enough.
I liked the sauce A LOT which is probably a good thing because there is quite a bit leftover. I would recommend halving the sauce ingredients or save the rest of it to serve with some grilled chicken which is what I'll be doing over the weekend.
I will definitely be making this for the family again!
I give you all BIG baking hugs and muffins!!