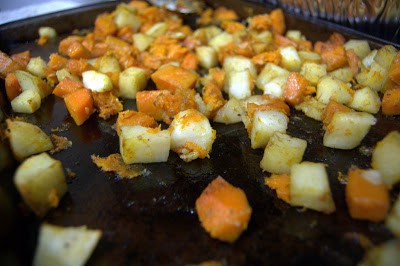 Thanksgiving is getting closer!
Are you excited??
I am.
The turkey's in the freezer and so far, that is the only thing I know I'm making.
And beyond that, it's anybody's guess.
Of course I'll be making the stuffing, sweet potatoes, mashed potatoes, yada yada, but need to define WHAT exactly I'll be doing with them.
I'll let you know.
Because I KNOW you're just DYING to find out WHAT the 365 household will be feasting on come Thursday, November 24th.
Oh yeah, and there'll be desserts, too!
😉
Roast Chicken, Butternut Squash and Potatoes – serves 4
3 boneless, skinless chicken breasts
1/8 teaspoon pepper
1/4 teaspoon salt
1 tablespoon olive oil
1 clove garlic, minced
1 teaspoon poultry seasoning
Squash and Potatoes
1 medium butternut squash
4 medium potatoes
2 tablespoons olive oil
1/2 teaspoon salt
1/4 teaspoon freshly ground pepper
2 cloves garlic, minced
1 teaspoon ground sage
Preheat oven to 450 degrees F.
In a medium bowl, place chicken breasts and add pepper, salt, olive oil, garlic, and poultry seasoning.
Toss to coat.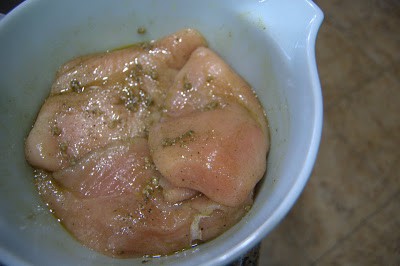 Place in a roasting pan.
Peel and seed butternut squash and cut into 1-inch cubes. Place into a large bowl.
Peel potatoes and cut into one inch cubes. Place into bowl with squash.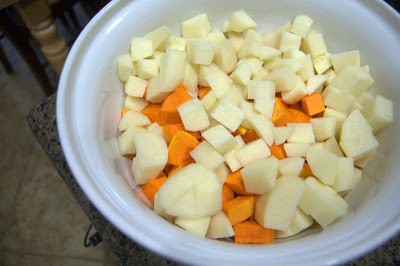 To the bowl add olive oil, salt, freshly ground pepper, garlic, and sage.
Toss to coat.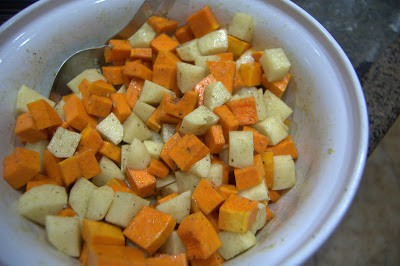 Pour contents into roasting pan.
Bake for 35 minutes, stirring occasionally.
Remove chicken from roasting pan, and cover with tin foil to keep warm.
Return roasting pan with squash and potatoes to oven and bake for 15 minutes more.
Serve chicken with squash and potatoes.
Ok, don't do it.
Don't make this recipe.
It really wasn't very good and really not worth posting, but it was what I baked today.
Dinner just wasn't what I expected it to be.
I was very disappointed.
I rate everything I bake on a scale of 1-4 with 4 being the best and this Roast Chicken, Butternut Squash and Potatoes dinner earned 1 1/2 rolling pins.
I think I put too much poultry seasoning on the chicken, maybe 1/2 teaspoon would have been sufficient.
I also didn't like how the squash and potatoes roasted. I like the butternut squash roasted in thin slices. I think it has more flavor.
But Mr. 365 said he really liked the carrots.
Seriously?
Carrots? What dinner are you eating?
There are no carrots in this dish, dear. I told you we were having chicken, squash and potatoes.
sigh
I'm going to go eat some chocolate.
🙁
I give you all BIG baking hugs and muffins!!