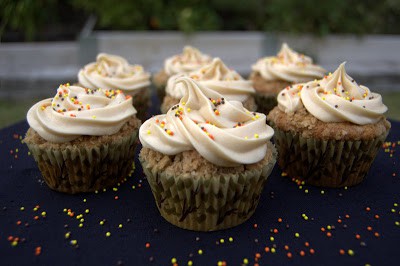 "YOU are NO Sweet Genius!"
That's what Mr. 365 said to me after our daughter explained to him at dinner that these cupcakes I'd made today weren't that good.
It was pretty comical, really. His saying that, not the cupcakes.
He likes to imitate Ron Ben-Israel, especially since it's become our daughter's weekly show that she won't miss.
So here it is, the recipe for…
Crappy Cupcakes – aka Apple Crumb Cupcakes with Caramel Buttercream Frosting
makes 15
1 1/2 cups flour
2 teaspoons baking powder
1/2 teaspoon baking soda
1/2 teaspoon salt
1/2 teaspoon allspice
1/4 teaspoon freshly grated nutmeg
1/2 teaspoon cinnamon, divided
1/2 cup sugar divided
1/2 cup butter (1 stick)
1/2 cup milk
1 egg
1 apple
1/2 teaspoon lemon juice
Preheat oven to 400ºF.
Prepare 2 12-cup muffin tins by filling them with paper cups.
In a saucepan, over low heat, melt butter. Remove from heat and beat in egg and milk.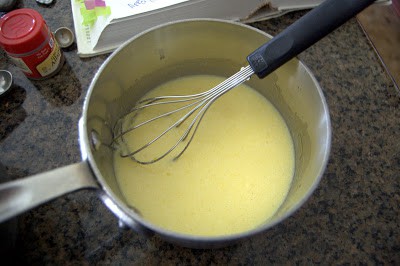 In a mixing bowl, mix together flour, baking powder, baking soda, salt, nutmeg, allspice, 1/4 teaspoon of the cinnamon, and 1/4 cup of the sugar.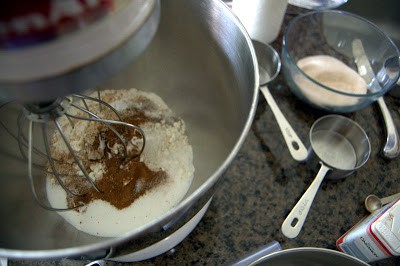 In a small bowl, mix together remaining 1/4 cup of sugar with remaining 1/4 teaspoon cinnamon.
Peel, core and dice the apple.
Place into a medium bowl and sprinkle with lemon juice.
Add cinnamon/sugar mixture.
Toss to coat.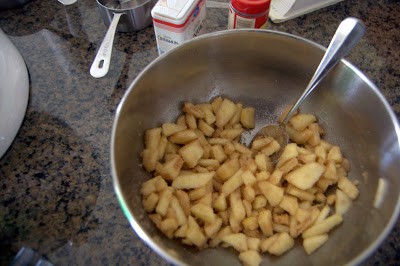 Add butter/milk mixture to dry ingredients.
Beat until thoroughly combined.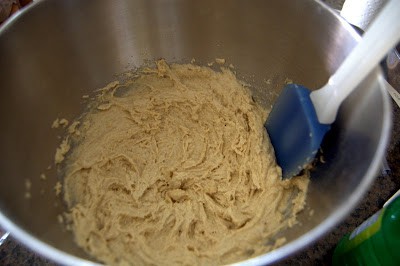 Fold in coated apples.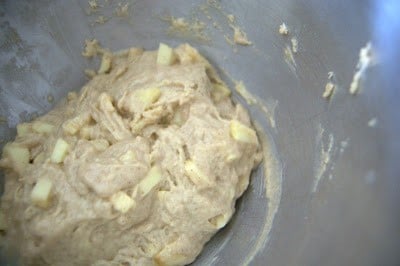 Fill prepared muffin tins with 1/2 to 2/3 batter.
Fill empty muffin tins halfway with water. This will ensure even baking.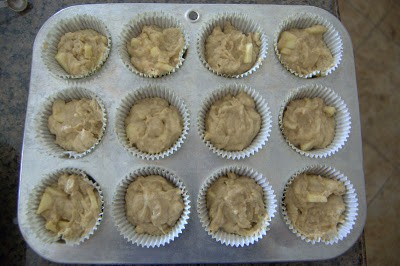 Crumb Topping
1/4 cup packed light brown sugar
1/4 cup flour
1/4 cup oats
1/4 teaspoon cinnamon
2 tablespoons butter, chilled, cut into smaller pieces
In a medium bowl, combine brown sugar, flour, oats, and cinnamon.
Cut butter into mixture with a pastry blender until it resembles coarse meal.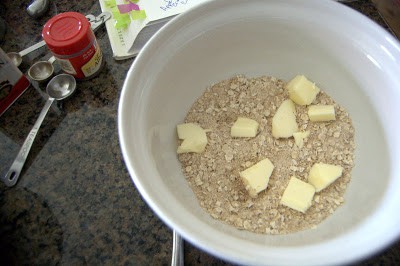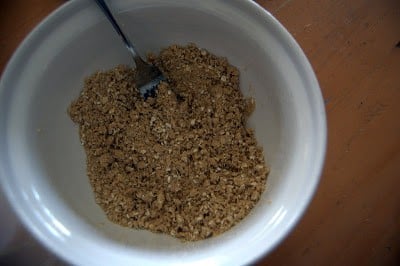 Sprinkle 1 tablespoon of mixture onto each cup of batter.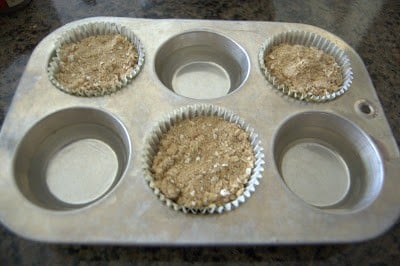 Bake for 20 minutes or until a cake tester stuck into the middle of one of the cupcakes comes out clean.
Allow to cool completely before frosting.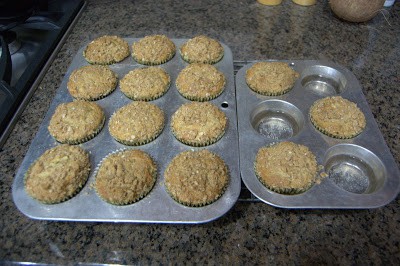 Caramel ButterCream Frosting
I used the Wilton Caramel Buttercream Frosting and cut it in half and that was enough to frost 12 cupcakes.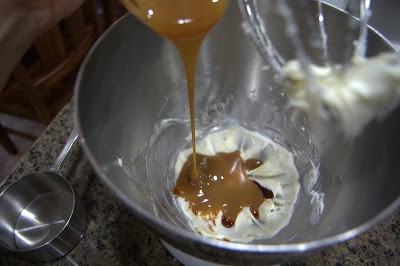 To frost, or not to frost?
It's really not going to matter because these really didn't have any taste.
Believe it or not.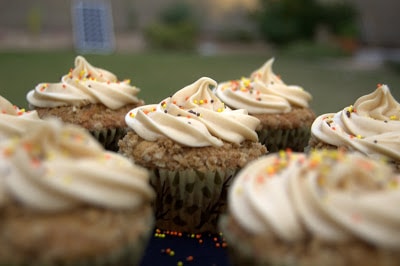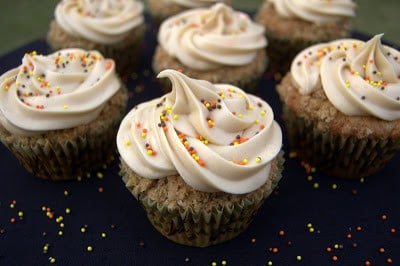 They sure do look purty though. And that title Apple Crumb Cupcakes with Caramel Buttercream Frosting sounds so yummy…
Grrr….
Yeah, ok. I'll be honest. Why should I start lying now?
The caramel frosting did add some flavor to the cupcake.
I rate everything I bake on a scale of 1-4 with 4 being the best and these Apple Crumb Cupcakes with Caramel Buttercream Frosting earned 1 1/2 rolling pins.
With all the spices I put in these babies, I couldn't taste it!
They were so surprisingly bland!
AND what really shocked me was that the batter tasted pretty good before I put the things into the oven.
I don't know. Maybe the flavor fairies invaded my oven and robbed me.
They also made the cupcakes extremely crumbly when we went to eat them. The only thing that held them together was the frosting.
I don't know, good in theory, not in practice.
Was it my addition of the baking soda which I thought I needed to add because of the lemon juice on the apples?
Googling it, I still think I should have added it.
Ah, I don't know.
Just put another mark in the book of recipes gone bad.
At least I've still got my sense of humor.
I'll have to see if I can redeem my title of "Sweet Genius".
Remember, the day after Thanksgiving starts our 12 Days of Cookies. It'll be a different cookie recipe for 12 days for those of you needing some assistance with gift ideas, cookie swaps or just your regular cookie cravings.
And you can start following me on Twitter at 365DaysofBaking. I'm a newbie, so still learning all of the lingo and hashtags and retweets. My head is slightly spinning. I'm still working on getting my Pinterest account going.
I'm feeling a wee bit tech challenged.
Enjoy your weekend, y'all!
I give you BIG baking hugs and muffins!!