Since I told you
yesterday
about some of our son's food obsessions, I thought I'd see how he would like the "baked" version of chicken picatta.
The kid is nuts about this stuff!
Whenever I say I'm making chicken for dinner, he responds, "Chicken Picatta?"
Ugh, no!
If I made that as often as he wants it, other family members, especially one particular daughter would throw a fit!
When she leaves for college next year I'll make it a little more often for him.
Don't you dare tell him because he'll be asking her when she's leaving every chance he gets.
Adapted from Boneless Chicken Recipe
Baked Chicken Picatta – serves 4
4 boneless, skinless chicken breasts, slightly flattened
3 tablespoons lemon juice, divided
pinch of white pepper
2 tablespoons butter, divided
1 tablespoon flour
1/2 cup white wine
2 tablespoons fresh Italian parsley, chopped
3 tablespoons capers
Preheat oven to 375ºF.
Prepare a 9 X 13″ baking dish by coating it with cooking spray.
Place chicken breasts in prepared baking dish.
Sprinkle with 1 tablespoon lemon juice, and white pepper.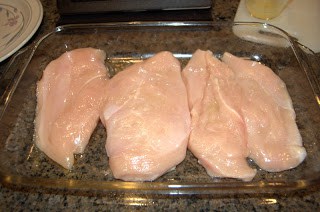 Cover dish with tin foil and bake for approximately 20 minutes or until chicken is cooked through.
In a small saucepan over medium heat, melt one tablespoon of butter.
Stir in flour and cook for 1 minute or so until mixture becomes thick being sure to remove any lumps.
Add wine, remaining 2 tablespoons of lemon juice, and parsley.
Continue cook for about 3 more minutes until sauce thickens.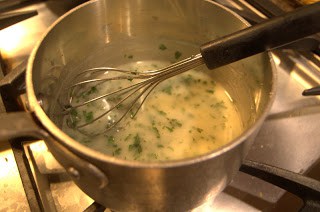 Remove sauce from heat and stir in remaining tablespoon of butter.
Place chicken on a serving platter and cover with sauce.
Sprinkle with capers.
Garnish with lemon slices or parsley if desired.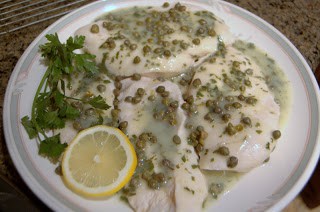 I have to say that this was not a hit with the boy.
He is so used to certain things with his food, that sometimes it's difficult to get him to think "outside the box".
He definitely prefers the original way his Momma makes picatta to this.
He said it was dry.
Hunh?
The chicken was moist and it was covered with sauce, dude!
How could it be dry?
No one else at the table thought it was dry and his sister looked at him like he had two heads.
He was just looking for an excuse to not like it.
That's ok. I much prefer the other way I make it, too.
Not that this was bad, the family just opts to have it made on top of the stove as opposed to in it.
I rate everything I bake on a scale of 1-4 with 4 being the best and this Baked Chicken Picatta earned 2 rolling pins. The taste of the lemon was good mixed with the capers, but we didn't like the addition of the white wine. I use a few tablespoons of water in my other sauce and more lemon juice.
Don't worry, only 117 days until I can share that recipe with you.
Nothing like keeping you in suspense, hunh?
I hope your day was wonderful!
I give you BIG baking hugs and muffins!!