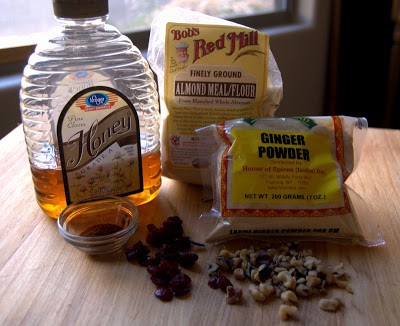 Our younger daughter, who is a senior in high school, requested that I make this cookie recipe. She is on a quest for better health, not that she's unhealthy, but she's looking to eat as naturally as possible and remove as much sugar and processed foods as possible.
I am all for this because we could all use some healthier eating.
Yet we already eat healthier than most anyway; I don't buy soda, cookies, or processed foods nearly as much as I used to before I started 365.
I really am amazed how this challenge has changed our lives for the better.
We are not spending nearly as much money on eating out as we used to because I'm making it a point to make dinner every night.
Our meals are healthier because I'm using fresher and more natural ingredients.
And above all else, we're making it a point, despite our hectic schedules to have dinner as a family at the table every night, something which has always been extremely important to Mr. 365 and I in the raising of our three children.
I completely understand that not everyone are as fortunate as we are, that eating fast foods are a way of life for some people or that finding the time to eat together is not an option or close to impossible.
I understand that and I'm not passing judgment.
I'm just telling you what works for us, how grateful I am to have the opportunity to change some habits, and to be able to spend quality time together as a family discussing our day and really being there with each other.
Sometimes changing things takes baby steps, but it's taking that first step which is the most important.
So, in the upcoming week, if you could change one thing to benefit yourself or your family, what would it be: exercising, eating out one less night, packing your lunch for work, attending one of your child's events, having dinner around the table as a family, or perhaps taking one of your children on a special one-on-one "date"?
I could go on and on. Or maybe there's something you've been putting off and now this has you thinking you're actually going to do it.
Go for it!
I'm driving two hours each way tomorrow to see our college sophomore, take her to lunch and then go to see her favorite movie, The Lion King. She's been away for only four weeks, but it's the longest we've been apart. I want to hear how college life is going this year. It's not that I don't text her or talk to her while she's away, but mom wants that physical togetherness where I can "see" that she's doing as well as she says she is and know that she's really ok.
I also want a hug. I miss that kid…really miss her.
So, I'd love to hear what one thing you have planned (or maybe it will be a spontaneous change this week!) to make a positive change in your life, or someone close to you. Leave me a comment!
Cranberry Nut Cookies – makes about 38 cookies
1 cup honey
2 cups almond flour
1 cup ground walnuts
1/4 teaspoon nutmeg
1/4 teaspoon ground ginger
1/2 cup dried cranberries, chopped
Preheat oven to 350F.
Prepare a baking sheet by lining it with parchment paper.
In a small saucepan, heat the honey on low and allow to cool slightly. This will make it much easier to combine all the ingredients.
In a medium bowl, mix together almond flour, ground walnuts, nutmeg, and ginger.
Pour honey into a large bowl.
Gradually add the flour mixture.
When well combined, add dried cranberries.
Drop by rounded teaspoonfuls onto prepared baking sheet. about 2 inches apart as cookies will spread.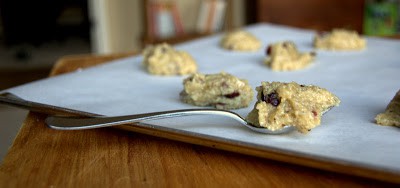 Bake for 10 minutes or until golden.
Transfer parchment to wire rack and allow cookies to cool for 10 minutes before removing them from the paper.
Store in an airtight container.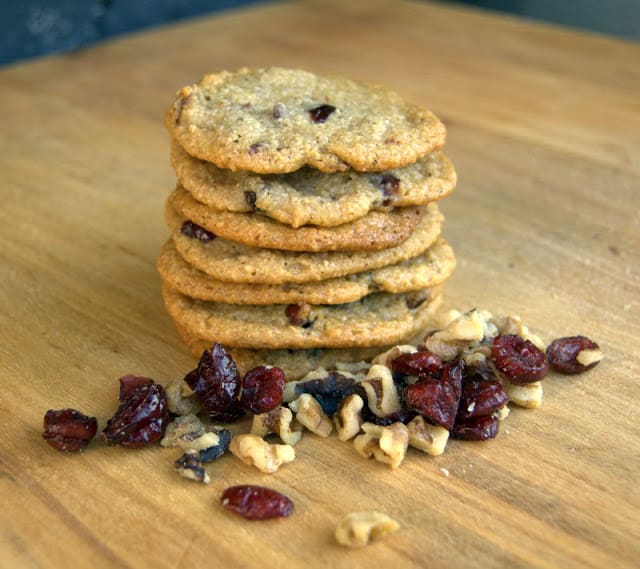 Can I tell you how good these cookies were?
Well, of course, I have to tell you. This is a blog where I review the things I bake. Duh!
For not having any flour, butter, granulated sugar or brown sugar, these cookies were delicious!
They were sssooooo chewy which was pretty awesome because I really, really like chewy things!
I have to admit that these were a great change from the cookies I've been baking. They were healthier and I had no guilt in eating them. Ok, well maybe a little after I ate 5.
I liked that they were sweetened with the honey and yet at the same time, I found some of them to be really sweet because of the honey.
Got it, honey?
They were pretty filling, too!
Mr. 365 LOVED them which surprised me because he is definitely a Nutter Butter guy.
And our daughter really liked them.
I will definitely be making these again and maybe do a little experimenting with different dried fruit and other spices.
Just a note, with the price of nuts on the rise, these were not the most inexpensive cookies to make, but they were well worth the money spent.
I rate everything I bake on a scale of 1-4 with 4 being the best and these Cranberry Nut Cookies earned 3 1/2 rolling pins.
Don't forget, leave me a comment about what positivity (did I just make up a word?) you're going to be adding to your life this week. Who knows, maybe you'll be the inspiration for somebody else!
Wouldn't that be wonderful?
BIG baking hugs and muffins!