Every morning that I drop my daughter off at school I become infuriated. This morning was no different. It has to do with the drop-off line. We were instructed at the beginning of the year as we were dropping off our children to pull up to a certain area to drop off and then to follow the line around so we could exit the parking lot. I thought it was a good system and was a way to keep parents out of the school lot while the teenagers are driving in to avoid accidents and confusion. It takes a little longer, but it works. I cannot tell you how many people have now created their own way of doing things and of course, others are following. DID YOU NOT GET THE MEMO?! The first few weeks of school, the "line Nazis" (I know they were just doing their job) were so strict about it and no one could veer from the rules. Now they just stand there as parents drop kids off right in front of them, (I mean, two feet from her!) in the middle of the school parking lot. I am speechless. Ok, no I'm not because I feel myself getting ready to go on a tirade. So, you can just skip to the recipe if you don't want to continue reading. I am needing to blow off some steam. This morning before I even entered the school entrance some woman coming from the opposite direction cut me off and I know she said something beforehand to her daughter because her daughter looked directly at me and smiled. It wasn't a thank-you-for-letting-us-go-ahead-of-you-smile, it was a Ha-look-how-my-mother's-going-to-weasel-her-way-in-front-of-you-smile. THEN the woman takes a short cut through the parking lot to move up seven cars in front of me. Grrrr…my blood is boiling – and I have low blood pressure! Ok, if you're late for work, you need to LEAVE EARLIER! And parents wonder why their children lie and cheat, and why they can't trust them? It's the example we set as parents. They pay attention to so much more than we think they do. I know, one of my faults is that I'm too nice and I go by the rules. Oh, maybe that's two. Rules are made for a reason. Yeah, and then someone always says, "rules were made to be broken." I haven't even told you about the kids being dropped off in the middle of the street, so that their parents don't have to deal with entering the school parking lot. The point of all this is that I really would hate to see someone get hurt because of sheer impatience. (Deep Breath). Well, until tomorrow morning…
Ok, so I started the blog soon after I returned home this morning and went off on my rant. I then took a breather (ok, played a game to relax) and decided to get to work on contacting various editors/publishers to see if I could post their recipes.. I use A LOT of recipes from the Food Network site, so I CANNOT tell you how excited I was to hear that I can post the link to the recipe, but I cannot reprint the recipe itself. Reposting doesn't matter. As long as you have a way to find those recipes yourself, it's great. I am overjoyed because there is one recipe that I have been DYING to tell you about and it's Alton Brown's Créme Brulée. It is to DIE for!!! The first time I made this I received rave reviews from people who were very partial to the ones they have had in restaurants. Oh my gosh! If you take any recipe away from this blog, I'm telling you, it has to be this one. That is of course, if you like créme brulée. Alright, it doesn't have to be the only recipe you try, but you should at least attempt it. My husband took the first bite of his tonight and said, "Wow." If he's subdued when he says it, that's how I know when he really, really likes something, and he was.
Créme Brulée
http://www.foodnetwork.com/recipes/alton-brown/creme-brulee-recipe/index.htm
You'll need this link for the vanilla sugar: http://www.foodnetwork.com/recipes/alton-brown/vanilla-sugar-recipe/index.html

The ingredients.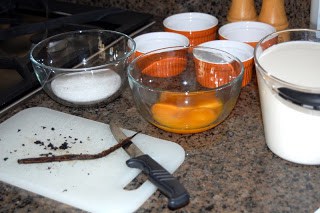 The cream and scraped vanilla bean after boiling.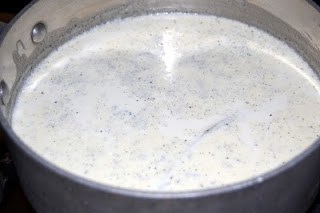 Egg yolks and vanilla sugar.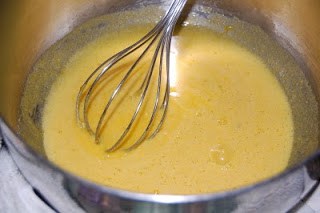 Egg yolks, vanilla sugar and cream mixed together.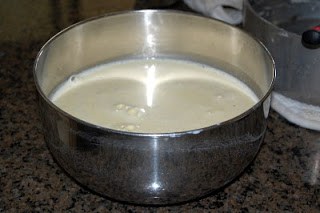 In the ramekins and ready for the oven.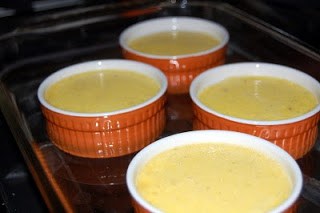 After being torched.
The problem with the one on the upper left is that there was too much sugar on the top. I overloaded it and the sugar wasn't browning as nicely and was taking forever to melt. Consequently, it tasted burnt and you really don't want that to be the taste you're going for. It can completely ruin it. When you put the sugar on, make sure it is a thin layer all over the top; it will brown very nicely and form a hard, thin caramelized layer on the top.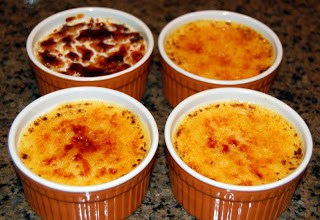 Many of the restaurants I have been to have served it with whipped cream or just plain. We really like to have the fresh fruit on it with some mint.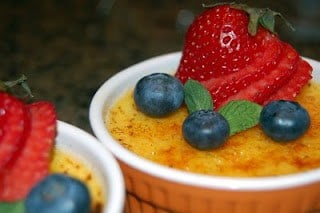 The rolling pin rating for this Créme Brulée: 4!
Cuisson heureux!