Happy September!! Can you BELIEVE it??!!
WHERE is this year going??
I've been wanting something lime-ish lately.
Limey, limony, limealicious!
In the 198 days since I've started this 365 Days of Baking blog, I have not made a tart.
Can you believe it??
WHAT is THAT about??!!
That is just NOT right to wait so long!
So, I bought these cute little tart tins at a bakery shop in the BIG city a few weeks ago.
Hence the birth of the…
Lime Curd Tartlet – makes 4 4-inch tartlets or 1 9-inch tart
Recipe adapted from The Fannie Farmer Cookbook Thirteenth Edition, pp. 640, 677; author, Marion Cunningham; publisher, Alfred A. Knopf, Inc., a division of Random House, Inc.; ISBN 0-394-56788-9.
Tart Pastry


1 cup flour
1/4 teaspoon salt
1/4 pound cold butter, in small pieces
1 egg yolk
2 tablespoons ice water (I ended up using three).
Mix flour and salt in a bowl.
Cut in the butter with a pastry cutter until mixture resembles coarse meal.
Blend until the pastry is smooth and holds together in a ball.
(This is where I added that 3rd tablespoon of ice water and it still wasn't completely smooth and was not completely holding together, but I moved on anyway.)
Wrap in plastic wrap and refrigerate for 20 minutes.
Preheat oven to 425ºF.
Pull pieces of dough from the ball and press them over the bottom and sides of the tartlet pans, using fingers.
The dough should be thick enough to hold the filling, but be careful that it is not too thick around the bottom edge or the finished tart will seem coarse.
Prick the sides and bottoms with a fork and bake unfilled for 12 minutes or until lightly golden.
Transfer to a wire rack and remove from pans to cool completely before filling.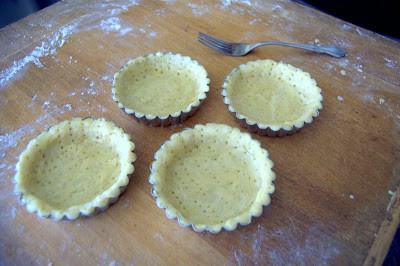 Lime Curd – about 2 cups
1 1/2 teaspoons grated lime zest, plus more for garnish if desired
7 tablespoons fresh lime juice
1/4 pound butter
1 cup sugar
4 eggs
Combine zest, lime juice, butter and sugar in a small bowl set on top of a small saucepan with simmering water or in the top of a double broiler.
*Do not allow the water to boil.*
Stir occasionally until the butter melts and the sugar is dissolved.
In a medium bowl, beat eggs until thoroughly blended.
Spoon a small amount of the hot lime mixture into the eggs, stirring constantly.
Pour the egg mixture into the lime mixture, and continuing to stir constantly, cook until the curd is thick.
This will more than likely take up to 20 minutes.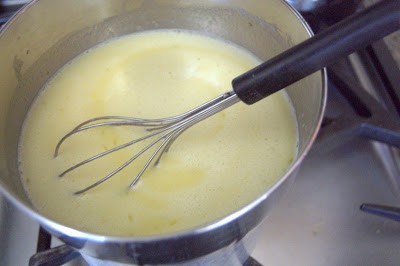 Remove from heat, let cool and fill tartlets.
Serve topped with whipped cream and garnish with grated lime zest.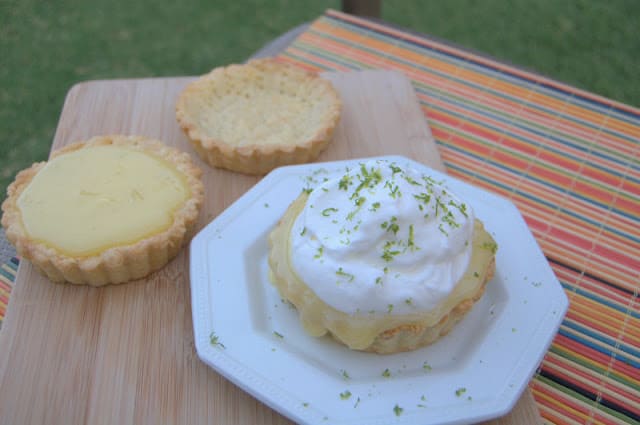 I REALLY liked these!
Ok, I say "these", but I didn't even eat a whole one. I just had about 1/4 of the finished one that I had given my daughter to try.
I had already taste tested one too many spoonfuls of the curd to make sure it was going to come out "just so".
This was after having spoonfuls of Nutella for lunch.
BUT, I did go running this morning.
HA!
Looks like I'll be doing it again tomorrow and the day after that, too.
I have to admit, I'm feeling rather ill right now from all the sugar today.
Is it possible to "bake" a salad tomorrow?
Definitely NOT going to make a dessert!!
The crust was absolutely delicious and was very flaky from the butter.
When I pressed them into the pans, since I hadn't done anything like them before, I didn't know how much dough to use in each, but by the fourth one (of course!) The dough seemed to be evened out.
It might have been possible to make a 5th one, but I was afraid the dough would have been too thin on all of them.
Best to err on the side of caution, I suppose instead of having burnt tartlets!
I rate everything I bake on a scale of 1-4 with 4 being the best and these Lime Curd Tartlets earned 3 1/3 rolling pins.
The crust was quite tasty and was nicely balanced with the sweetness of the lime curd which was thick and very smooth. The curd had a very nice balance of sweetness with the tartness coming from the limes.
Summer's not over, there's still time to make these! What a great dessert they'd be for your Labor Day Cookout, especially if you put the tart crust into mini-muffin tins and made bite-sized tarts with a dollop of whipped cream.
How cute would those be?
About the pictures…are they getting blurrier or is it my imagination?
This is something I'll be working on over the next few days, so please bear with me as I figure things out. It may take longer than a few days, too, but know that I'm aware of it.
There's nothing worse on a food blog than blurry photos. Ok, well maybe it's a recipe that's left out important steps, like adding the eggs (slowly ducking head).
So maybe I just need a new contact prescription or maybe it's both! 😉
Happy baking!
Thank you so much for stopping by today!!