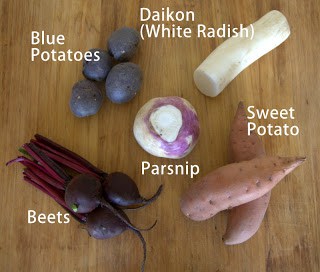 Ok, I'm going to be up front and honest here.
These chips really didn't turn out as I had hoped they would.
I'm going to give you the recipe exactly as I made them and then in the review tell you what I think I should have done and as in those 12 step meetings you can "take what you want and leave the rest."
Baked Vegetable Chips with Yogurt Dipping Sauce


Chips
1 sweet potato
2 beets
1 daikon (white radish)
1 parsnip
2 purple potatoes
cooking spray
1 tablespoon coarse sea salt
Preheat oven to 450ºF.
Prepare two baking sheets by spraying them with cooking spray.
Using a mandoline, thinly slice vegetables and place them in a single layer onto prepared sheets.
Spray chips with cooking spray and sprinkle generously with salt.
Set aside and allow them to rest for 15 minutes.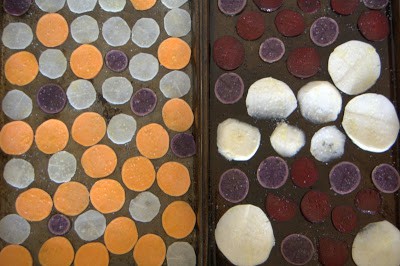 Place baking sheets in oven and bake for 15 minutes.
Check chips. Some may look like this..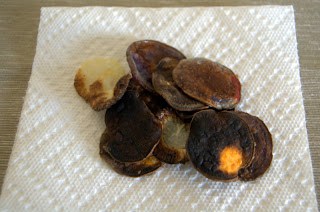 This is NOT how you want them to look.
The don't taste good when they look like this, believe me.
And some may need a few more minutes in the oven.
Just be sure to watch them carefully!
Dipping Sauce
1/2 cup plain Greek yogurt
1 teaspoon lemon juice
1/2 teaspoon dill
1/4 teaspoon garlic powder
1/4 teaspoon sea salt
1/4 teaspoon coriander
freshly ground pepper to taste
In a small bowl, mix all ingredients together.
Place bowl in refrigerator while chips are baking.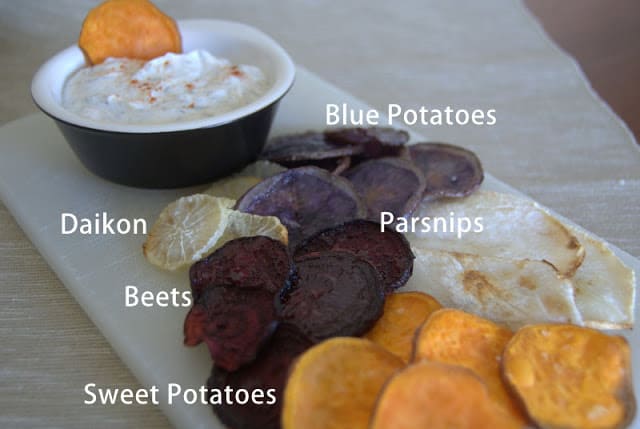 I rate everything I bake on a scale of 1-4 with 4 being the best and these Vegetable Chips with Yogurt Dipping Sauce barely made the cut. I'm giving them a 1, people.
I read on the internet that before baking chips such as these, they should be generously sprinkled with salt which will help extract the water.
Apparently, I went a little overboard on the salt.
While I like chips that are salty, these were really close to being inedible.
The sauce was ok.
It had a good flavor and did help to ease the saltiness of the chips.
I think that the oven temperature was too high!
Next time I will have the oven temp. set at 300ºF and bake them for 45 minutes to 1 hour and see how that goes.
I really would like these to turn out better than they did today.
I'm always frying our sweet potatoes, and I know baking them is much healthier.
The sweet potato and the beet chips were really good – they tasted the best (even with the exorbitant amount of salt), and didn't burn as much.
The blue potatoes were burnt the most and the ones that weren't just tasted ok.
The daikon was adequate. I really liked the taste before I put it into the oven and they tasted good after, but they were pretty burnt as well.
I didn't like the taste of the parsnip at all. It was the largest of the chips; was burnt around the edges, but soft and flimsy in the middle even after I left them in to cook a few minutes longer.
Unfortunately, this was NOT a successful baking day!
I was really looking forward to them, too because of the sugar overload I had yesterday.
Oh well, there's always tomorrow.
Tomorrow!!!!!
Tomorrow's a BIG, BIG day here at 365!!
Do you know why??!!
It will be…
Day 200!!!
I can't believe!!
I am well past the halfway mark with the baking.
It has been a very enjoyable experience and I've made so many new friends and have learned so many wonderful things.
I've also learned that you can't bake vegetable chips at a very high temperature and expect them to come out perfectly.
It's funny.
It's now 9:43 p.m. and I have absolutely NO idea what I'll be making for such a special occasion.
You'd think I'd already had this planned months ago.
Yeah, no.
I like crisis mode, remember?
I hope you will all join me tomorrow to mark the occasion.
Happy baking!