I was on my way to pick my son up from cross country practice this morning and saw this cute little critter on the side of the road…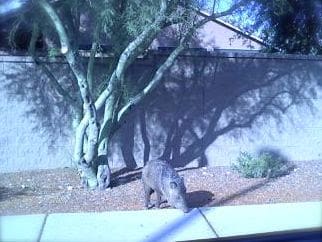 Ok, I admit it, he's not cute nor is he or she a little critter. This my friends is a Collared Peccary otherwise known as a Javelina. They're really not very friendly, mean in fact, and boy do they smell! I was in my car and the thing reeked!
Someone should talk to them about their body odor.
This was not a small animal, probably about the size of my Golden Retriever, so I was very happy to have seen him from my car and not up close and personal like.
You don't see these things in Rhode Island!
Yesterday was a challenge.
For the first time in some 161-odd days, I really didn't feel like baking anything.
I was tired and just really wanted a break.
But, I knew I had to persevere. And that I did. It just didn't get posted.
And I was pretty lax on taking pictures.
I think it all had to do with the fact I couldn't turn the computer on. They're great when they work…
So standing there staring into my pantry, into the refrigerator, into the pantry, and into the fridge again and not wanting to use my cookbook, it was improv. time.
I always hated improvisation when I was doing theater. It was great when I was watching my friends do it, but make me do it.
Yeah. No.
But it's true, the more you do it, the better you become, and I found that holds true with cooking.
So keep at it. Who knows what wonderful concoctions you'll come up with when working with ingredients you already have in your home.
Orange Peach Faux Napoleons – serves 2
1 orange, peeled and diced
1 peach, cored and diced
1 teaspoon sugar, if needed
1/2 teaspoon fresh mint chopped, plus extra for garnish
2 8-inch flour tortillas
2 tablespoons melted butter
1/4 cup sugar
1/2 teaspoon cinnamon
Vanilla Ice Cream
Caramel Sundae Topping
Preheat oven to 375°F.
In a medium bowl, combine peach, orange, mint and sugar if needed. Toss all to coat; set aside.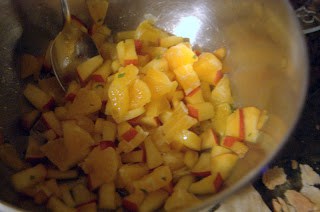 Prepare a cookie sheet by generously spraying it with cooking spray.
Place one tortilla on a cutting board and with a pizza cutter, remove rounded edges so that you have a square. Cut square in half to form two rectangles. Believe me, do this now or you'll have shards of tortilla shooting all over your kitchen if you do it after baking.
Repeat with second tortilla.
In a dish or plastic bag combine the cinnamon and sugar. Mix well.
With a pastry brush, paint a work of art onto the tortilla rectangles with butter. Or just brush the butter over both sides of the tortilla.
Yeah, do the latter.
Place the buttered tortillas into the plate or bag, coating both sides with the cinnamon sugar.
Repeat with remaining tortilla rectangles.
Place on prepared cookie sheet and bake for 10 minutes, turning over about halfway through baking.
YUM!!
Place cookie sheet on a wire rack to cool.
Place one tortilla rectangle on a plate. Cover with vanilla ice cream and cover with orange/peach mixture.
Place second tortilla on top and cover again with ice cream and fruit.
Drizzle with caramel sauce.
Garnish with caramel sauce.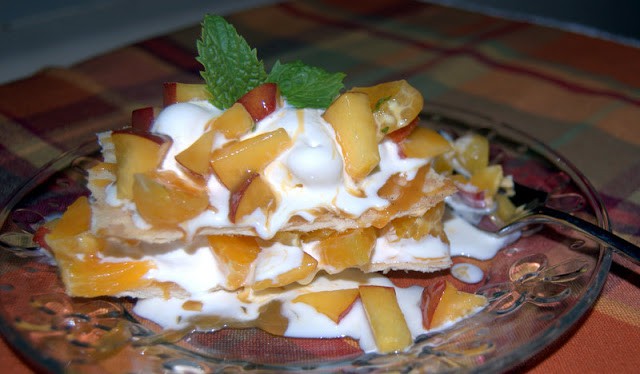 For something impromptu, this was pretty good. I really liked the crunch of the sugared tortillas and the oranges mixed with the peaches was really good.
I must be allergic to peaches.
My throat and mouth started to itch.
Despite that, it was a good dessert and I would make it for people who don't have an allergic reaction to peaches…or oranges.
I rate everything I bake on a scale of 1-4 with 4 being the best and this dessert of Orange Peach Faux Napoleons earned 3 rolling pins.
Happy baking!!