Happy 4th of July!!!!!!!
I hope every one had a safe and happy holiday weekend!
It was very relaxing here at the 365 home and extremely enjoyable for me because it was my
birthday
!
We didn't go out to any fireworks tonight because we saw them on (what day is this?) um, Saturday. It doesn't feel like Monday.
I had a request from my middle daughter to "make something healthy because I'm tired of having sweets and stuff."
SCORE!!!
This is huge!! She's the one of all three of them who has the most craving for sweets. I have to say that since I've started 365 that we've only been going out to dinner maybe once a week and I have cut down on the junk food I've been purchasing because I have been baking more sweets. Not that I would buy a whole lot of "junk food", but we are definitely eating healthier, too.
And, get this, she also requested
FISH!!
She doesn't even
like
fish! She must've really been oversugared from yesterday – the
Funfetti Cupcakes
, some ice cream, some snacks I'd brought home from the store and the leftover
cookies
. She did "pig out" a bit more than usual yesterday.
So, fish it is!
Seasoned Tilapia with Grilled Peach, Strawberry, & Mango Salsa
feeds 4 (5 if your family doesn't eat much, and we even had a few leftovers)
Salsa – makes about 3 cups
1 mango, peeled and diced
2 peaches, halved with pit removed
10-12 strawberries with tops cut off, and diced
1 jalapeno pepper, seeded and diced very small
juice of 1/2 lime
1 tablespoon fresh cilantro
1 teaspoon sugar (optional – upon tasting it was determined it just needed a little more sweetness, so we ordered 1/2 teaspoon sugar)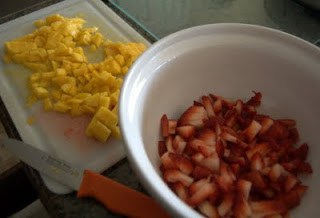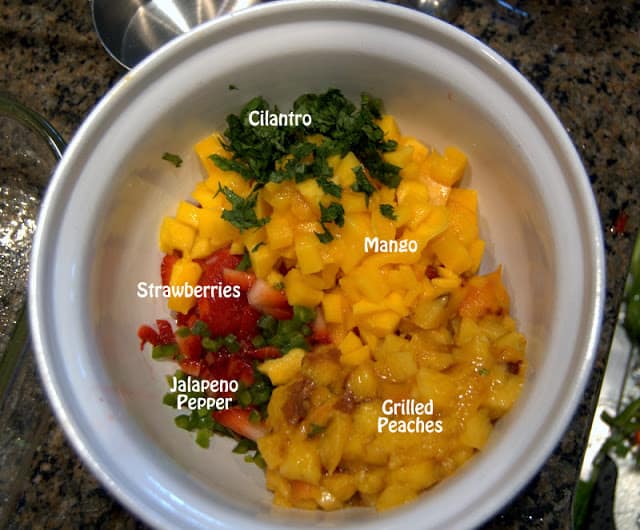 Spray grill pan with cooking spray or prepare peaches by lightly brushing them with cooking oil to place on grill.
Cut peaches in quarters and grill on both sides for 5-7 minutes each.
Remove from grill and allow to cool.
In a small bowl, combine strawberries, mango, jalapeno, lime juice, cilantro, and sugar if needed.
Peel peaches and dice small. Combine with other salsa ingredients in bowl. Mix well and set aside.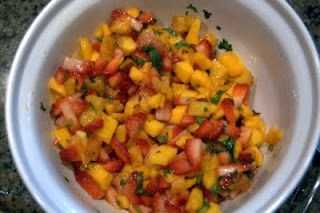 Seasoned Tilapia
3 Tilapia fillets
1 egg, beaten
1 cup Panko Bread Crumbs
½ teaspoon Lawry's Seasoning
1/8 teaspoon freshly ground pepper
Preheat oven to 350ºF.
Prepare an 9 X 13-inch baking dish by spraying it with cooking spray.
Combine bread crumbs, seasoning and pepper in a shallow dish.
Immerse a Tilapia fillet in the egg, making sure to completely cover both sides.
Transfer fillet to bread mixture, completely coating both sides.
Shake off any excess and place in a single layer in the prepared baking dish.
Bake for 25-30 minutes until fish flakes when separated with a fork.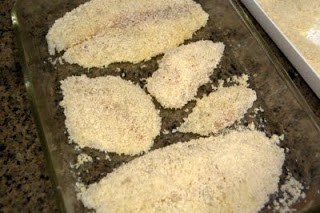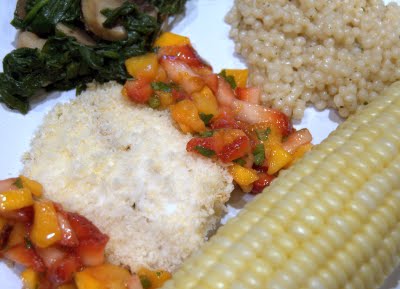 Everyone really liked this dinner.
I rate everything that I bake on a scale of 1-4 with 4 being the best and this Seasoned Tilapia with Grilled Peach Salsa earned 3 1/2 rolling pins. It was a pretty healthy dinner, too- corn on the cob, Israeli couscous, and sauteed spinach with garlic & mushrooms.
I love a great dinner!
Big baking hugs!!