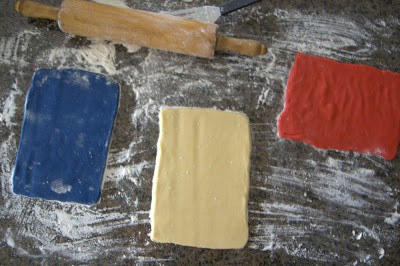 I had a craving for some cookies today, and of course, wanted to make them 4th of July festive.
This recipe is adapted from The New Doubleday Cookbook, p.837; authors, Jean Anderson and Elaine Hanna; publisher, Bantam Doubleday Dell, an imprint of Random House, Inc.; ISBN 0-385-19577-X.
4th of July White Chocolate Pinwheels – makes about 70 cookies
3 ¾ cups sifted flour
1½ teaspoons baking powder
1 teaspoon salt
1 cup unsalted butter
1½ cups sugar
2 teaspoons vanilla
2 eggs
4 ounces white chocolate
red food coloring
blue food coloring
(I used the
Wilton Icing Colors
for both the red and the blue. I have found that they work the best.)
Either in a double broiler or a bowl fitted over a small saucepan with about an inch of water, melt white chocolate. Set aside.
Sift flour with baking powder and salt and set aside.
Cream butter, sugar, and vanilla until light and fluffy.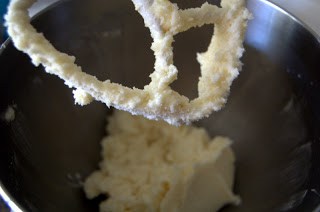 Add eggs, one at a time, beating well after each addition.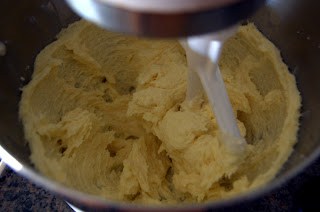 Add white chocolate to egg/butter mixture. Beat on medium speed until well combined.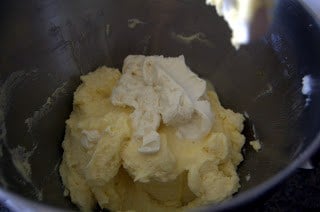 Slowly add in flour mixture until just blended on lowest speed.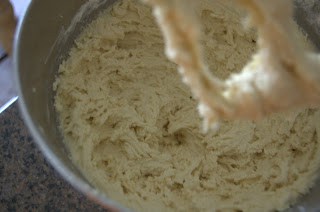 Divide the dough into thirds and place in bowls.
Leave one bowl with white dough.
In another bowl, add blue food coloring to the dough to reach the desired amount of color. Blend in with a rubber spatula by folding the dough over itself.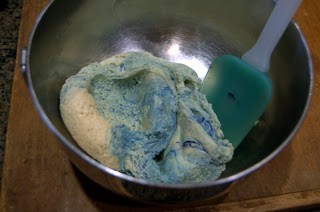 In the third bowl, add red food coloring and blend with rubber spatula until desired color is reached.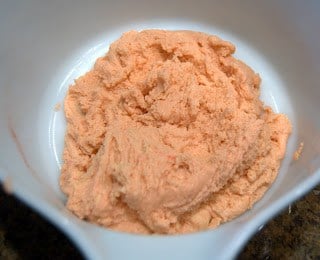 Wrap doughs separately in plastic wrap and gently pat into small rectangles as it will be easier to roll out later. Chill in refrigerator for one hour.
Remove from red dough from refrigerator and cut in half. Place one half back in refrigerator and roll the other on a well floured surface into a 6 X 10-inch rectangle with ¼-inch thickness.
Repeat process with the white and blue doughs.
(Note: These rectangle measurements are approximate. With three kids in the house, can you believe I couldn't find ONE ruler OR yardstick?! So, I guessed on the measurements. You also do not want to make them too big or else they will fall apart (as mine did) when you go to lay them on top of one another.)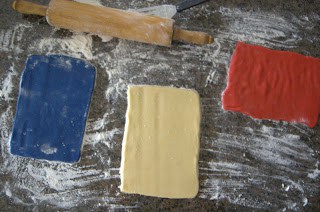 Using two spatulas, gently lift white dough and place it onto the red dough or place it onto the blue depending how you want the color order to go.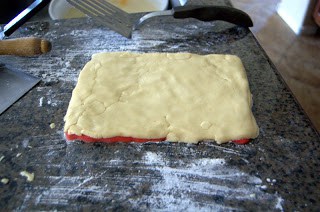 Yes, it fell apart as I was moving it, so I piece-mealed it back together. When the cookies came out of the oven, you couldn't tell.
Again using the two spatulas, place blue dough onto the white (or red dough onto the white if you have reversed the order).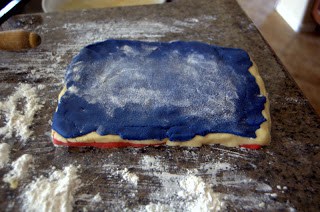 Roll the three doughs out into a larger rectangle so that it is ¼-inch in thickness. Again, I cannot tell you what size mine was, but you'll notice I had to be careful of it falling off the edge of the counter on the right.
Roll dough up jelly-roll style from the long side.
Wrap in plastic wrap and place on a cookie sheet to refrigerate for ½ hour.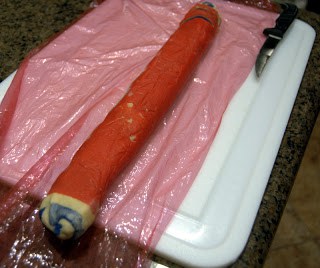 Preheat oven to 375ºF, and lightly butter two cookie sheets. ing
Remove remaining dough halves from refrigerator and repeat rolling, stacking, and rolling process.
Roll dough up jelly-roll style from the long side and wrap in plastic wrap to refrigerate for ½ hour.
Remove chilled dough from refrigerator and unwrap.
Slice ¼-inch thick and place on prepared cookie sheets about 2 inches apart as they will expand during baking.
Bake 10-12 minutes until cookies barely show a print when lightly pressed.
Remove to wire racks to cool.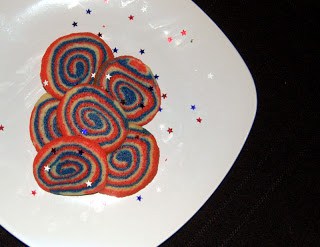 Well, they aren't perfectly round because they kind of flattened on the one side they were sitting on in the fridge, bit they do look pretty 4th of Julyish. These actually chilled for 3 hours because I put them in right before we went out to see fireworks.
Also, I only used half of the doughs. The others are still in the fridge and I'll make star cookies or some more pinwheels. Haven't decided yet, but I'll post those pictures, too.
I rate everything I bake on a scale of 1-4 with 4 being the best and these 4th of July White Chocolate Pinwheel cookies earned 3½ rolling pins.
They had a great taste to them, but we couldn't really tell they had white chocolate in them. I thought it was just a slightly sweeter sugar cookie.
I really loved the colors and the fact that they were all just a little different made them kind of cool, too!
Happy baking and preparing for the 4th and stay safe this long weekend!!
Hugs!!!