My husband and son returned home a few hours ago and I have to say that I'm mighty proud of both of them.
They went to the grocery store.
No, I'm kidding.
They drove to Flagstaff, AZ last night, and woke up at 4 am to drive two hours to the Grand Canyon to begin their 6 am hike. They went down to Phantom Ranch which is close to 10 miles down the Bright Angel Trail. And it ain't no cakewalk (hiking in a baking blog – I had to fit "cakewalk" in somewhere).
I know because my husband and I hiked it three years ago without the kids, but only went as far as Indian Gardens which is only 4½ miles down. And it's not the hiking down that gets you.
It's the coming back up part – all that zig-zaggy, climbing up the mountain terrain that tests your sanity.
So, my men did the whole thing in about 9 hours and then drove the 4 hours back home!
Needless to say, they're wiped out and will sleep soundly tonight.
After doing 4 marathons, and even doing the Rim-to-Rim Grand Canyon hike a few years ago (where nuts hike from the south rim to the north rim and then back to the south rim all within 24 hours), Mr. 365 insists that he will never be doing something like this again.
Uh-hunh. I think it's like childbirth where we forget how much pain we're in while it's happening and say, "never again", and then a few years later, "oh yeah, I'm pregnant."
We'll see.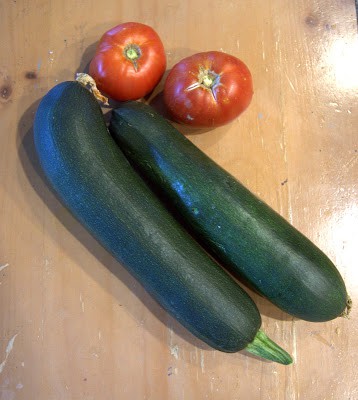 Fresh zucchini and tomatoes from the garden.
I can just taste the Arizona sunshine!
I'm going to have an abundance of these items along with summer squash, so you'll be seeing some recipes in
the next few weeks containing these items along with some Japanese eggplant.
This is from my Fannie Farmer Cookbook Thirteenth Edition, p. 436; author, Marion Cunningham; publisher, Alfred A. Knopf, Inc., a division of Random House, Inc.; ISBN 0-394-56788-9.
Stuffed Zucchini – serves 4
2 large zucchini
¼ cup olive oil
½ cup finely chopped onion
1 clove garlic, minced
¼ pound ground beef
2 tomatoes, peeled, seeded, and chopped
½ cup bread crumbs
2 teaspoons parsley
salt to taste
freshly ground pepper to taste
½ teaspoon basil
Preheat oven to 350F.
Spray a 9 X 13″ baking dish with cooking spray. Make sure the dish is large enough to hold the zucchini in one layer.
Trim the ends off of the zucchini and cook in a large pot of boiling salted water for 5 minutes.
Drain, and cut in half lengthwise.
Scoop out the pulp, leaving a sturdy shell; chop and reserve the pulp.
Saute the onion slowly in the oil for 5 minutes, then add the garlic and the meat.
Cook, stirring constantly, until the meat is browned. Remove from the skillet and set aside.
Pour off all but 2 tablespoons of oil from the skillet, heat again, and add the chopped zucchini pulp and tomatoes.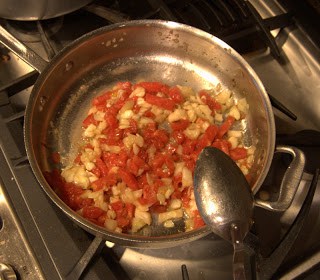 Saute for 1 minute and add to the meat mixture. Add the bread crumbs, parsley, salt, pepper and basil.
Toss together lightly until mixed.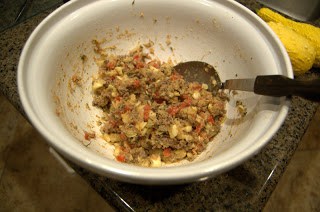 Fill the zucchini shells without packing down, and place in baking dish.
Bake for 30 minutes.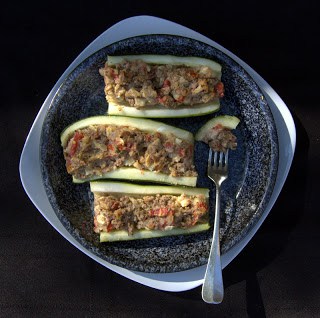 Note: The recipe called for 4 medium zucchini and to boil them for 3 minutes, but since our garden produced the two large ones that's what I went with. It also said you could use 1 cup leftover cooked beef or pork, ground.
This is definitely a good recipe for the "extra zucchini" from the garden or your neighbor's garden.
And no, I am NOT suggesting that you go into your neighbor's garden unannounced just to pick some of your own zucchini.
Unless of course, you are planning on making this for them as a peace offering.
That might work.
"Surprise, I made you stuffed zucchini with vegetables from YOUR garden!"
Maybe not.
I liked this as did my middle daughter. No one else was home to eat it tonight, so they'll be eating it as leftovers tomorrow.
This is something I will definitely be making again. Next time, I think I'll add some sausage to give it a little extra kick and I'd like some crunchy bread crumb topping. The consistency just felt a little too mushy.
I rate everything I bake on a scale of 1-4 with 4 being the best and my daughter and I agreed that these stuffed zucchinis earned 3 rolling pins.
Happy baking!