Thank you all for your patience and your continuous reading while I've taken this short hiatus.
I was feeling well enough today to bake although I am still not over my illness.
This recipe was simple to make, but because of my energy level and inability to focus at times it took me a couple of hours to complete it.
I'm sure it won't take you as long.
Adapted from Fannie Farmer Cookbook Thirteenth Edition
Three Berry Cobbler
1 pint of strawberries
1 pint of blueberries
12 oz. blackberries
12 tablespoons butter, melted
½ teaspoon salt
2/3 cup sugar
½ cup milk
1 egg
1½ cups flour
2 teaspoons baking powder
Preheat oven to 375ºF.
Pour 4 tablespoons of the melted butter into an 8 X 8″-inch baking dish. Spread evenly in dish.
In a small bowl, mix together ¼ teaspoon salt and ¼ cup of the sugar.
Combine all berries into a large bowl. Pour sugar/salt mixture over berries and fold in gently with a wooden spoon.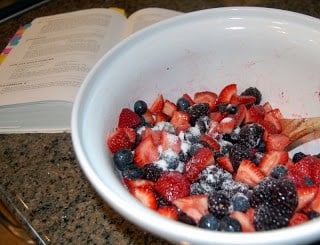 Place berries in baking dish and set aside.
Pour remaining 8 tablespoons melted butter into a bowl, add the milk and egg, and beat well.
Mix the flour, baking powder, remaining ¼ teaspoon salt, and remaining 6 tablespoons of sugar in a bowl.
Stir the egg/milk/butter mixture into flour mixture and beat together until smooth.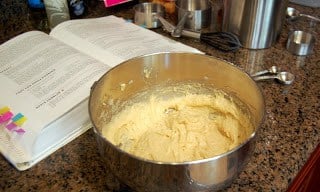 Place 9 dollops of batter onto berries.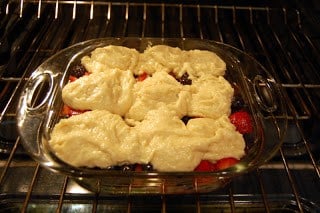 Bake for approximately 35-45 minutes or until a toothpick inserted into dough comes out clean. If browning too quickly, cover with foil.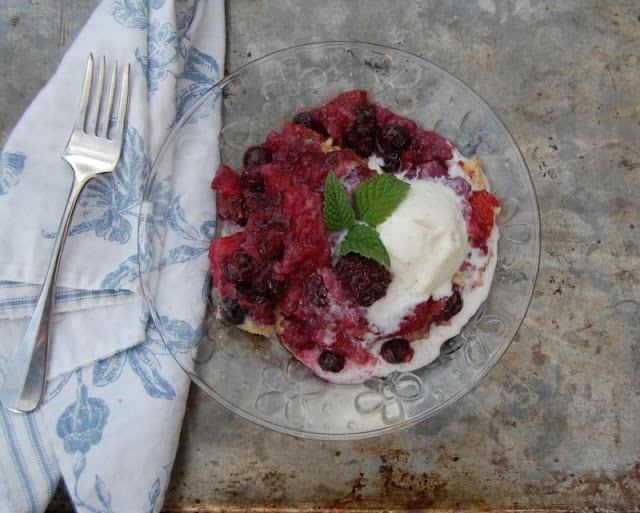 The cobbler was delicious and on a scale of 1-4 with 4 being the best, this earned 4 rolling pins! It was even that much better with the vanilla bean ice cream on it, too.
And yes, I had a little bit of an appetite to eat it. And I could even taste it, too which was a plus!
I had gone to bed early, and I mean like 7:00 pm early hoping to call it a night, but I tossed and turned for at least an hour or more and couldn't fall asleep. So, I sat on my husband's side of the bed and was on his laptop when I noticed something very near my foot move on the floor.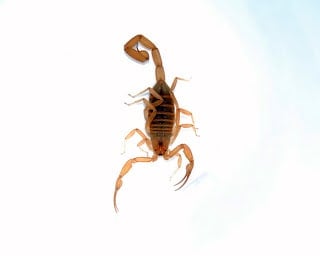 Fortunately, he's a bigger one and less dangerous than his smaller counterparts. He was in a plastic cup when this picture was taken
I was going to put this at the top of the post, but didn't want to freak anybody out.
It's been a couple of years since we've had a scorpion in the house and usually I'm not too freaked out by them and can dispose of them without having to call my husband for assistance. Last night was different though. I didn't need my husband, I just freaked out knowing that I had walked back and forth over that same are not a couple of minutes beforehand to go into the bathroom.
I'm just so glad that I saw it before anyone stepped on it, and not to mention the dog who wanders the whole house.
I'd love to know where it came from and if it has any brothers or sisters we need to be on the lookout for. Did he come in from a vent in the ceiling or somewhere at ground level. I'll never know, but I did have trouble walking around the house afterwards and going to sleep.
We didn't have scorpions in Rhode Island. I can't say that I'm happy to see them here in the desert.
~ Happy baking everyone! ~