Barbecue Chicken Rigatoni and Cheese – barbecue chicken, slightly spiced and combined with rigatoni pasta, a mixture of cheeses, and topped with toasted bread crumbs and more cheese. It's a new version of old-time comfort food.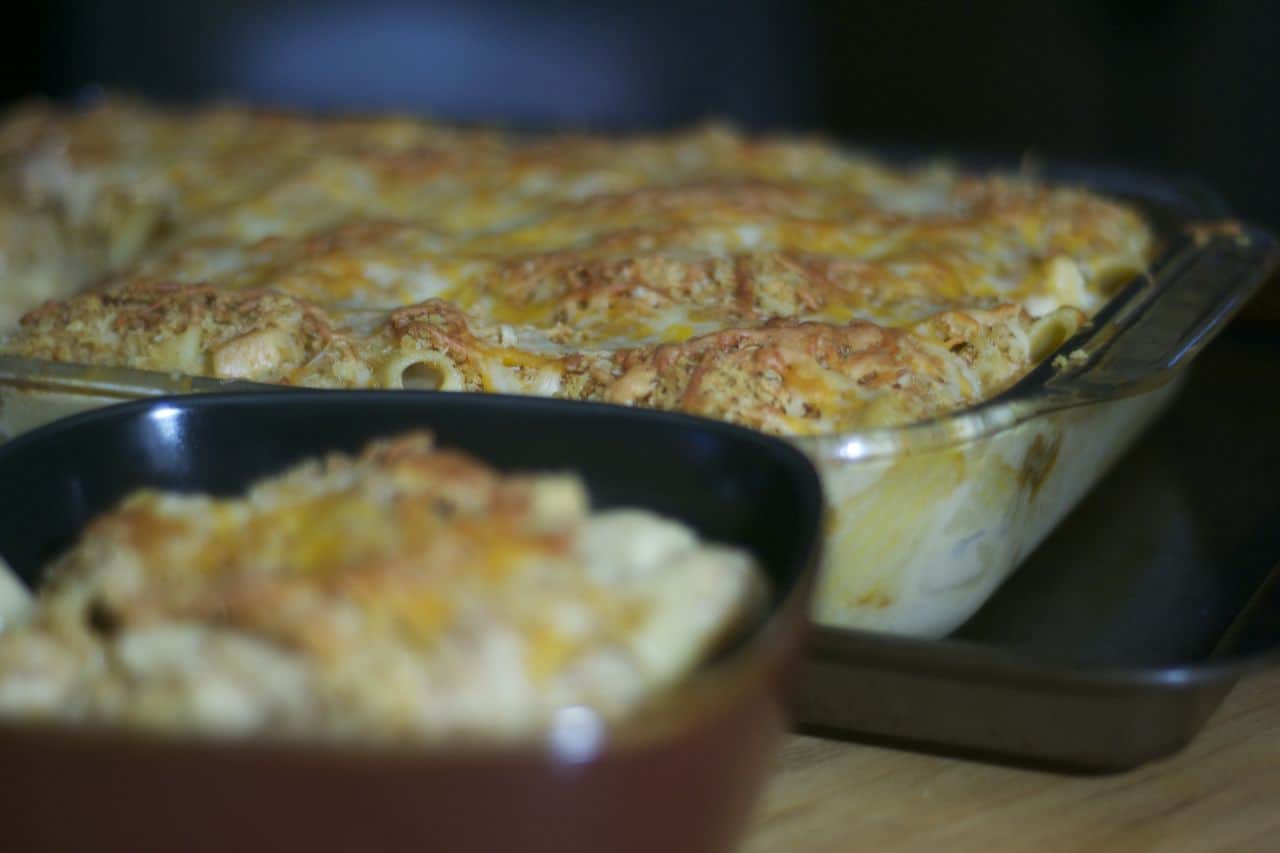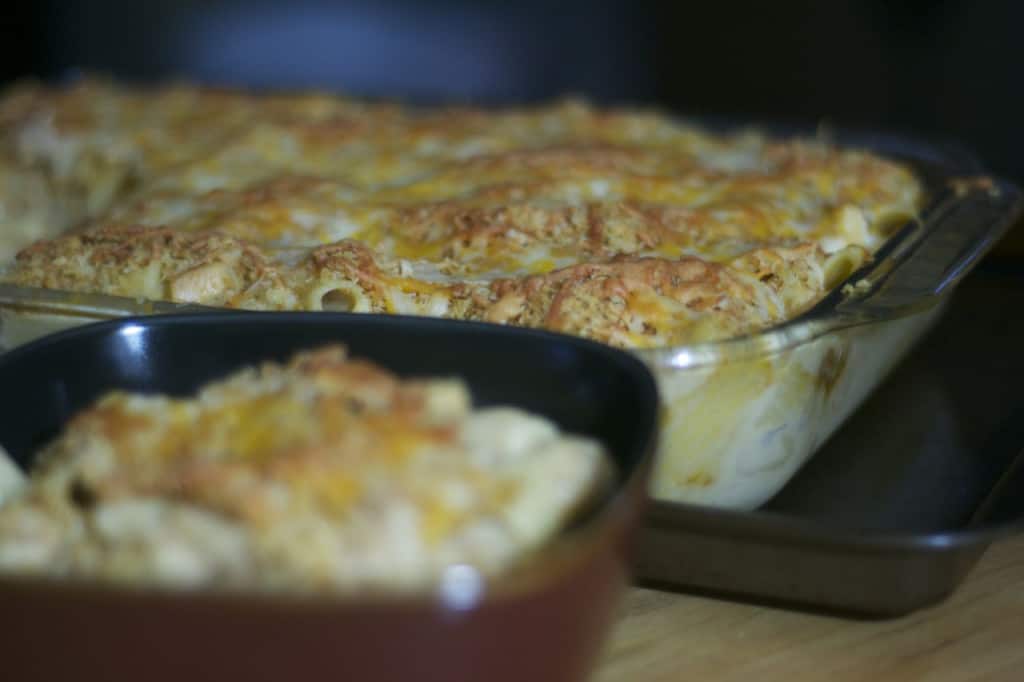 There are some days I just don't want to eat what I make.
And this was one of them.
Not that it didn't smell good, or taste good when I did that all-important taste test before putting it into the oven, but I really just wasn't in the mood for it when I finally got it to the table.
I just wasn't hungry.
Hm…come to think of it, I think I may have taste tested too much which filled me up.
haha
I also think that it might have been because my mind had been set on having a barbecued chicken pizza for dinner, but when I got home from work I discovered that I didn't have the pizza yeast I needed and didn't have time to have the dough rise in the regular way.
Scratch that idea, so we (me, myself and I – because three heads are always better than one, right?) came up with this one.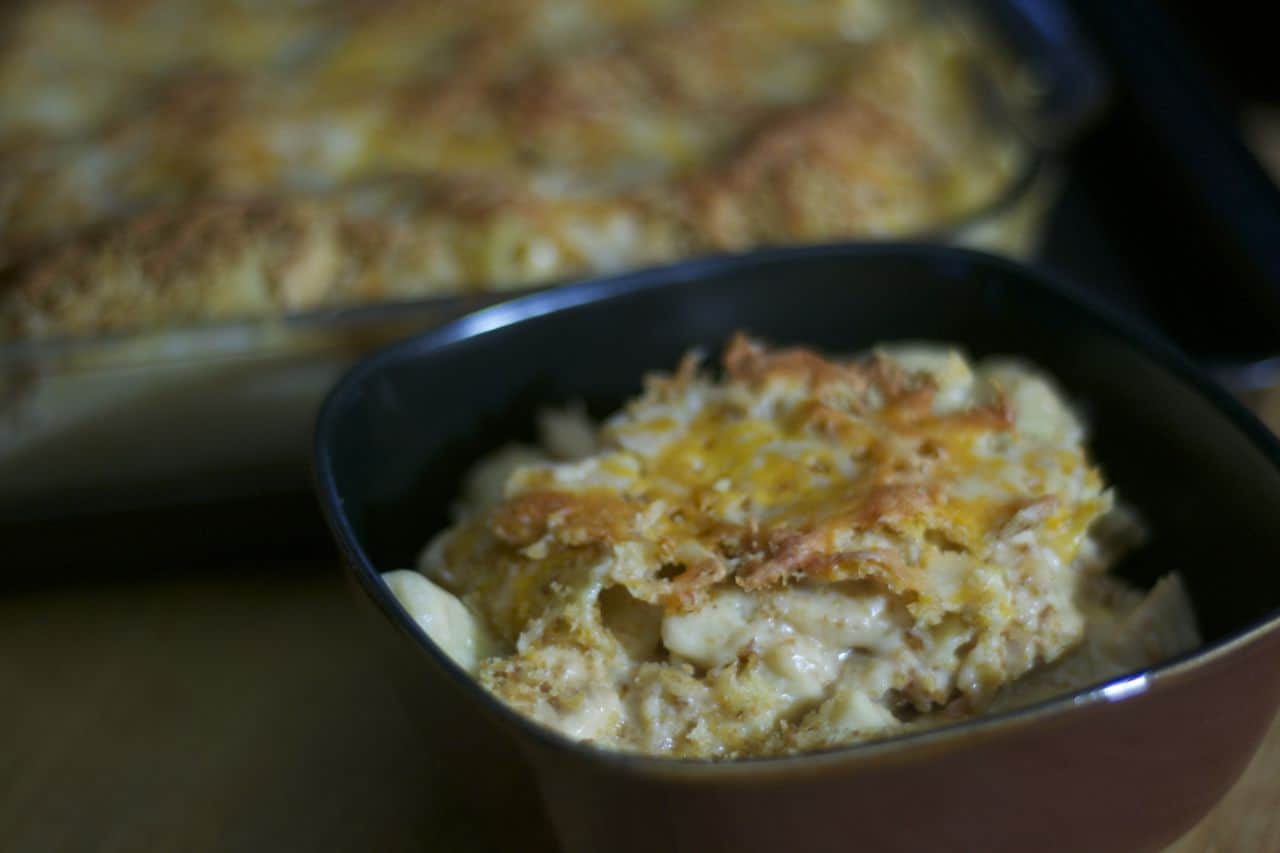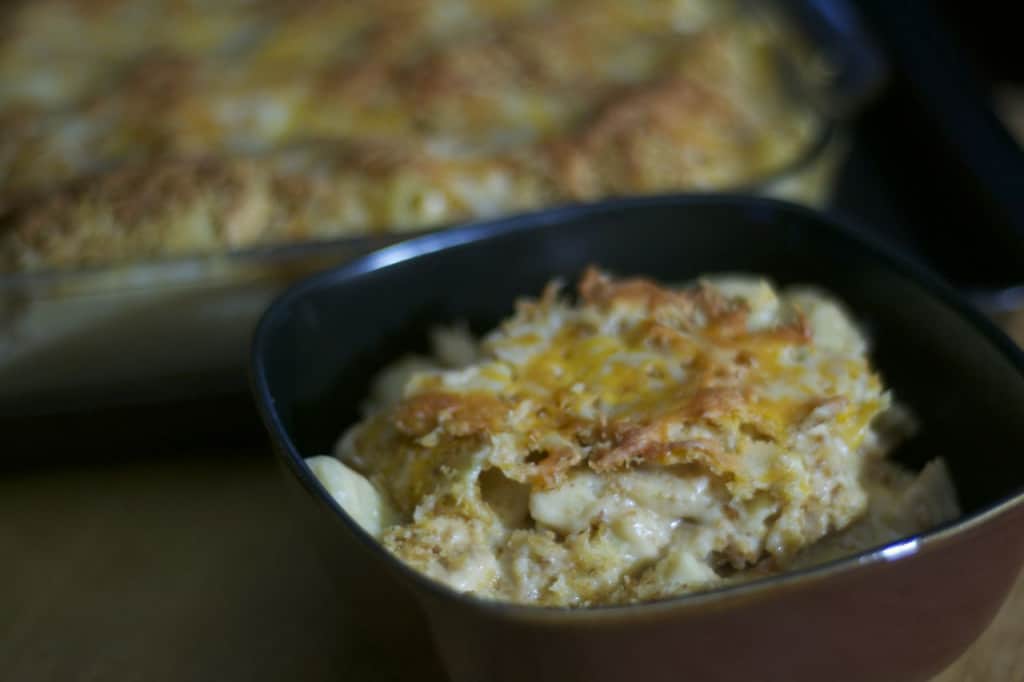 That tends to happen around here quite a bit, too.
I adapted the recipe from this recipe at Baked by Rachel and this one from me!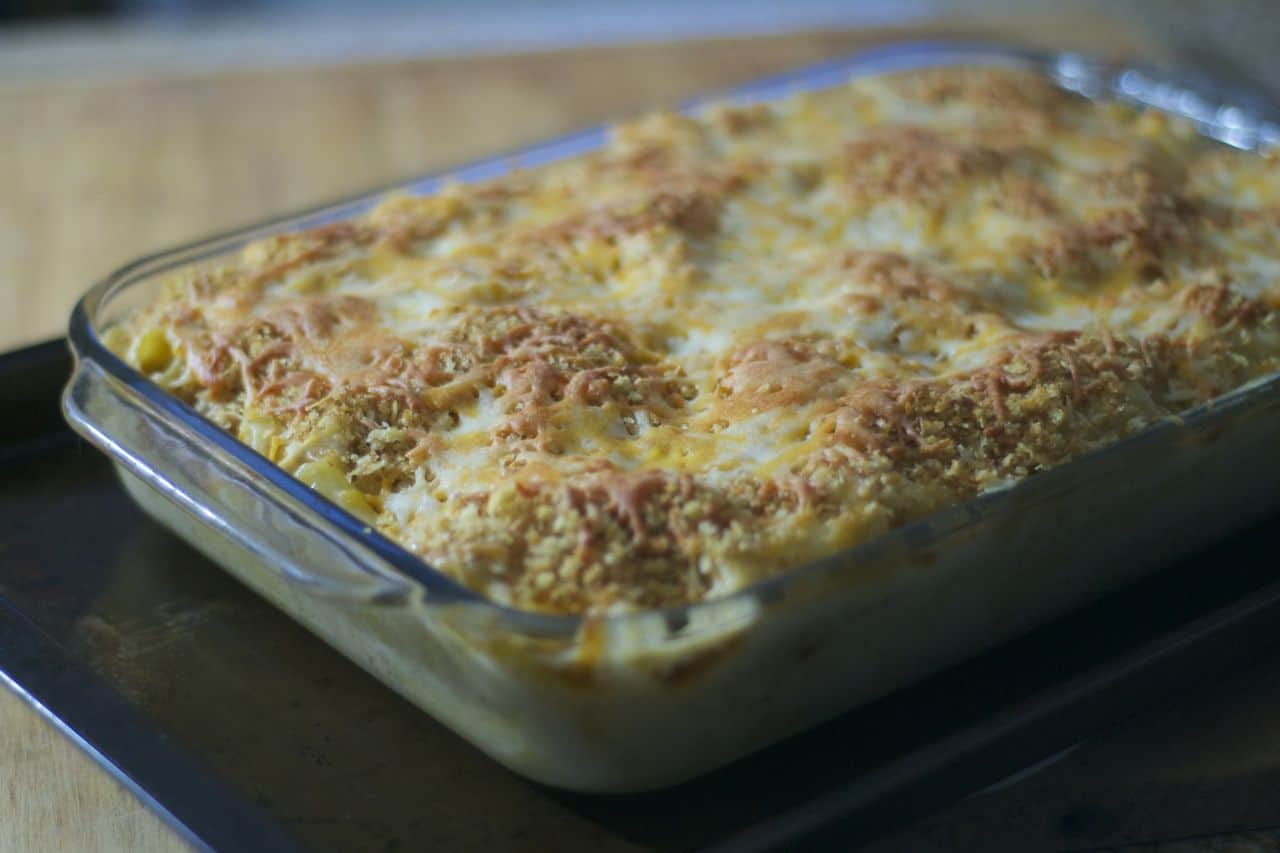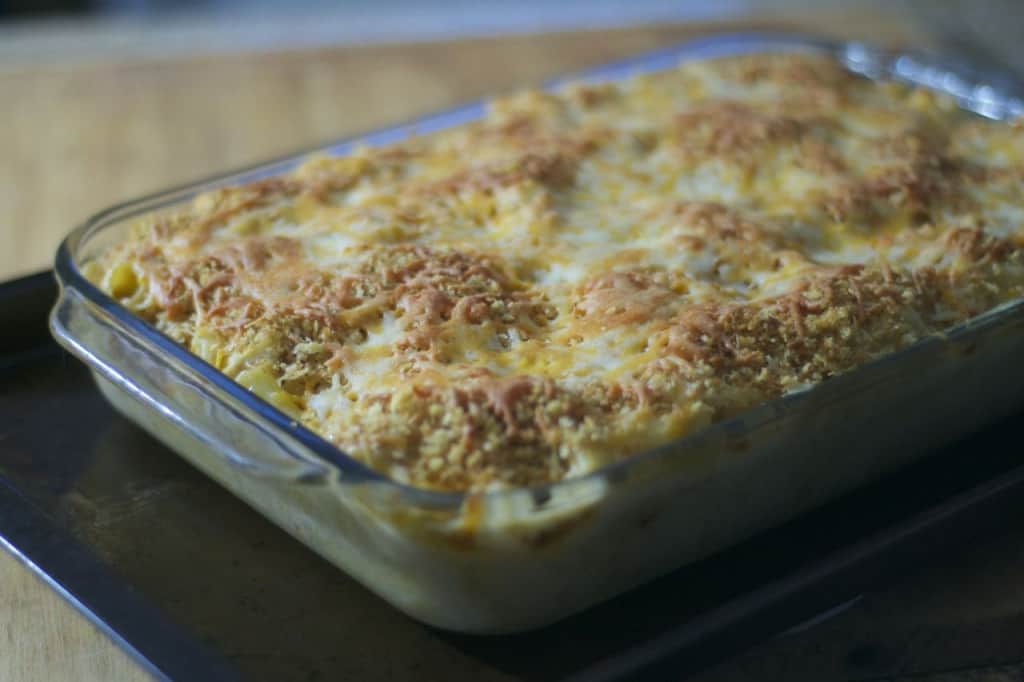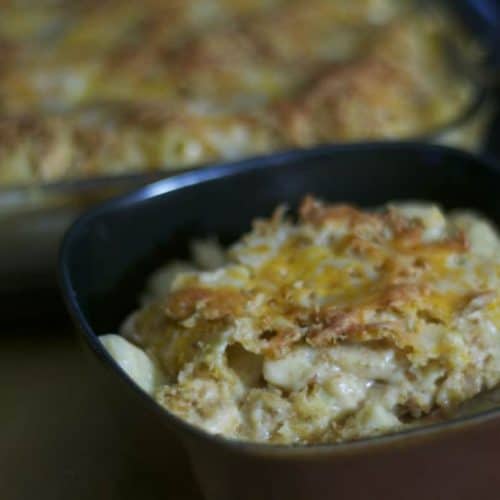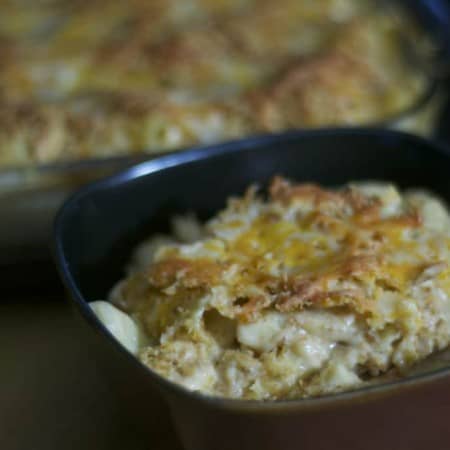 Barbecue Chicken Rigatoni and Cheese
Barbecue chicken, slightly spiced and combined with rigatoni pasta, a mixture of cheeses, and topped with toasted bread crumbs and more cheese. It's a new version of an old-time comfort food.
Ingredients
For the Chicken
2 boneless skinless chicken breasts
6 tablespoons barbecue sauce
¼ teaspoon cayenne pepper
¼ teaspoon garlic powder
For the Rigatoni
½ cup 1 stick unsalted butter
½ cup flour
2 teaspoons ground mustard
5 cups milk
2 cups shredded sharp Cheddar cheese
1 cup shredded Monterey Jack cheese
1 cup shredded Mozzarella
½ teaspoon salt plus additional if needed
¼ teaspoon freshly ground black pepper
2 tablespoons Worcestershire sauce
1 pound rigatoni pasta cooked just below recommended cooking time (it will finish cooking while in the oven) and drained
For the Topping
2 tablespoons olive oil
1 cup Panko bread crumbs
2 cups Mexican cheese blend
Instructions
Prepare a 9 X 13-inch baking dish by spraying it with cooking spray.
For the Chicken
Preheat oven to 375 degrees F. Prepare a rimmed baking sheet by lining it with tin foil and spraying the foil with cooking spray.

In a small bowl, mix together the cayenne pepper, garlic powder and barbecue sauce.

Brush the sauce onto both sides of the chicken.

Bake for 30 minutes or until chicken is completely cooked and the internal temperature registers 165 degrees F. with a meat thermometer.

Cut into bite-sized pieces and set aside.
For the Cheese Sauce
Melt butter in a large pot over medium heat.

Whisk in flour and mustard.

Slowly whisk in milk and continue to cook until sauce thickens.

Mix in 4 cups of the shredded cheeses (the sharp cheddar, Monterey Jack and Mozzarella), salt, pepper, and Worcestershire sauce.

Add more salt if needed.

Cook and stir until the cheese melts.

Remove from heat and mix in rigatoni, stirring until thoroughly combined.

Add chicken pieces and mix.

Pour into prepared baking dish.
For the topping
In a medium skillet, heat olive oil over medium heat.

Add bread crumbs and toast until lightly golden.
Assembly
Lower oven temperature to 350 degrees F.

With the rigatoni mixture in the baking dish, sprinkle 1 cup of the Mexican cheese blend on top.

Sprinkle the toasted Panko bread crumbs on the cheese, followed by the remaining cup of Mexican cheese on top of the bread crumbs.

Bake for 25 - 30 minutes until bubbly.
Nutrition
Serving: 6g
Did you make this recipe?
Share it with me on Instagram and make sure to follow me on Pinterest for more recipes.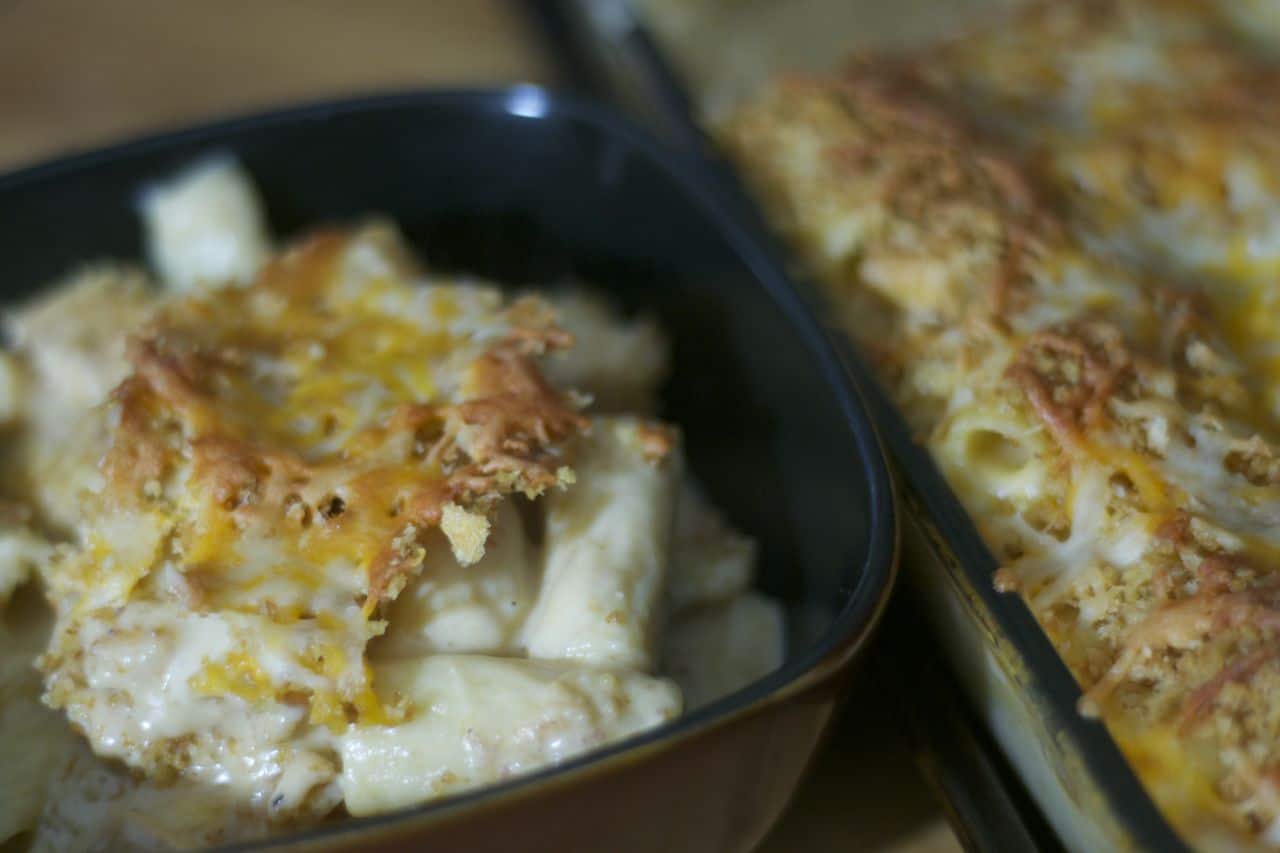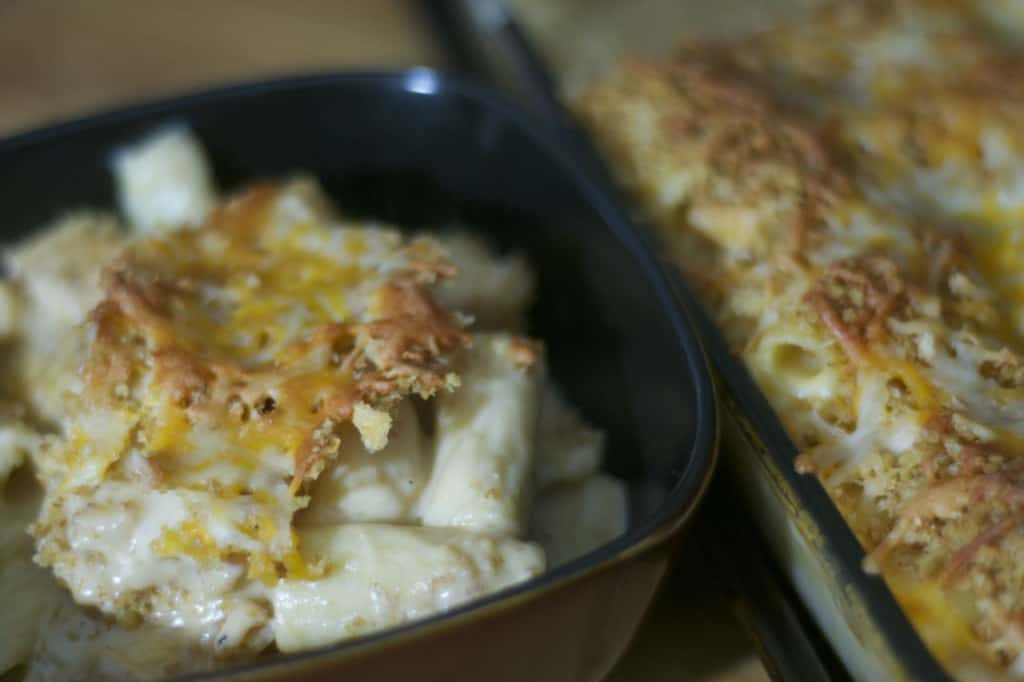 I rate everything I bake on a scale of 1-4 with 4 being the best and this Barbecue Chicken Rigatoni and Cheese earned 3 rolling pins.
The cheese sauce was just a little grainy, but it didn't deter us from eating it.
The family really liked it and requested that it be made again.
We have about half the dish left over, so next time I'll probably just make half of the recipe and use and 8 X 8-inch baking dish.
Reader Interactions