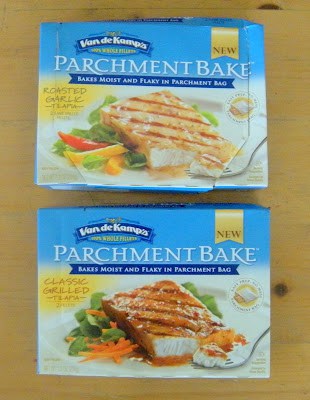 As member of the Foodbuzz Tastemaker program, I was selected to do a review of this new product that Mrs. Paul's and Van de Kamp's has released (BIG BOOMING VOICE) into a store near you!
I grew up on Van de Kamp's. Mom was always buying the fish sticks. I loved them!
On occasional nights, especially in the summer, dad would put some swordfish on the grill.
Nuh-unh. I'm not going to eat that stuff.
Mom knew what to give me (I'm an only child) so that the whole family would be eating fish for dinner – fish sticks!
Since I've started my own family, we have a tendency to eat more fresh fish than the boxed frozen items that are available.
However, as a quick dinner when the kids were little, I did occasionally buy those wonderful fish sticks.
Now, because we are all loving, (yeah, can you say TYPO?) or rather living, in a more health conscious world, counting calories, watching what we eat, and putting forth effort to make healthier food choices, Mrs. Paul's and Van de Kamp's, have come up with a new 100% whole-fillet Tilapia product.
Tilapia is probably the fish we eat most often here in the 365 home because it is relatively inexpensive compared to some other white fish and doesn't have a very fishy taste.
I am NOT going to eat a fish that tastes fishy.
You know what I mean, and don't be pretending that you don't! Some fish just taste like they're, well, fish. Not that I want a fish that tastes like chicken, but too fishy is not floating my boat.
Like that reference there to a boat since we're on the subject of fish? Nice tie-in, hunh?
Anywho.
In Mrs. Paul's and Van de Kamp's Parchment Bake, the secret is "the unique parchment paper bag". Pretty ingenious, hunh?
The parchment paper bag "delicately bakes the pre-grilled, 100% whole-fillet tilapia in a sauce locking in the fish's natural moisture and flavors. Cooking in parchment is a classic technique used in restaurants and by professional chefs. With four flavor options (Classic Grilled, Roasted Garlic, Garlic Butter and Lemon Pepper) each ParchmentBake fillet has less than 80 calories and can be found in your grocer's freezer."
You can go here to see a video of the ParchmentBake in action.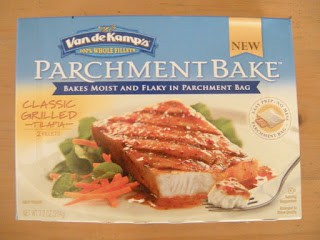 I purchased the Classic Grilled Tilapia and the Roasted Garlic for dinner one night. Those were the only two flavors available at my local grocery store.
Each package contained two parchment bags each filled with one fillet, so it fed our family of 4 (our eldest being away at college).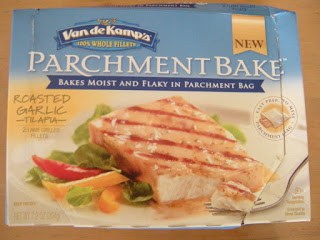 There was no mess and it was extremely easy to just plop those babies down onto a baking sheet and put them into the oven for about 22-24 minutes while I prepared the rest of the dinner.
It doesn't get much easier than that!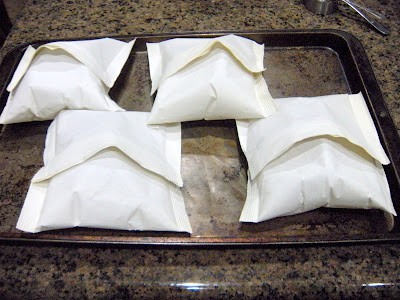 I debated whether or not to just put the parchment bags on the plates to make sure they stayed warm, but decided to remove the fish from them. They stayed warm anyway.
I liked the way they cooked. The use of the parchment kept the fish moist and really did seal in the flavor.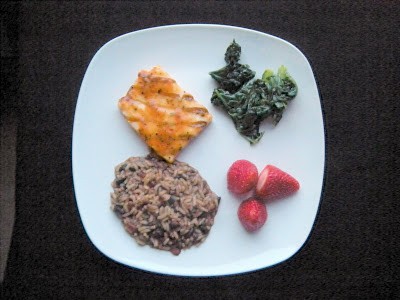 Pictured is the Classic Grilled Tilapia
In terms of taste, I have to be honest because that is what I have been every post here on my blog and I'm not going to compromise it just for the sake of a review.
I rate everything I make on a scale of 1-4 and even though I didn't "make" these ParchmentBake fillets, I still need to give them a rating. They earned 1 1/2 rolling pins.
I tasted both of them and like the Roasted Garlic much better than the Classic Grilled. I didn't like the spices used to season the Classic Grilled at all. I don't know what it was, I just couldn't pinpoint it. I think the Roasted Garlic could have had more flavor, but then that probably would have compromised the 80 calories.
I would have liked to have tried the Lemon Pepper because I'm partial to lemon on my fish, but alas, it wasn't available at our grocery store.
The rest of the family wasn't nuts about either flavor either, but they ate them. Unfortunately, I won't be serving this to my family again.
This is my opinion and everyone's tastes are different. Just because my family didn't like it, doesn't mean that you won't. You can go here to receive a coupon to try it out for yourself!
*I was supplied with free product for my review, but all opinions are my own.*
I give you BIG baking hugs and muffins!!