This is a sponsored conversation written by me on behalf of Albertsons. The opinions and text are all mine.
Are you a coffee drinker?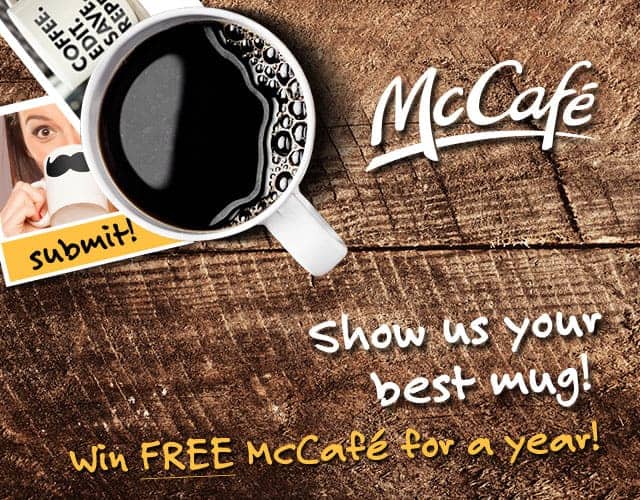 Would you like to win a year's supply of the new McCafé Coffee that's just hit store shelves?
I know I certainly wouldn't mind!
It would fill my most favorite coffee mug so nicely every morning and be a great start to my day.
This is the mug you'd find me drinking it in.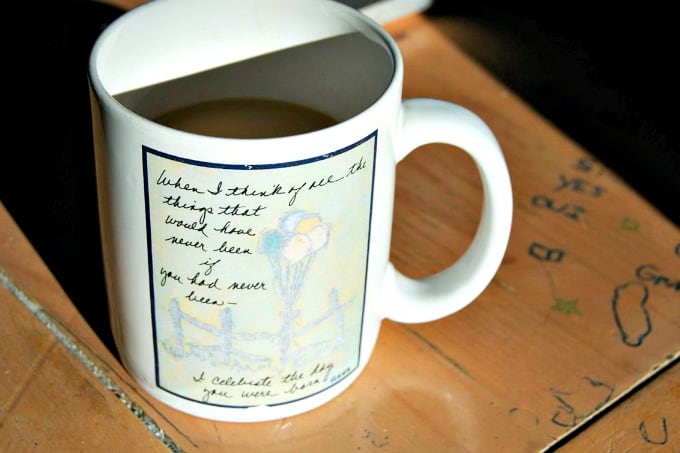 It was given to me by my mother many, many years ago and on the front it reads,
When I think of all the things that would have never been if you had never been…I celebrate the day you were born.
It meant a lot when she gave it to me, but since she passed away in July of 1992, its' sentimental value continues to increase. I have to say that I'm a wee bit possessive of my mug and cringe when I see another family member using it for their coffee. There are plenty of other vessels in the house with which you can use for coffee, so why do you have to use mine? 😉
Is that how you feel about your mug?
Do you have a particular mug that your attached to and drink your coffee from every morning? If you do then we want to see it! Share it for your chance to win free McCafé coffee for a year through the McCafé Mug Pix! #mccafe
I'm sure you're familiar with McCafé coffee. Now it's available on shelves at your favorite grocer! I found it at my local Albertson's. It comes in a variety of flavors and is available in ground, whole bean and even in K-cups!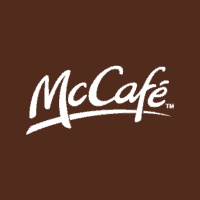 Here's how to enter:
Click on the link for your local store below and then scroll down. You'll see the icon for the McCafé Contest on the left hand side. Click "Submit Your Photo".
From there you'll be taken to the page with a whole bunch of different mugs submitted by your fellow coffee drinkers. Feel free to browse. I did and loved looking at all of them. Just remember to go scroll back up to the top to click "Submit".
Upload a photo of your mug from your desktop, smartphone, Facebook or Instagram photos.
Put your thinking cap on and be sure to caption it – the more creative the better! Add your display name and email address and then submit!
You could win a year's supply of McCafé coffee. That's 24 bags of either McCafé ground or whole bean! The contest runs through January 5, 2015, you can have up to two entries per email address AND one winner will be chosen each day! No purchase necessary.
So, what are you waiting for? Show us your coffee mug and enter to win.
Remember to stop at your local store to pick up your favorite McCafé coffee!
Comments submitted may be displayed on other websites owned by the sponsoring brand.
I give you BIG baking hugs and muffins!!
This is a sponsored conversation written by me on behalf of Albertsons. The opinions and text are all mine.