Ok, I'm not going to lie.
I was going to title this post "Easy Summer Dinners to Beat the Heat".
Sounds good, right?
Yeah, but I don't know how many of those dinners I have here on the blog and I'm certainly not going to pretend that I've got stuff when in all actuality, I really don't.
I've got some recipes. You can decide how difficult they are and if you really want to tackle them in the heat of the summer.
Don't worry, I won't have you turning the oven on every day of the summer like I practically did last year. Boy, did that run up the electric bill during the Arizona summer heat!
Not doing that for the summer of '12. No siree, bob.
This year, as I told you in the previous post, I'm MASTERING the grill, BABY!!
Yes, the grill is one appliance I am determined to learn this summer. I am up for the challenge!
One reason for this post is because I had a friend request some dinners that would be rather quick, easy and would not require her to be slaving away in front of a warm oven.
That's no fun – even when you have central air conditioning, you don't want to be heating up the whole house.
So, let's get started, shall we?
If you've got a crockpot, you're golden. If not, I highly recommend that you purchase one. It's a very good investment and I assure you, you won't regret it.
Crockpot meals are great because they most often require some prep. work in the morning and little to none in the evening when you're ready to sit down for dinner, depending on the recipe. AND you're not heating up the whole kitchen with that major appliance known as the oven.
My crockpot was probably one of the most well-used wedding presents I received almost 22 years ago.
That, and,…well…nevermind. Family blog, remember? 😉
My Grandmother's Crockpot Spare Ribs is such a recipe – little work and all of the glory.
You're going to prepare the the ribs, vegetables, and sauce in the morning and leave it to do its' magic during the day while you're living life!
There's nothing better than that – dinner ready when you walk in the door after a busy day. Just pick up a bagged salad at the store if you're in a real hurry and you're good to go.
Another crockpot recipe I shared was the Crockpot BBQ Root Beer Shredded Chicken Sandwiches.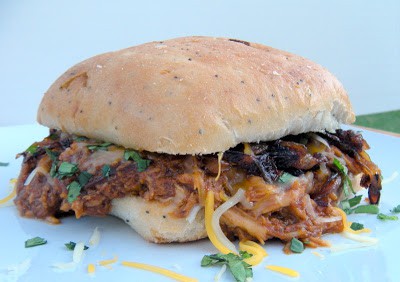 Now this dish is going to require a little bit more work in that you're going to need to shred the chicken after it's been cooking for a good 8 hours and then return it to the pot to really marinate in that incredible sauce.
(Ooh, I'm getting hungry for one of these things now!)
But, before you start shredding the chicken, get those onions into a pan on the stove to caramelize, so they can become good and brown in that last 45 minutes or so of cooking time. They're so delicious on the sandwich with the cheese, and the cilantro, and…*sigh*
I made these for my husband's family when they came out to visit for our daughter's graduation, and everybody loved them.
Yes, they are definitely worth that little bit of extra work.
Another thing I like to do in the summer is buy a Rotisserie Chicken at the store.
I do prefer to make a roast chicken at home, like this Lemon Herb Roasted Chicken, but if I'm in too much of a hurry, I'm just going to go pick up the warm bird at the store. They aren't that expensive and it saves me time!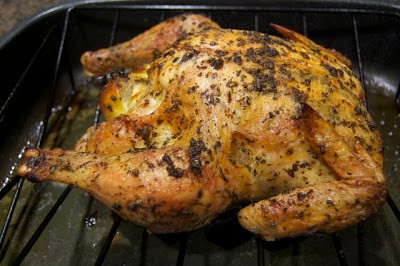 Yes, you'll need to turn the oven on to cook this baby which is why I recommend buying one at the store if it gets to be too hot for you.
I also like the idea of a roast bird because 9 times out of 10, I can get an additional meal out of it.
LOVE THAT!
A 3 lb. bird will definitely feed my family of 5 more often than not for two whole meals.
After dinner the first night, you'll find me at the kitchen counter picking that bird apart and getting as much shredded chicken off of it as I can, dark and light meat. And even though we aren't nuts about the dark meat, when it's shredded in the following recipes, it just adds extra flavor to the dish and nobody even knows!
This recipe, the Chicken Chilaquiles, is so easy to prepare stove top and can be ready in about 20 minutes if you've already deconstructed that roaster.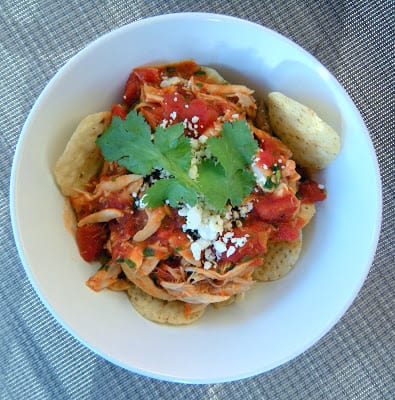 My brother-in-law introduced me to this recipe when my daughter and I went back East for a visit and I am forever grateful. It's now a staple at our house.
For some reason, I always think about sandwiches being a lunch fare, but they taste oh so good at dinner, too!
So a Chicken Salad Sandwich is a GREAT dinner to eat in the summer and a wonderful way to use up that leftover chicken, too!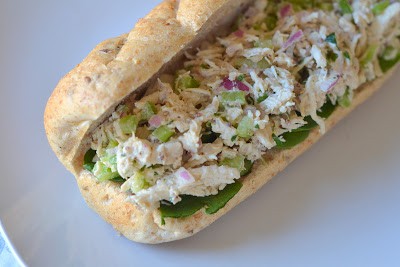 A slightly healthier version without your typical mayonnaise, this recipe used buttermilk and Greek yogurt.
LOVE me some Greek yogurt. It's so yummy and such a good substitute for other things that may be adding calories to our diet like sour cream or mayo.
(I type this as I'm drinking a Mike's Hard Lemonade. Don't drink and post.)
Pasta is ALWAYS a great idea during the summer!
Spaghetti and Meatballs is always easy to throw together if you've made the meatballs ahead of time and frozen them for meals at a later date.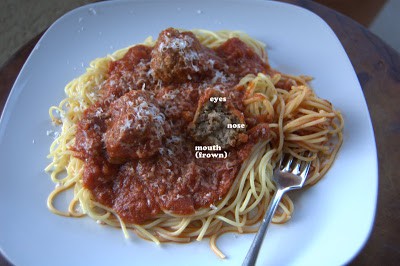 Oh yeah, this was the picture that I thought the cut meatball resembled Mr. Magoo. Do you see it?
Wait, do you even know who Mr. Magoo is?
*sigh* I guess I'm dating myself yet again.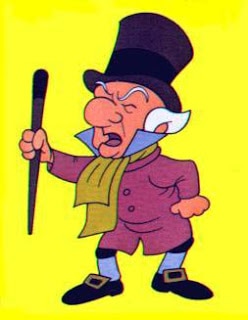 Another pasta dish is this Caprese Pasta.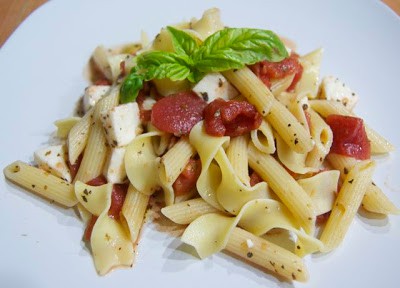 I threw this together one night because we were sick of the same-old-pasta-with-sauce routine.
Since making it the first time, I've modified it to keep it warmer longer and it seems to work better. I also add a can of drained and rinsed white beans for some added protein – tres yummy!
On a side note, if you're going to have leftovers, just a warning to you so you don't tell me I didn't tell you so, the mozzarella the next day when you heat it up in the microwave or even on the stove top, won't do so well and will become stringy. Some people don't mind. Others, like me, can't stand the stringy cheese. Mr. 365 has no problem eating the leftovers cold. So maybe that will work for you.
LOL! I guess I had more recipes that would work than I thought I had!!
Bear with me, just a few more. We haven't even gotten to the grill yet!
If you're wanting to cook outside, the grill is the way to go!
DUH! Obviously, how else would you cook? Ok, you might have an outdoor oven, but don't be getting any ideas about cooking on the sidewalk! Even if it may be hot enough in Arizona to do that at times, I take no responsibility for the outcome!!
I posted this delicious pizza the other day, the Grilled Margherita Pizza!
I just can't stop talking about how delicious the crust was on this pizza because of the grill. Yes, I've had pizzas in a restaurant that were grilled before, but this one…I don't know, maybe it was the spices in the crust.
I just want it NOW!!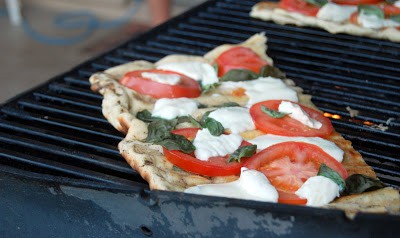 And one more for the grill, this Grilled Vegetable, Feta, and Orzo Salad was quite tasty!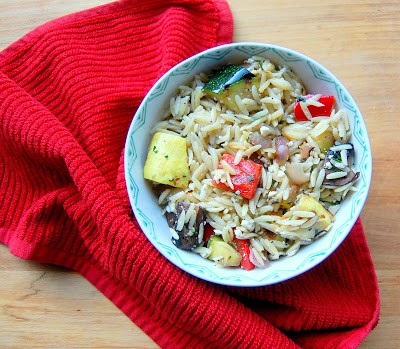 The grilled veggies had so much flavor and mixed quite well with the orzo pasta and feta cheese. I preferred to eat it warm, soon after the vegetables were cut, but it was delicious cold, too.
So, there you have it! And I really didn't think I'd have much to share.
Pshaw!
?
I don't know. Just thought I'd say it and add to the already very lengthy post. 😉
I love you. You know it. And I'm VERY grateful you're here reading.
I hope your baking, cooking and grilling turns out to be everything you want it to be and more.
Go forward. Be daring. Take risks. Try new foods and new recipes and bring joy to those you love in the process.
The love will be returned to you tenfold!
MWAH!!
I give you BIG baking hugs and muffins!!