For those of you interested in saving money at the grocery store by using some coupons, Home Made Simple has a new P&G (Proctor and Gamble) coupon savings booklet out with over $35 in coupons. Here is the link:
https://www.thepromotionaloffer.com/hmsdrtv
Today I wanted some chocolate and here's something to think about for Valentine's Day, too since it's right around the corner.
Just how many chocolate-covered hearts do we shove down our pie-holes each Valentine's Day? According to Nielsen, Americans will purchase around 58 million pounds of chocolate during the days leading up to the 14th (a small fraction of the reported 3 billion pounds per year), and we shell out somewhere around $345 million to satisfy our Valentine's sweet tooth.
-from Holidash, the Most Wonderful Blog of the Year
I was going to make some chocolate croissants, but didn't realize the dough needs to be refrigerated for at least 8 hours. So, another day. Instead I made a Mocha Brownie Cake from Baking with Julia written by Dorie Greenspan, publisher William Morrow and Co., Inc., ISBN: 0-688-14657-0, pg. 282. One publisher hasn't been so kind which is bothersome to me because I use recipes from those cookbooks and their magazine that I receive all the time. They would only stand to profit more if I were to recommend you go to their website, and purchase their magazine subscription, cookbooks or any cooking supplies. Not mentioning any names, but "it's a good thing" don't you think, if you were to go to their(ahem)her website? ☺
Mocha Brownie Cake
*I have voluntarily deleted this recipe because I copied it before I had permission to do so from the publisher. I'll will repost if I do receive the go-ahead. Until then, I've given the book information, an image and the link from the Amazon website.*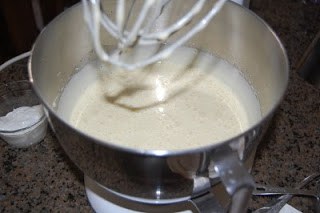 Cooling in the pan.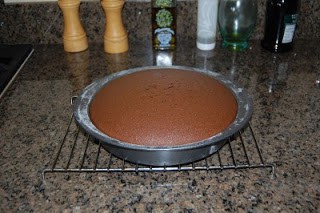 The ganache(YES, Ganache! I love that word, it sounds so decadent!) on top of the first layer.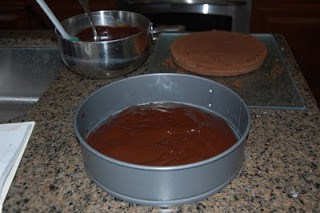 The finished product!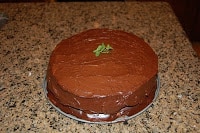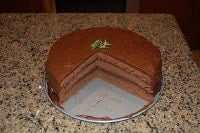 The spring-form pan I used was 10 inches hence part of the reason for the unevenly frosted cake. The other reason, I just need more practice. My family really liked it. It was good as I was testing it throughout, but then later when I had it all assembled I thought it tasted a tiny bit dry, but was definitely still edible. It was extremely rich, so you're definitely going to need a big glass of milk!
Happy baking!