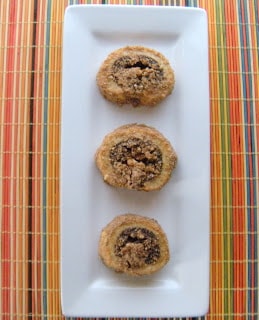 "You say tomayto, I say tomahto.
You say potayto, I say potahto.
You say roogalakch, I say roogalah. Let's call the whole thing off!"
Isn't that how the song goes? 😉
Years ago, and I do mean years ago, but actually not as long ago as I thought ' cause I just looked at the copyright date and it's 1996, my aunt gave me this BEAUTIFUL cookbook!
Not being much of a baker at the time, I was both excited and intimidated as H. E. Double Hockey Sticks to receive it. The pictures were beautiful, the recipes seemed doable, but a bit complex, and on the cover was a picture of someone I watched quite often on TV. After all, this woman led the way for modern day cooking shows as we know them.
Yes, Julia Child. A woman who was wise beyond her years and such an inspiration for so many people, including this cookbook's author, Dorie Greenspan, who, in her own right has become a very impressive baker and inspiration for so many as well!
Dorie is such a WONDERFUL baker, has one of the most incredible blogs, and has written some of most beautiful cookbooks I have ever seen, including the the one given to me by my aunt, Baking with Julia.
As chance would have it, there is a fantastic group of bloggers who have committed to the challenge of making the recipes in Dorie's book, called of course, Tuesdays with Dorie, Baking with Julia. The requirement for joining is that you own the cookbook.
SCORE!
I was SO happy to know that by joining this group, I would FINALLY put this cookbook to use. I really didn't reference it once during this 365 as I hadn't contacted the publisher to ask permission to use the recipes.
Two Tuesdays a month, over 400 bloggers (WOW!!) will be baking and posting a recipe from this incredible cookbook. I encourage you to follow me as I embark on another baking journey, and fitting I think, as this 365 comes to a close (and none to soon according to Mr. 365 who thinks I should take some time off from my daily posts). There will be two hosts on each of the Tuesdays and they will be posting the recipe. Who know, maybe one day you'll see moi hosting it. This week we were fortunate enough to have Jessica from My Baking Heart and Margaret of The Urban Hiker.
You can see the many variations on the recipe and the different shapes by going here to the "Leave-Your-Links" section.
I chose to make the recipe as it was in Dorie's book.
I wanted to make the homemade Prune Lekvar for the filling as opposed to the apricot because I really enjoyed eating prunes as a kid (a little strange, I know), and decided I would use figs, dates, and dried cherries for the filling combined with pecans, almonds and walnuts.
I made the exact amount of dough Dorie did which was quite tasty with the addition of the cream cheese, but for the Lekvar, fruits, and nuts, decided to cut those amounts in half, and there was PLENTY! If I hadn't halved the recipe, I am sure I would have had BIG problems getting those rolls of cookies to come out correctly. As it was, the finished product didn't truly appear to be rolled, but more clumped together. A little frustrating, but the ultimate result in taste wasn't affected.
I rate everything I bake on a scale of 1-4 with 4 being the best and these Rugelach earned 3 1/2 rolling pins.
The cookie dough was delicious and was a wonderful match for the rich fruit filling.
They were labor intensive, not too hard to put together, but involved quite a few steps, including the refrigeration of the rolled cookies overnight.
However, I am SO happy that I made them because I'm not sure I ever would have if I hadn't joined Tuesdays with Dorie.
Enjoy the pictures and make sure you check out what everyone else has on display!!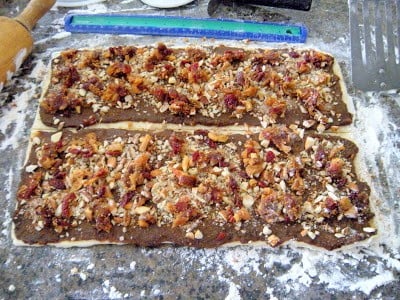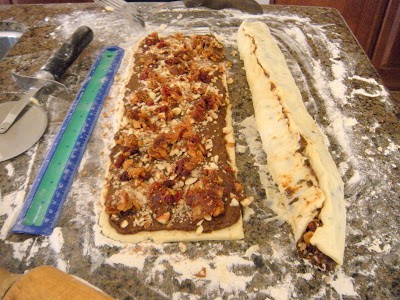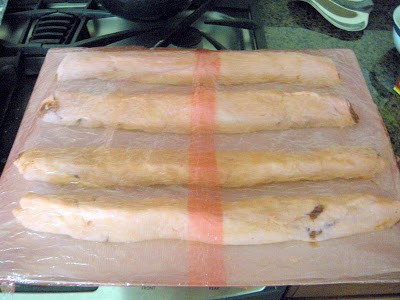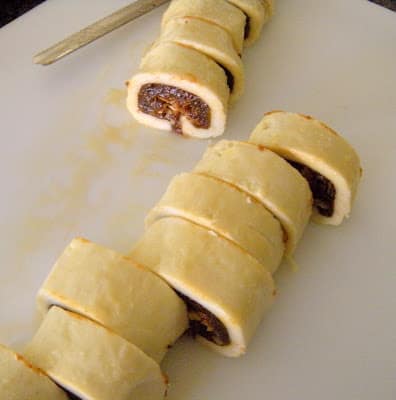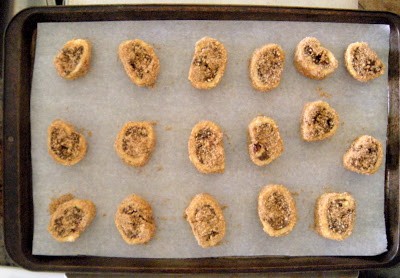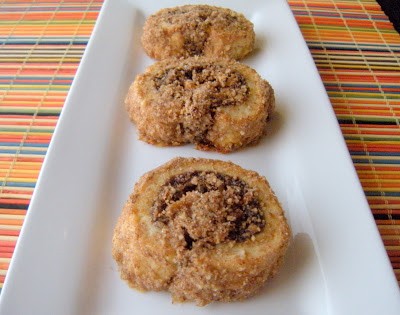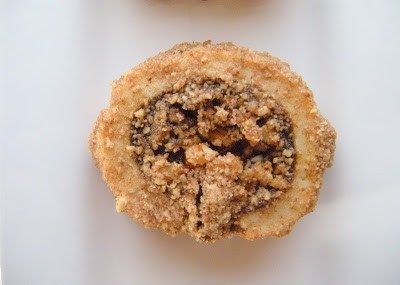 I give you BIG baking hugs and muffins!!