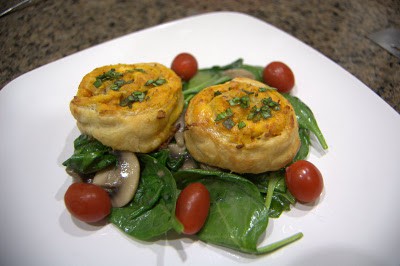 Wow, that sure is one mouthful (no pun intended) of a title, eh?
This wins the award for being the longest title on my blog yet so far.
I feel like a real professional chef when I say it, too. haha
And it was one mouthful of a dinner, too.
What the heck does that mean?
I don't know. I just thought it sounded appropriate to say.
So you've got the leftover pastry dough from yesterday's Cinnamon Sugar Palmiers.
What' re you gonna do with it?
(I feel like I'm doing Ghostbusters – "Who ya gonna call?")
I'm in a weird mood. I took an Excedrin because I have a headache, and I think the caffeine is making me loopy. AND I'm upset that Chef Alex Guarnaschelli was eliminated from The Next Iron Chef: Super Chefs!!
I. AM. SO. UPSET!!!!!!!!
I SOOOOOOO wanted her to win!
Oh well, what difference in her winning is that really going to have in my life? Let's put it into perspective.
Like when the Red Sox lost the ALCS in 2003 when Boone hit that #$#%@ homerun.
Yes, I was crying, my son was crying – he was 6. Ok, I was 35.
I was surprised Mr. 365 didn't throw the tv.
But, really.
Was my life going to be any different because my beloved Red Sox lost and closer to going to the World Series than they had in years?
NO.
So why should I allow Alex's elimination to be any different?
Um, because…?
Recipes adapted from Pepperidge Farm Puff Pastry and Food Network's White Wine Mushroom Sauce.
Butternut and Chicken Pinwheels Over Sauteed Spinach in a White Wine Mushroom Sauce
serves four
1/2 medium butternut squash, roasted (directions below)
1/2 teaspoon salt
1 garlic clove, minced
1/8 teaspoon freshly ground pepper
1 tablespoon fresh thyme, chopped
4 tablespoons heavy whipping cream
1 cup cooked chicken, shredded (I used 1 large chicken breast)
1 sheet puff pastry, thawed
1 egg
1 tablespoon water
fresh basil, chopped, for garnish if desired
Spinach in White Wine Mushroom Sauce
3 tablespoons butter
1 tablespoon olive oil

8 oz. mushrooms, sliced

1 large clove garlic, minced

1/4 cup white wine
1 cup chicken broth
1 tablespoon all-purpose flour
9 ounces fresh spinach
To roast butternut squash
Preheat oven to 400ºF.
Prepare two rimmed baking sheets by lining them with parchment paper.
Peel butternut squash and cut into slices less than 1/4 inch thick and place into a large bowl.
Add olive oil,thyme, garlic, salt and pepper.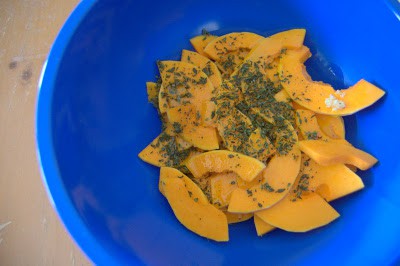 Toss to coat.
Place on prepared baking sheets in a single layer.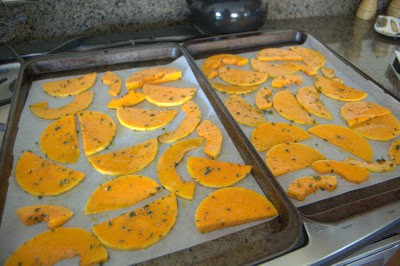 Bake for 50 minutes, turning slices over about halfway through.
Make sure you to keep an eye the squash as it might need to be removed sooner than 50 minutes depending on the thickness of your slices.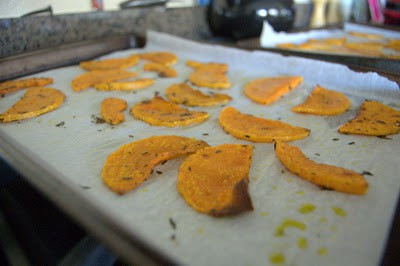 Slice squash into smaller pieces and put into a blender. Add the 4 tablespoons heavy whipping cream.
Puree until somewhat smooth. It doesn't have to be extremely smooth – can still have some clumps.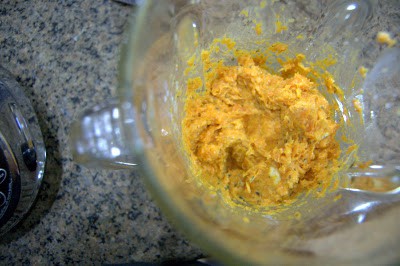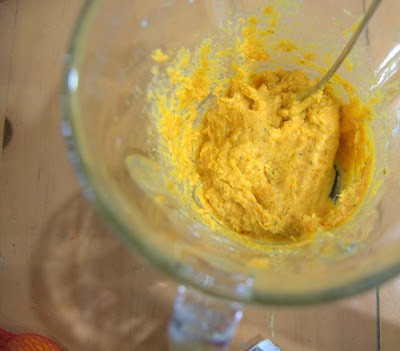 Set aside.
In a small bowl, beat egg and add the 1 tablespoon of water. Mix well.
On a lightly floured surface, gently unfold puff pastry so that a short side is facing you.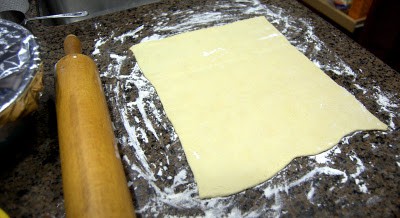 With a floured rolling pin, gently roll dough until it measures approximately 9 1/2 X 11 1/2-inches.
Brush with egg mixture.
Spread 1 cup of the butternut squash puree onto the egg covered dough, leaving about 1 inch from the top.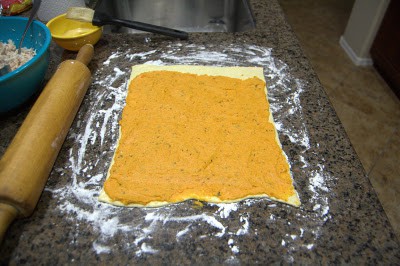 Place the 1 cup of shredded chicken over the squash, again leaving the 1-inch space empty at the top.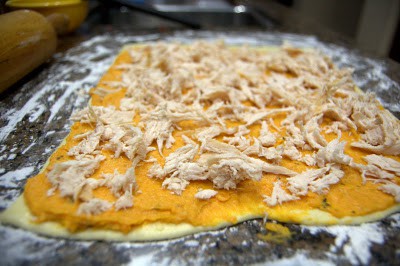 Beginning with the short end closest to you, gently roll the dough onto itself, brushing with egg white as you roll.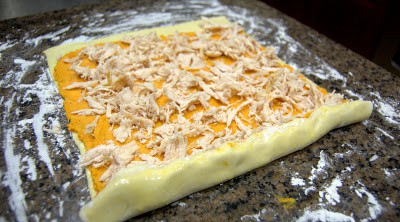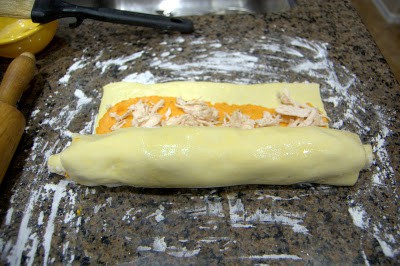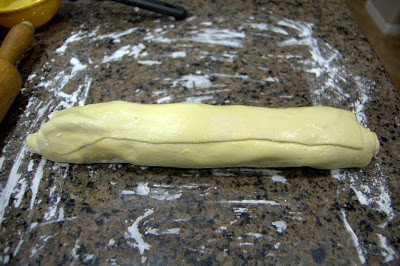 Brush the entire roll with the egg.
Using a serrated knife (a very sharp knife didn't cut it – literally), cut the roll into 1-inch slices and place cut side up on a cookie sheet covered with parchment paper.
Brush the tops with the egg.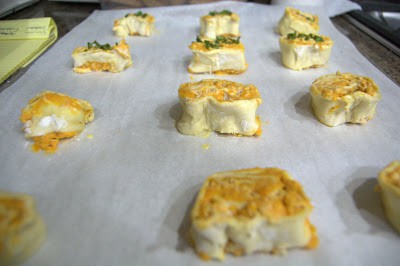 Place into the 400 degree F oven and bake for 25 minutes.
Sauteed Spinach in White Wine Mushroom Sauce
While pinwheels are baking, prepare mushroom sauce.
In a large skillet over medium-high heat, melt 3 tablespoons butter with the 1 tablespoon olive oil.
Add mushrooms and garlic.
Saute until mushrooms are tender, about 5-7 minutes.
Add wine and reduce until nearly evaporated.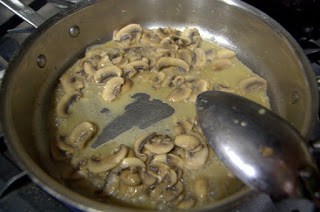 Add chicken broth and simmer until reduced by one half.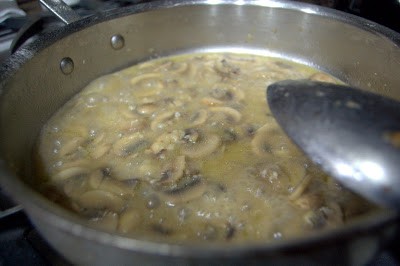 Add tablespoon of flour with a sieve so that it doesn't clump.
Stir and simmer until sauce thickens.
Add 6 ounces of spinach and saute until wilted.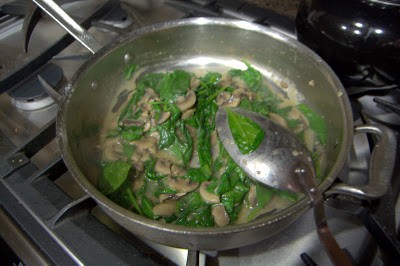 Add remaining 3 ounces of spinach and toss to coat.
Remove pinwheels from oven. and garnish with freshly chopped basil, if desired.
Place spinach on plate, top with pinwheels, and serve.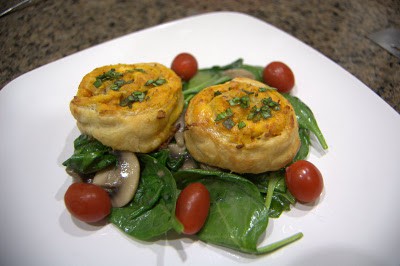 I rate everything I bake on a scale of 1-4 and these Butternut Chicken Pinwheels Over Sauteed Spinach in a White Wine Mushroom Sauce earned 3 rolling pins.
They were very good, but there was something missing in the pinwheel that I just couldn't put my finger on.
Definitely another spice was needed, but I can't think of what it might be.
Will have to make these again and experiment.
It is something that I would definitely make again anyway.
I really liked the pastry with the butternut squash and chicken combination. It was unlike any dinner I'd ever made before and fortunately, it was a success!
No cereal for dinner tonight! Haha
We've had the spinach sauteed with garlic before, but tonight I really wanted the addition of the mushrooms with the more flavorful sauce, and that was also a success!
So, if you're looking for another idea for your puff pastry, this could be it!
I give you BIG baking hugs and muffins!!