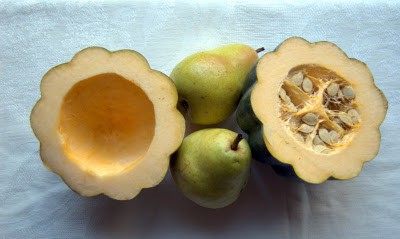 Final editing has taken place, keep reading!
Having to help a child with homework and lack of a picture loading computer leaves me in a bind for posting, SO…
I'll have to add pictures tomorrow and I'm sure there's editing to be done because there's no time to proof before today turns into tomorrow.
Also, there may be spacing and spelling errors.
Love you all! I'll make everything right sometime tomorrow!
Fall is finally HERE IN hot and sunny AZ!!
So much so that we turned the air conditioning off and opened the windows when a rain storm came through.
I feels SO good to be able to breathe dusty fresh air as we sit here in the house.
Chicken, Acorn Squash and Pear– serves 5
2 boneless, skinless chicken breasts, cut into 1-inch cubes
1 acorn squash, seeded, peeled and cut into 1/2 to 3/4-inch cubes
2 Bartlett pears, cored and cut into 1-inch cubes
1/2 teaspoon cardamom
1/2 teas ground ginger
2 tablespoons fresh tarragon, chopped
1/2 teaspoon coarse sea salt
1/4 teaspoon freshly ground pepper
Preheat oven to 375degreesF.
Prepare a 9 X 13-inch baking dish by spraying it with cooking spray.
Combine cardamom, ginger, tarragon, salt and pepper and mix well.
Add squash and chicken and toss to coat.
Add pears and toss to coat.
Pour olive oil into the bowl and mix all ingredients thoroughly.
Pour contents into prepared baking dish.
Cover with tin foil.
Bake for 30 minutes.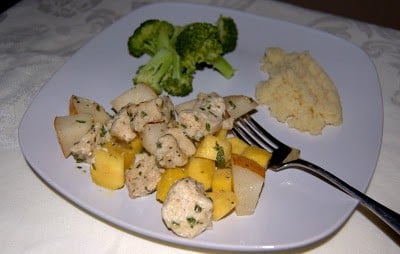 I rate everything I bake on a scale of 1- 4 with 4 being the best. The family debated about tonight's rating. One thought it should be given a 3 1/2 she liked it so much.
The son was mum, so we'll chalk that up to being a 1.
And, Mr. 365 thought it should be given a 2 because " I wasn't nuts about the potatoes."
"Dad, there weren't any potatoes in here. They're pears."
"Pears?! Oh, no wonder they tasted funny. Mom's messing with my head. Last night she gave us mashed potaoes, but they weren't potatoes either, it was cauliflower! What's with this,it's looks like a potato thing, but it's not?"
I just smiled.
I really have been messing with their heads lately come to think of it, the mashed cauliflower and spaghetti squash the other night.
Finally, we all agreed that the Chicken, Acorn Squash and Pears earned 2 1/2 rolling pins.
The flavoring of the herbs on the chicken was really good, but I wanted more of a roasted flavor from the squash and pears. I should have "roasted" those first, then added the chicken.
I give you BIG baking hugs and muffins!