I had the time of my life this evening.
I am actually on vacation (by myself) in (WOOHOO!!) Massachusetts and Rhode Island visiting Mr. 365's sister and her family, then visiting friends, going to my 25th high school reunion, visiting more friends and ending with a visit Mr. 365's brother and his family.
Don't worry, there will be baking and posts.
Upon picking me up at the airport, my sister-in-law told me that my 14 year old nephew asked if I would go sailboat racing with him tonight.
I was SSSOOOOO extremely excited because I haven't been sailboat racing in about 20 years!
And at the same time…
YIKES!!! I haven't been sailboat racing in about 20 years!
But I was definitely game because living in Arizona now I knew I had to get out onto the water.
It was absolutely awesome doing something hadn't done in years, but what I enjoyed the most was the time I was able to spend with my nephew.
We've never had time like that and it was wonderful, something I'll always remember.
I was also treated to a mini concert by my niece and a dance show from my other nephew. They were awesome.
To be able to spend the time with family and laugh, and connect again after not seeing them in over a year is priceless.
It make me homesick.
I'm grateful for the time I have with them however long it may be.
I'm excited to explore the old neighborhood, see old friends, and just really be in each and every moment while I'm here.
It's already been a great trip.
I'm using a new tablet Mr. 365 purchased for me because our other computer bit the dust.
Yippee!! (about the new tablet & Mr. 365, not about the main computer biting the dust.)
So, this is going to take a little getting used to as I'm using the key pad to type, not a keyboard and it's requiring a lot of patience. Picture and wording may not be properly spaced, so please bear with me as I iron out the kinks.
This cheesecake was adapted from The New Doubleday Cookbook.
Strawberry Cheesecake


Strawberry Puree
1 lb. strawberries
2 teaspoons sugar
1/4 cup water
In a blender, combine strawberries, sugar and water. Blend on high until strawberries are puree.
Strain through a fine mesh sieve to remove seeds. Set aside.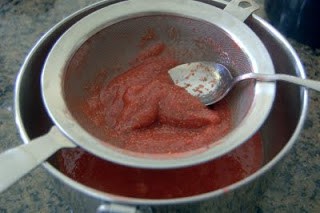 Crust
3/4 cup pecans,chopped fine
3/4 cup graham cracker crumbs
1/4 cup sugar
5 tablespoons melted butter
Filling
2 8 ounce packages cream cheese, softened to room temperature
2 eggs
1/2 cup sugar
1 teaspoon vanilla
Topping
1 cup Greek Yogurt
1/4 cup sugar
1 teaspoon vanilla
1 pound strawberries, sliced for decorating the top
Preheat oven to 375ºF.
Mix crust ingredients and pat firmly into the bottom and one third of the way up the sides of a 9″ spring form pan.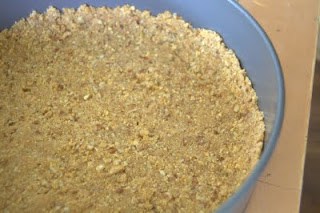 Place all filling ingredients into a blender and mix on high until smooth.
Pour into crust.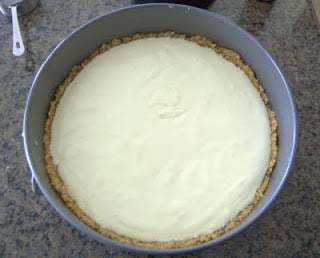 Pour 1/2 cup of puree on top of batter in circles.
Using a knife, gently swirl puree throughout.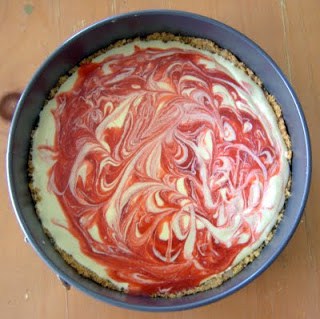 Bake 20 minutes, remove from oven and cool 15 minutes.
While cheesecake is cooling, raise oven temperature to 475ºF.
Gently spread remaining 1/2 cup of puree onto top of cheesecake
Blend topping ingredients and spread gently over strawberry topping.
(It's ok if the two toppings blend because you will decorate the top with strawberries just before serving.)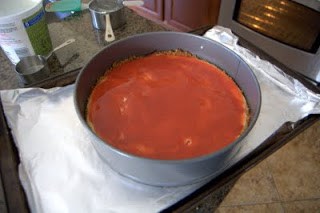 Return pie to oven and bake 10 minutes longer.
Cool in pan to room temperature.
Cover with foil and chill 10-12 hours before serving.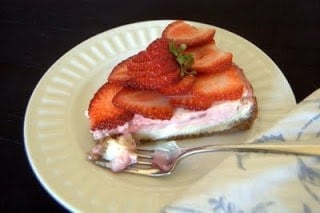 I'm not a big cheesecake fan, but this recipe had changed my mind, so I was interested to try another.
This one was good, but wasn't anything like that cinnamon crunch cheesecake I made last month!
The strawberry flavor was good, but it was a much flatter cheesecake than I expected it to be. Maybe it was the addition of the puree that caused it.
The 365 crew thought this Strawberry Cheesecake earned 3 rolling pins. I rate everything I bake on a scale of 1-4 with 4 being the best.
Oh, and the sailing went really well. We didn't win any of the races, but we had great time and that's all that really mattered.
Happy baking!