I took part this month in The Secret Recipe Club. It was started by Amanda at Amanda's Cookin' as a way for food bloggers to try new recipes, get to know our fellow bloggers, and share all of these wonderful sites and recipes with our readers. When a blogger joins the Secret Recipe Club, Amanda assigns them blog from which they are to choose one recipe either to make as is or to make changes to. Like Secret Santa, we are not allowed to reveal the blog we have been given until the assigned day and time.
I was assigned Amy Zach's blog, Adventures in Marriage. She had quite a few different recipes that I wanted to try, but in keeping with the baking theme of my blog, decided to make her Chipotle Chicken with Cilantro Dipping Sauce. It sounded so delicious, and besides, I have an affinity for cilantro.
I'm definitely going to have to make a few of her other recipes, like those potato skins and stuffed mushrooms.
Chipotle Chicken with Cilantro Sauce


Chicken
1 lb. boneless, skinless chicken breasts
3 tablespoons packed light brown sugar
1 tablespoon fresh cilantro, chopped
1 chipotle chili in adobo, minced
1 teaspoon adobo sauce
3/4 teaspoons salt 1/8 teaspoon chili powder
1 clove garlic, minced
¼ teaspoon freshly ground black pepper
Slice the chicken breasts across the grain into approximately 15 ½-inch thick strips; set aside.
In a large bowl, combine brown sugar, cilantro, chipotle, adobo sauce, salt, chili powder, garlic, and pepper.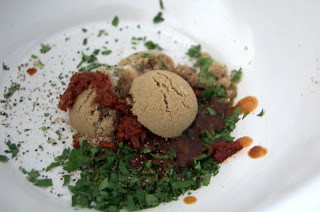 Mix well, and add chicken. Toss to coat.
Cover bowl tightly with plastic wrap and refrigerate for one hour. For increased flavor, chicken can be prepared up to one day ahead, covered.
Sauce
6 tablespoons Greek yogurt
2 tablespoons mayonnaise
2 tablespoons lime juice, from 1-2 limes
1 clove garlic, minced
1 tablespoon minced cilantro leaves
1 scallion, minced
¼ teaspoon salt
pinch of freshly ground black pepper
Combine all sauce ingredients in a bowl and mix well. Cover with plastic wrap and let stand at room temperature for 30 minutes. (Sauce can be covered and refrigerated for up to two days. Season with additional lime juice, salt and pepper before serving.)
Preheat oven to 375ºF.
Place tin foil on a baking sheet and spray generously with cooking spray. Place chicken on prepared sheet.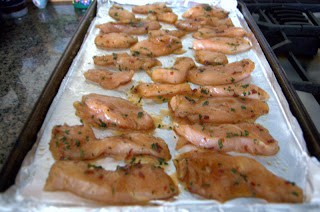 Bake for 20-25 minutes.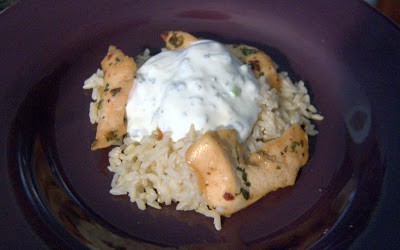 I made a few changes to to Amy's recipe that she had taken from her cookbook, The Best Light Recipe.
I halved it knowing that we wouldn't eat 2 lbs. of chicken in one sitting and didn't want that many leftovers.
I also added garlic cloves in place of the garlic powder and substituted Greek Yogurt for the low-fat sour cream. She had used reduced-fat mayonnaise, but I went for the calories (haha) and used the regular (actually, regular was all we had).
This was a delicious dish and I took Amy's suggestion serving it over rice.
Oh. My. Goodness.
The sauce and the rice and the chicken were all so wonderful together.
The flavors were outstanding and this dish will definitely be made again and again.
I rate everything I bake on a scale of 1-4 with a 4 being the best. Amy's Chipotle Chicken with Cilantro Sauce earned 3½ rolling pins.
It was a wonderful experience doing The Secret Recipe Club. I love browsing other blogs and trying their recipes. It's so much fun and I look forward to doing it again next month.
A lot of people took part, so be sure to stop by and see what's been made!
Happy Baking!!
Here are all the wonderful things everyone has made for The Secret Recipe Club. Take a look and take a moment to say hello to the bloggers!