Did you know that October 15th is National Cheese Curd Day? Celebrate it by enjoying those breaded and deep-fried white and yellow cheddar bites at Culver's.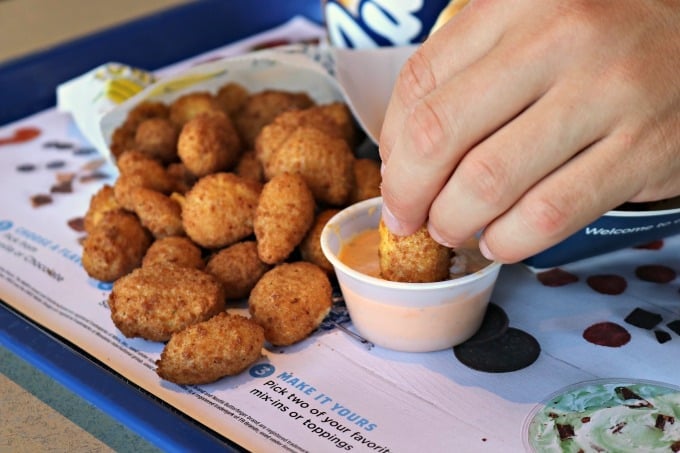 Have you visited your local Culver's recently? You can enjoy a meal there with a family member or friend along with a chance of winning some free cheese curds. Read on!
I took my son, Cameron, to Culver's the other day to thank him for his support and encouragement before and during our hike through the Grand Canyon a couple of weeks ago. It certainly would not have been possible without his or my husband's help.
The daily walks and weekend hikes with Kurt (occasionally accompanied by Cameron) really helped get me in shape and put LOTS of miles on my feet so that I'd be able to complete it.
I admit I was most fearful of the final ascent out of the canyon, but I actually surprised myself and both of my men with how well I did! I know that they were both a huge part of it and I'm so glad we experienced it together. Look for a post on the whole experience coming soon!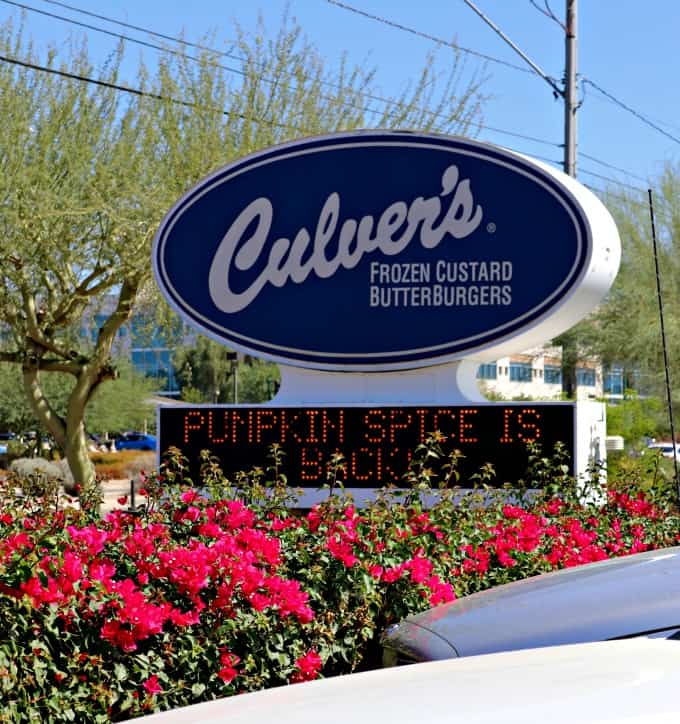 I thought Culver's would be the perfect spot for a mother-son lunch. Their delicious burgers and frozen custard always get me, but what we both enjoyed this visit more than anything else were the cheese curds! I can't think of a better way to celebrate National Cheese Curd day than by sharing it with a family member.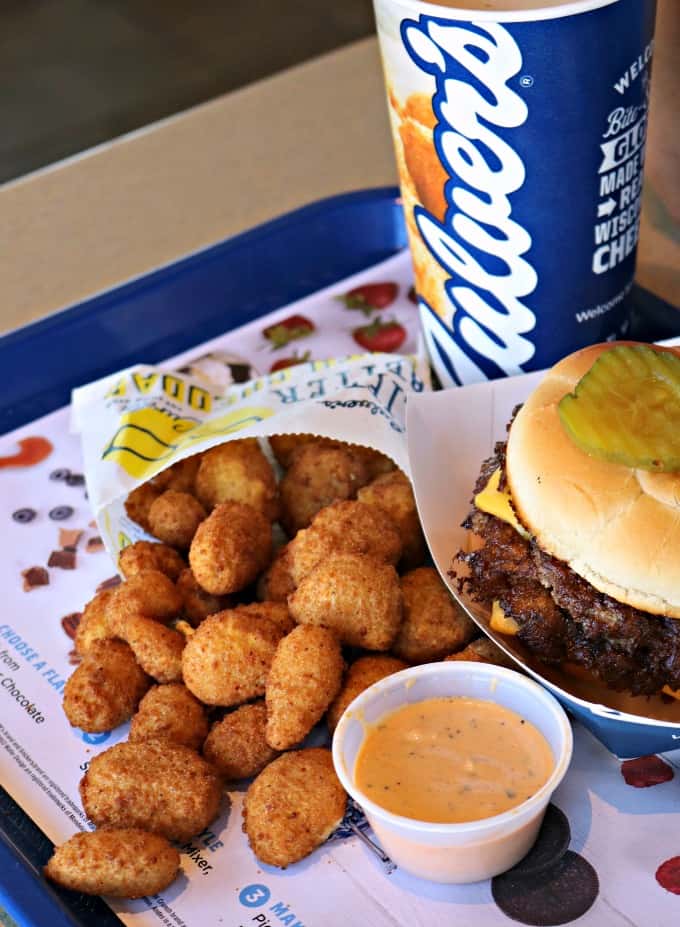 Forget ordering the fries or onion rings, these cheese curds are where it's at, people!
This behind-the-scenes video shows you all about these bite-sized pieces of greatness. I want to eat them after watching that for sure!
Just look at that crust – buttery and deep-fried. Who can resist? With a perfect crunch on the outside and that warm, cheesy goodness on the inside, you'll want to start eating them as soon as they arrive at your table!
Until…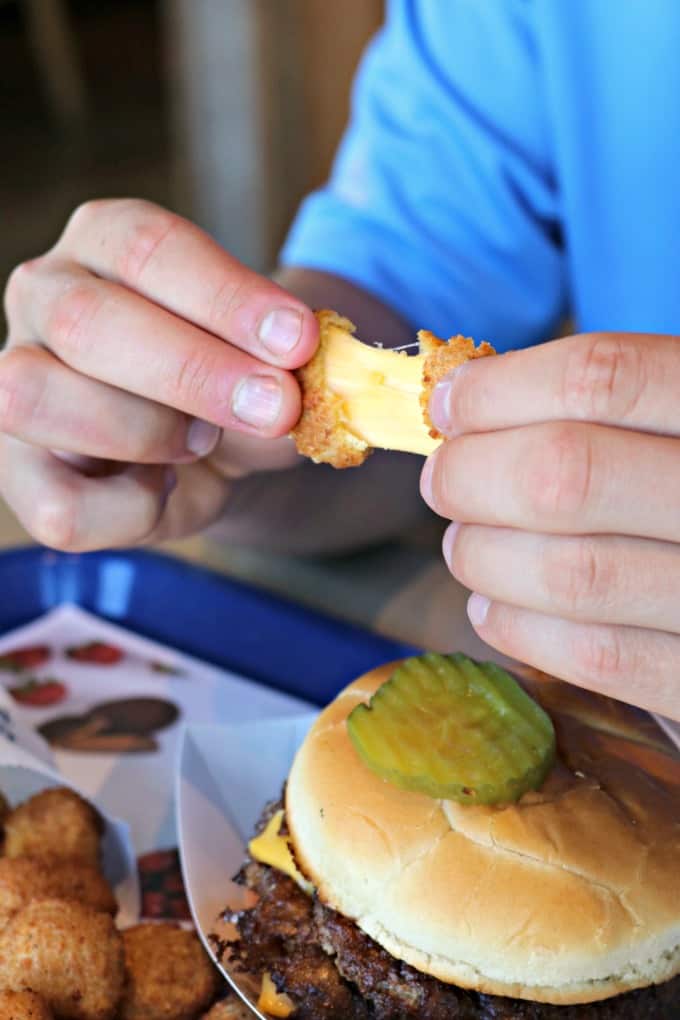 You realize how exciting it is to watch that ooey-gooey white and yellow cheddar cheese stretch as you pull them apart! haha, This made lunch that much more fun as we sat, talked and did the occasional cheese curd pull before popping them into our mouths.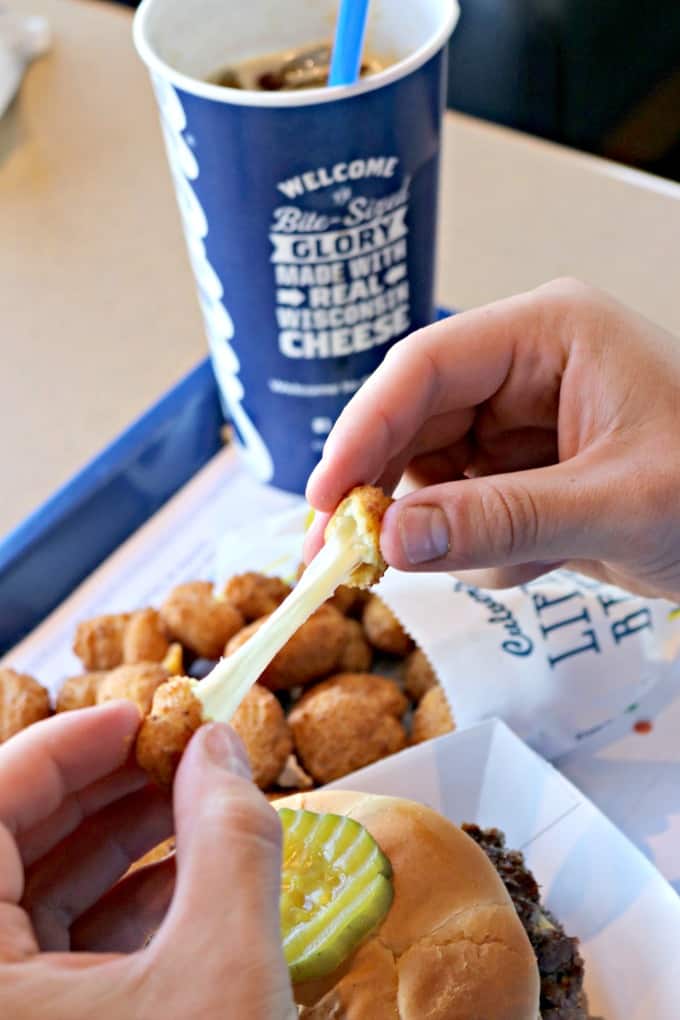 I mean, a meal is always more enjoyable when it's shared AND interactive, am I right? And life truly IS better with cheddar!
You'll definitely want to check out Culver's 10 Tasty Facts for National Cheese Curd Day and read what it means when you find a heart-shaped cheese curd.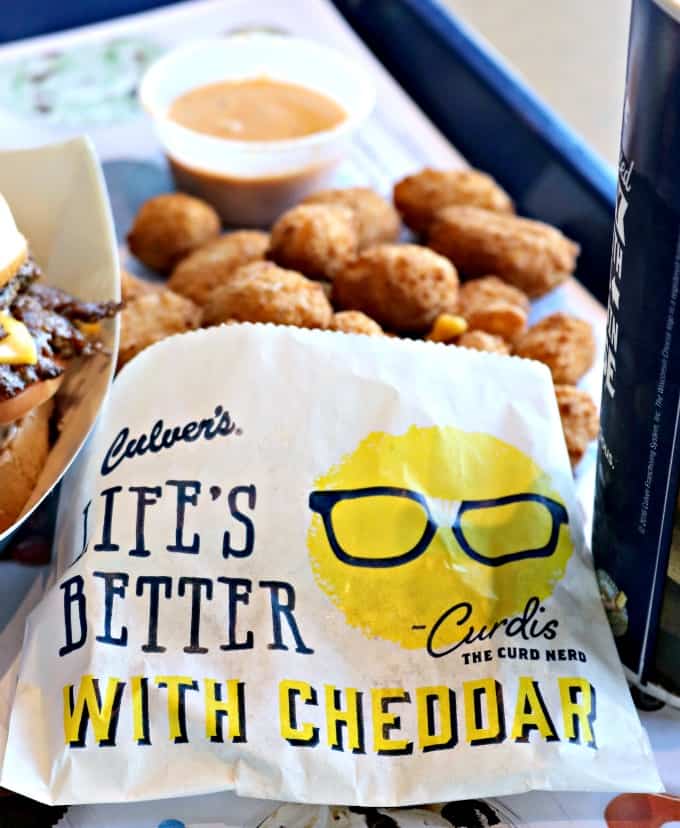 Enjoy your cheese curds plain and/OR dip them in one (or more!) of their many great sauces!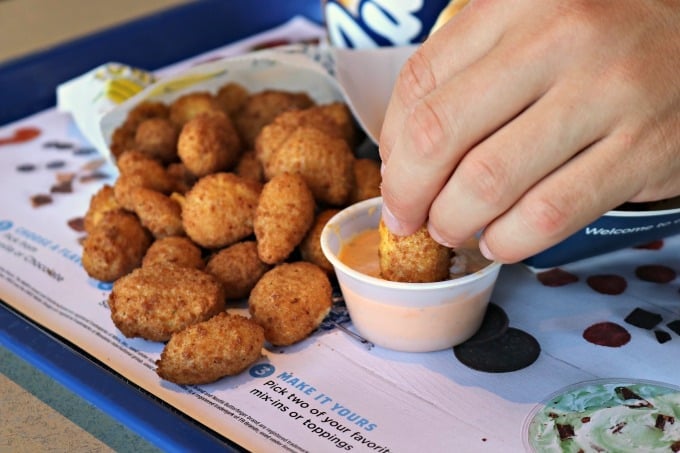 You can choose from Buttermilk Ranch, Sweet & Tangy Barbecue, Farmhouse Parmesan or Honey Mustard. But the one Cameron and I enjoyed most was Culver's new Southwest Chipotle Ranch. With just a little bit of spice, it was the perfect accompaniment to an already delicious morsel. Tell me in a comment below which sauce you'll be choosing to eat them with!
So, how can you celebrate Culver's National Cheese Curd Day? Enter the giveaway below to win two of four coupons for your very own free order of cheese curds. This way you can share the joy of eating them with a family member or friend, too!
[promosimple id="c38d"]
Have fun celebrating National Cheese Curd Day and enjoy every single bite!
This is a sponsored conversation written by me on behalf of Culver's. The opinions and text are all mine.